You're currently on: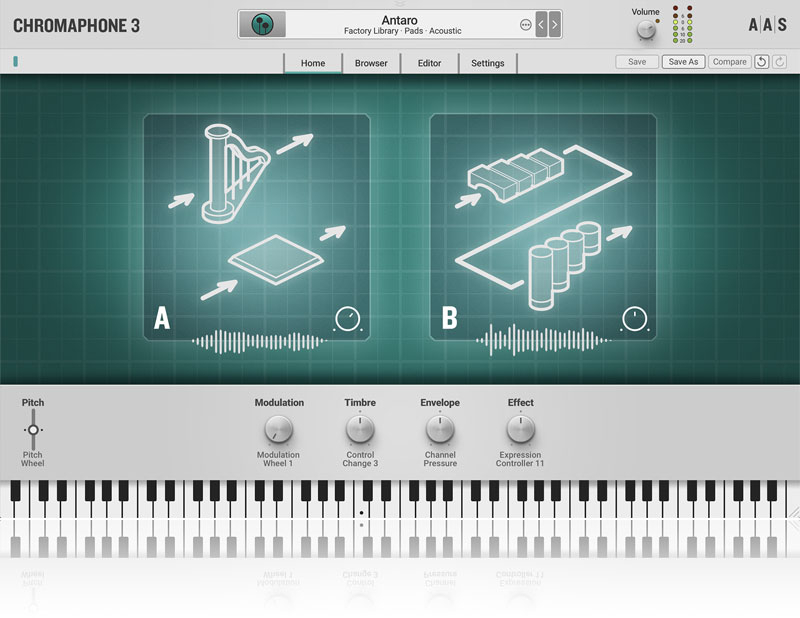 MusicTech Excellence—10/10
"Chromaphone is an excellent tool for adding depth to both music and film work."
—Liam O'Mullane, MusicTech Magazine
Mix and match
Chromaphone combines acoustic resonators to create drums, percussion, string, and synth-like instruments. Membranes, bars, marimbas, plates, strings, and tubes form pairs that get sparked into life by a mallet and a flexible noise source. The resonators' material, tuning, and coupling parameters allow the creation of a wide range of instruments and sonic colors. Whether real, innovative, or with an ethnic touch, Chromaphone will fill your music with rich and organic tones.
Melodies and beats
Chromaphone's sound library includes a wide range of expressive and responsive instruments that span from warm and mellow pitched percussions for melodies to punchy one-shots and kits for rhythm tracks. A wooden bar makes a xylophone, turned metallic it becomes a glockenspiel. Adding a tube transforms it into a vibraphone or marimba. Plates shape up in bells and cymbals. Membranes are used for drum skins, combined with a tube they make bass drums, snares, congas and bongos.
One-shot revolution
One-shots are no longer limited to the velocity dimension. Chromaphone uses the entire keyboard range to modulate volume, mallet noise and stiffness, noise filter frequency and density, hit position, and coupling to open a whole world of expressive sounds—and that in a totally stepless fashion.
Creative drum kits
Chromaphone ships with ready-made creative kit patches where each note provides a new sound slightly different from the previous one. Over the entire keyboard range the sound morphs from bass drum to snare to hi-hat. Discover a mixture of electronic and acoustic qualities intertwined to form highly playable, addictive, and always fresh drum sounds.
Together ensemble
A key feature of Chromaphone is a brand-new coupling technology. The coupling refers to the exchange of acoustic energy which occurs in real life between interacting objects. Consider a string bridged to a wooden soundboard, both have their own behavior and characteristics, but when assembled together, they merge into a complex string instrument. In a similar way, a metal bar interacts with the air column from a tube in a vibraphone. Chromaphone is the first and only plug-in to provide control over the coupling of resonators. The result is vivid instruments with unmatched acoustic precision, sharpness and realism.
Neat features
Real-time control over any parameters via host automation
Host tempo synchronization for effects and modulations
Relaxed editing with unlimited undo/redo capability
---
Sound Banks
Cardinals Sound Bank
Cardinals is sound designer and composer Simon Stockhausen's presentation of dualism in various realms. You'll find dark and light, tonal and atonal, serenity and anxiety, and Eastern and Western influences scattered across its Achromatic and Chromatic Percussion. Other categories include "Danger Zone", Keys, Synths, Strings, Pads, Textures, and Soundscapes. Each of the 109 presets creates its own enclosed universe, inviting many hours of exploration.
Cinematix Sound Bank
Long time Chromaphone user Christian Laffitte sends us his first contribution to the Sound Bank Series with the high impact Cinematix. Whether it's epic scenes or fast-paced pursuits, with its strong emphasis on monumental hits and percussions, Cinematix is sure to fuel your next score. Cinematix gathers 100 presets grouped into percussions, snares, toms, cymbals, chimes and bells, hits, strings and pads, effects, and arpeggiators.
Epicyles Sound Bank
After his Microsound Textures compendium, Richard Devine revisits Chromaphone in its second incarnation and presents an unsettling and opaque collection of new sounds. The 111 Epicycles presets adventurously delve into enigmatic and uncertain lands. Nine categories structure the series of patterns and textures: Soundscapes, Basses, Plucked Strings, Keys, Synths, Strings and Pads, Percussions, Arps, and Effects.
KitNetix Sound Bank
KitNetix is a macrophonic sound bank that zooms down into an intricate new world. The 128-preset collection crafted by renowned sound designer Martin Walker features drum kits made from exotic materials, percussion unleashed from reality, soundscapes from dark beginnings and glittering futures, hyper-detailed generative textures, and fantasy hybrid instruments that have never been heard before, including bells, chimes, keys, strings, and pads. Moods cover a huge range, from epic soundtrack projects via weird electronica to gentle ambient minimalism.
Microsound Textures
Microsound Textures is all about precision, details, subtlety, and complexity. Richard Devine's idea was to use grain particles and tiny pulses to create rich and dense textures. In addition, the collection includes a wide variety of surprising and mysterious instruments ranging from light and delicate to dark and atonal. The 128 sounds are divided into five categories: Percussion, Sound Effects, Keys and Synths, Pads and Strings, and Textures and Ambience.
Synbiosis
Synbiosis is sound designer Daniel Stawczyk's fifth volume in our Sound Bank Series and his first for Chromaphone 2. This 130-preset collection presents arpeggiators, basses, bells, keys, synths, and effects that truly exemplify what can be achieved when a sound designer works organically with a synthesizer. Wherever your destination, Synbiosis puts forward the perfect vehicle to explore the fundamental nature of Chromaphone 2.
---
SYSTEM REQUIREMENTS
MAC minimum system requirements
Mac OS X 10.5 or later
Intel Core processor or later
512 MB of RAM
70 MB of free hard drive space
1024 x 768 screen resolution
Built-in audio interface
Mac OS X-compatible MIDI interface/keyboard
Mac compatibility
VST plug-in hosts
Audio Unit plug-in hosts (see restrictions below)
Mac OS X-compatible audio interface
Mac Audio Unit (32-bit/64-bit) compatibilty
Apple Garageband 1.1 or later
Apple Logic 7.1 or later
Ableton Live 8 or later
Audiofile Engineering Rax
MOTU Digital Performer 6 or later
Cockos Reaper 3.1 or later
Mac non-compatibilty
Native Instruments Kore 2
PC minimum system requirements
Windows XP SP2 32-bit or Windows Vista/7 32-bit/64-bit
Intel Pentium III 1 GHz or equivalent processor
512 MB of RAM
70 MB of free hard drive space
1024 x 768 screen resolution
Windows-compatible audio interface
Windows-compatible MIDI interface/keyboard
PC compatibility
VST 32-Bit/64-bit plug-in hosts
ASIO, WDM, DirectSound audio drivers
You may also be interested in: