You're currently on: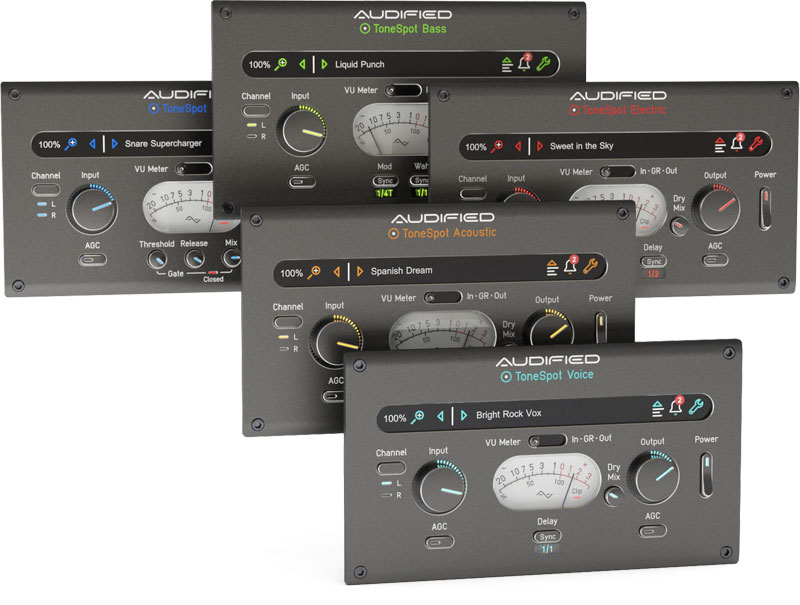 ToneSpot Express Bundle
"Mix faster than ever before"
Collection of five ToneSpot Express plug-ins.
ToneSpot Express Series
ToneSpot Express series is the little sibling of the Pro series . It features five preset-based mixing plug-ins created to make the mixing process easier and more fun than ever before. The streamlined mixing method of the Express series allows you to get to the sweet spot of your tone super-fast without sacrificing quality.
ToneSpot Voice Express
ToneSpot Voice Express is the newest member of the series. It includes 90 presets which are capable of mixing everything no matter the style or genre. The preset categories are: Essential, Rap, Vocals, Speech and Special
ToneSpot Acoustic Express
ToneSpot Acoustic Express includes striking 214 presets, and it is probably the most universal plug-in from the Express series. Despite its primary focus being stringed acoustic instruments, you can use it to process virtually everything. Included effects are, i.e. Reverb, Delay, Chorus, Flanger or Tremolo, and many of them can be synced to the project tempo.

ToneSpot Drum Express
ToneSpot Drum Express was created to help the beginner and inspire the professional mixing engineers. Its 116 presets are divided into categories representing parts of the drum set.
ToneSpot Bass Express
ToneSpot Bass Express, with its 134 presets, is a great tool for mixing any style of live or synth bass lines. It keeps in mind different bass techniques as well as genre-specific effects. Among many others, it features presets based on Chorus, Flanger, Octaver, Auto-Wah, various types of Distortion and Saturation or, Sub Bass Generator .

ToneSpot Electric Express
ToneSpot Electric Express focuses on making your guitar tracks sound better and bigger, or smaller if needed, no matter what the source material is. The plug-in includes 126 presets, and they are mainly divided into Voicing categories inspired by the bigger Pro version.
TECHNICAL INFO
System requirements of the selected product. For some effects and applications, there are versions compatible with older systems.
Mac OS X 10.9 - Mac OS X 11
AAX 32b, AAX 64b, AU 32b, AU 64b, VST2 32b, VST2 64b, VST3 32b, VST3 64b, Apple Silicon Compatible
Windows 7 - Windows 10
AAX 32b, AAX 64b, VST2 32b, VST2 64b, VST3 32b, VST3 64b
You may also be interested in: