You're currently on: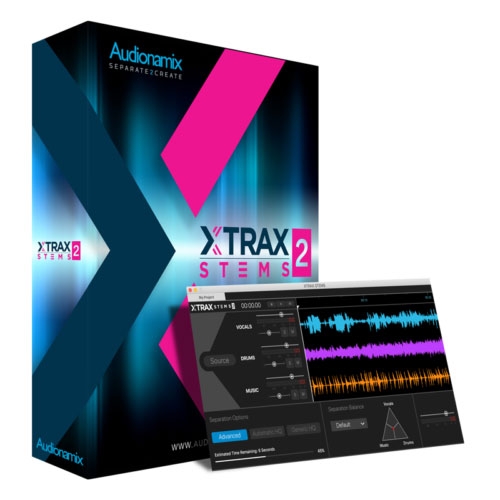 Smarter, Faster, Cleaner Stems. Same Low Price.
One Song In. Three Stems Out.
"XTRAX STEMS significantly reduces the amount of time and effort needed to produce high quality, professional level results. XTRAX STEMS is definitely a game-changer!"
Christopher Kissel
Owner & Webmaster of monotoSTEREO.info
"A VERY clever piece of technology, a MUST for all who enjoy playing with sound."
Rois Macara
​Sound Engineer
"No other program offers the possibility to separate any song into drums, music and voice with just one click and a matter of minutes."
Miguel Garcia
Producer
"This is going to open up a whole new world for me in many ways. Audionamix you guys consistently continue to blow my mind!"
Dave Isaac
3 Time Grammy Award-Winning Producer and Mix Engineer
Product Summary
Powered by brand new artificial intelligence algorithms, XTRAX STEMS 2 offers faster, cleaner stem separations, backing tracks and a cappellas at the same low price. Created for DJs, music producers and remix artists, XTRAX STEMS allows users to separate any song into its vocal, drum, and remaining music components for easy sampling, remixing and unmatched control during live sets.
The new Advanced algorithm is 30% faster and dramatically improves separation quality when creating backing tracks and when separating lead, background, and harmony vocals into a single stem. Improved, high fidelity drum processing increases the quality of drum stems and reduces drum interference in both vocal and music stems. Fine-tune and optimize separations using the new, real-time Separation Balance feature. Use presets optimized for creating a cappella, drum, and backing tracks or create a custom balance using the fully-adjustable matrix.
Features
New! 30% Faster Advanced algorithm
New! High fidelity drum separation processing
New! Fully-adjustable, real-time Separation Balance matrix with presets
Automatic 3 part separation – vocals, drums, remaining music
Create and export a new volume and pan mix
Export separations as individual wav stems or in Native Instruments' STEMS file format
Works on mono and stereo files up to 96 kHz / 32 bits
System Requirements
Windows 7 SP1 – Windows 10
macOS 10.12 – 10.14
Requires High Speed Internet Connection
8GB RAM Recommended for Optimal Performance
You may also be interested in: