You're currently on: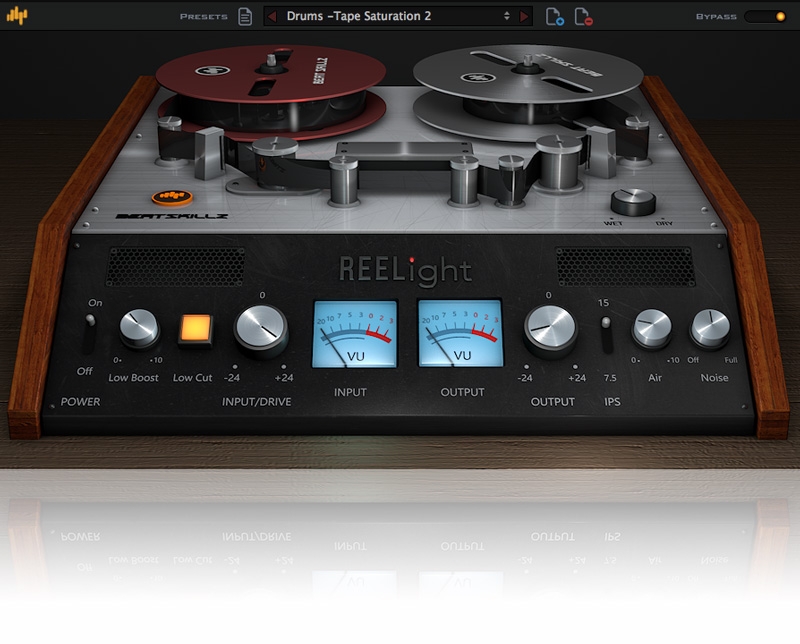 Beatskillz Reelight Tape Plugin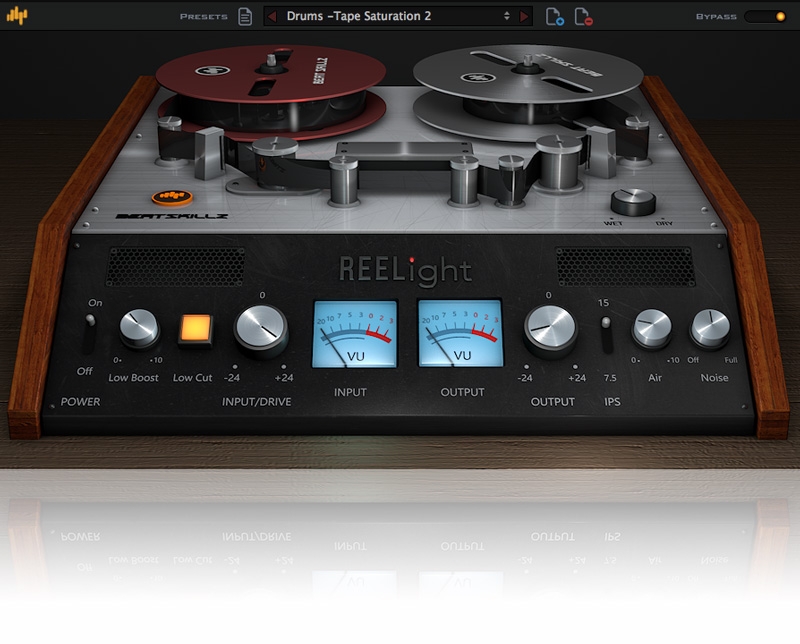 "REEL" SOUND OF TAPE
AU . VST. AAX Plugin OSX . WIN
OVERVIEW
Reelight is a tape saturation plugin with many features for getting an authentic tape vibe and also some of the desirable artifacts associated with tape. The plugin authentically emulates tape saturation / compression and overall sound and vibe and was created using Beatskillz own proprietary RTT technology (used in valvesque)
TAPE SATURATION AND COMPRESSION PROCESSOR
"DRIVE" THE SIGNAL TO TAPE
ADD REAL TAPE NOISE/ HISS
ADJUST TAPE SPEED 15 / 7.5 IPS
LOW CUT - CLEARS UP A MUDDY LOW END BUILD UP
LOW BOOST - ADD A "THICK" BOTTOM END
AIR - BOOST HIGH END SEPARATION AND CLARITY
WET/DRY - BLEND BETWEEN PROCESSED AND DRY SIGNAL
INSTALLATION
OSX :
Download the reelight.pkg file
Right click on the package and click open
Follow the instructions to install the plug-in(s)

Windows :
Run reelight installer.exe
Follow the instructions to install the plug-in(s)

Registration :
In demo mode the plugin will fully function for 15 days (trial mode) . Upon purchase, just enter your Serial Key and Email Address and the plugin will be fully functional with no restrictions.
SYSTEM REQUIREMENTS
System Requirements
Mac:
OSX 10.8.1 or later
Intel Core 2 Duo 2 GHz
2 GB RAM / 300 MB HD
Screen resolution: 1024×768
VST2, AU and AAX compatible ( Protools 12+) (32-bit or 64-bit host)
Windows:
Windows 7 or later
AMD Athlon 64 or equivalent
2 GB RAM / 300 MB HD
Screen resolution: 1024×768
VST2 and AAX compatible ( Protools 12+) (32-bit or 64-bit host)
You may also be interested in: