You're currently on: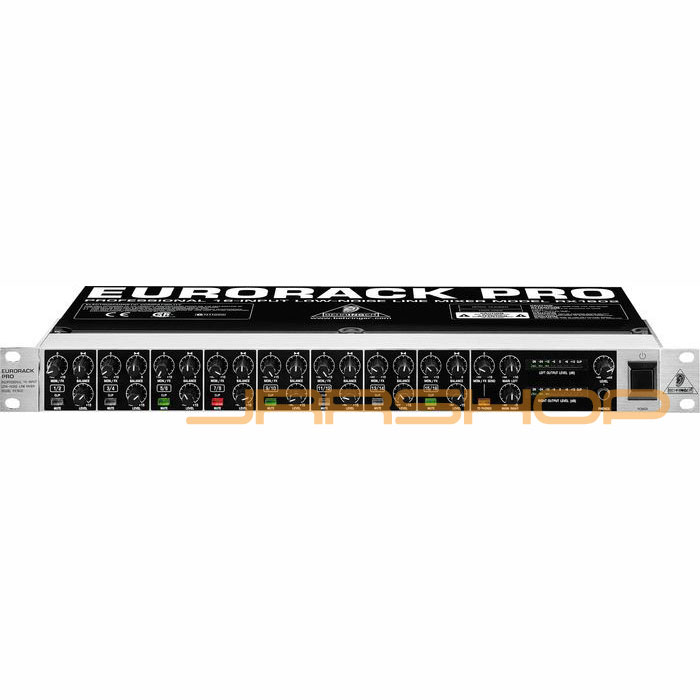 Professional Multi-Purpose 16-Input Ultra Low-Noise Line Mixer
The EURORACK PRO RX1602 is a professional multi-purpose 16-input ultra low-noise line mixer. It can be used as an extremely flexible keyboard and multi-purpose sub-mixer, multi-track monitoring mixer, level translator, FX return sub-mixer and so on. There are 16 balanced high-headroom line inputs for individual stereo or mono use of each section.
Its ultra low-noise ULN design assures the highest possible headroom and ultra-transparent audio. Dedicated balance and level controls plus +4/-10 level selection per channel and monitor/FX send control per section with global master send control allow for flexible monitoring, recording or effects applications. An illuminated double-function "mute" button per section with additional "clip" indication provides comfortable. We also use high-quality detented ALPS® rotary controls for long-term reliability, while a shielded toroidal power transformer guarantees lowest noise interference. The RX1602 is simply the perfect mixer when you need more inputs and crystal-clear audio performance—look no further!
Main Features:
Extremely flexible keyboard and multi-purpose sub-mixer, multi-track monitoring mixer, level translator, FX return sub-mixer etc.

16 balanced high-headroom line inputs for individual stereo or mono use of each section

Ultra low-noise ULN design, highest possible headroom, ultra-transparent audio

Dedicated balance and level controls plus +4/-10 level selection per channel

Monitor/FX send control per section with global master send control for flexible monitoring, recording or effects applications

Illuminated double-function "mute" button per section with additional "clip" indication provides comfortable input source/level information

Monitor/FX signal assignable to phones output for added flexibility

Highly accurate 2 x 7-digit LED level meters and individual level control for left and right main mix signal

1/4' TRS main mix outputs plus easily accessible headphones output on the front panel with dedicated level control

High-quality detented rotary controls for long-term reliability

Shielded toroidal power transformer for lowest noise interference

Extremely rugged construction ensures long life even under the most demanding conditions