You're currently on: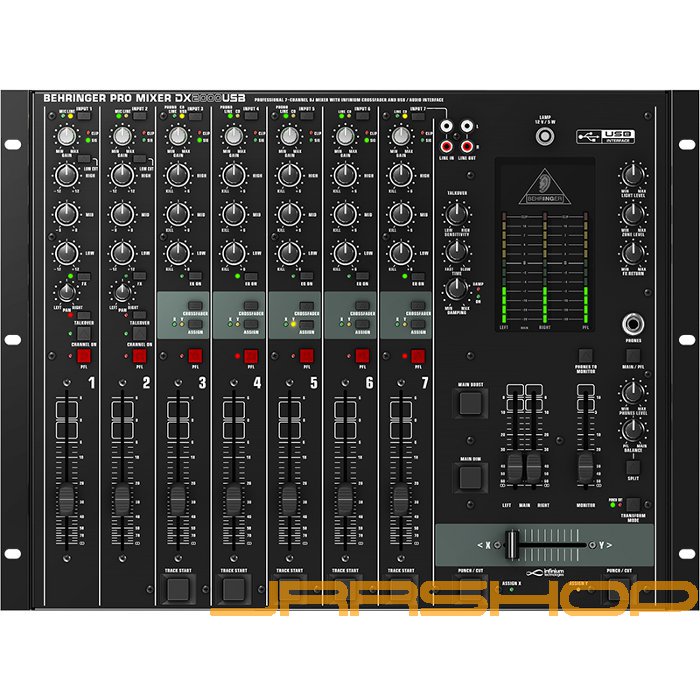 These days a DJ gig can command a lot more than a mic and a couple of turntables. You may need to accommodate a multimedia presentation, a variety of audio platforms (vinyl, CDs, mp3) and multiple mics—all at the same event! That's why BEHRINGER is proud to present the 7-channel DX2000USB with its built-in USB/audio interface—an invaluable tool for the DJ-of-all-trades.
Live Large With More Mediums!
If it can be clicked, spun or spoken, the new DX2000USB can mix it! You get 5 dual stereo inputs plus 2 mono mic/line channels with ultra low-noise mic preamps, Phantom Power, Gain control and Clip LED. The DX2000USB also has enough built-in phono preamps to handle up to three turntables. Finally, the built-in USB/audio interface gives you the power to add your computer's digital music library to the mix.
Old-school feel, new-school performance
The DX2000USB is packed with cutting-edge versatility, but we didn't lose sight of the basic features that make a DJ mixer a lasting part of your rig. This new breed of DJ mixer features super-smooth ULTRAGLIDE faders with up to 500,000 life cycles, and an infinium optical VCA-controlled crossfader for utmost reliability and smooth audio performance.
The DX2000USB comes armed with a 3-band kill EQ and Gain control per channel. Mono channels feature an additional Low Cut switch and an FX switch that routes the channel to the FX SEND and RETURN loop, so you can add a touch of outboard effects. These channels, which accept microphones and ¼" line sources, also feature a Talkover button, a Channel On button and PFL switch for headphone monitoring. Stereo channels have an EQ on/off switch, as well as a Crossfader button that sends the channel to the main stereo mix or the crossfader. An Assign button selects whether the channel appears on the X or Y side of the Crossfader.
For the DJ in need of mammoth bass, the DX2000USB features an XLR subwoofer output (perfect for connecting to an active subwoofer) with adjustable Crossover Frequency dial and Level control. Directly above, the DX2000USB provides a ¼" main mono ouput for synching your music's strongest pulses with a lighting system. The Main Output section offers ¼" and XLR stereo outputs, as well as ¼" inputs for connection to outboard EQ units. This section also features RCA outputs for recording your set. The Monitor/Zone Output section gives you stereo ¼" and XLR monitor outputs, as well as ¼" stereo zone outputs.
Super Software
You get incredible multitracking software and more when you hook up with the DX2000USB. If you're ready to record your projects in style, XT Software's energyXT2.5 Compact BEHRINGER Edition is just the trick. This amazing DAW (digital audio workstation) makes it easy to manipulate your audio and MIDI files, turning song ideas into stunning CD or web-ready recordings. energyXT2.5 Compact BEHRINGER Edition includes a built-in synthesizer, which can also be accessed directly via an external controller or programmed by stepwrite mode. There's even a built-in drum machine and internal multi-FX processor. If you want to incorporate sounds from old, damaged vinyl, the included Audacity freeware audio editor with vinyl restoration capability will remove pops and other noise. You even get Golden Ear and Podifier software so you can instantly share your creations via podcast.
Value
When you add the DX2000USB to your rig, you connect to unrivaled versatility and performance at a price that will leave you with cash to spare. Its superior build quality and rugged components mean this mixer will serve you well for years to come. Drop in at your nearest BEHRINGER dealer and find out why so many DJs are making magic with BEHRINGER.
Main Features:
Professional, 7-channel, ultra-low noise DJ mixer with state-of-the-art phono preamps

45-mm infinium "contact-free" optical crossfader with adjustable friction for years of use

5 dual stereo inputs plus 2 mono mic/line channels with ULN mic preamps, Phantom Power, Gain control and Clip LED

Built-in USB interface for recording and playback of any digital music file. Works with your PC or Mac computer—no setup or drivers required

Revolutionary energyXT2.5 Compact BEHRINGER Edition music production software included with feature-rich audio/MIDI sequencer that loads almost instantaneously on all computer platforms

Massive software bundle includes Audacity vinyl restoration and recording, Podifier and Golden Ear podcasting software

Ultra-musical 3-band kill EQ (-32 dB) with EQ on/off switch on all stereo channels

Long-wearing 100-mm faders and sealed rotary controls on all input channels

Headphone output with Level and Balance (PFL/Main) controls, switchable split mode and level display

Auto-talkover function with separate Sensitivity, Time and Damping controls

Main Dim, main Boost, Punch and Cut functions for awesome mix options

Subbass Out for separate subwoofer, additional Zone output for second room/area

"Planet Earth" switching power supply for maximum flexibility (100 - 240 V~), noise-free audio, superior transient response plus low power consumption for energy saving

Rack mount brackets included for ultimate flexibility

High-quality components and exceptionally rugged construction ensure long life

Conceived and designed by BEHRINGER Germany