You're currently on: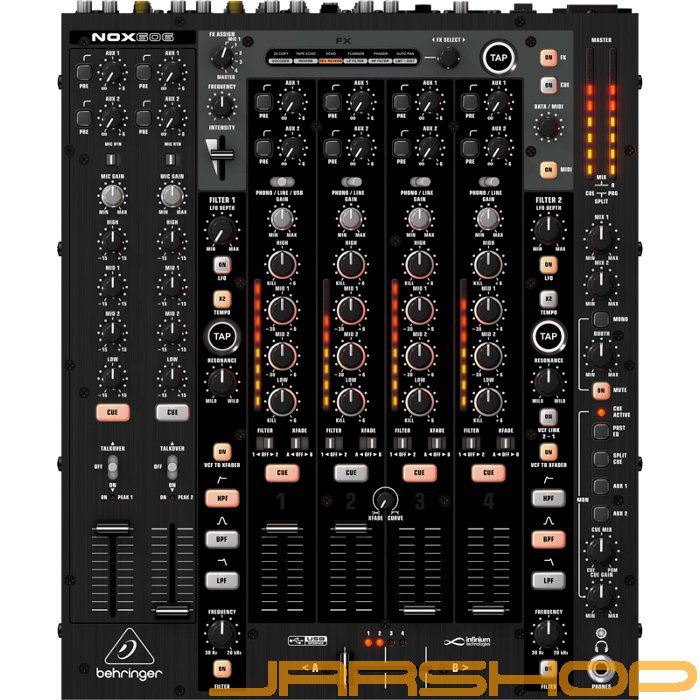 BEHRINGER NOX Series DJ Mixers are built to connect directly to your computer and take your music straight into the digital realm. In an instant, these mixers allow you to record and play any digital music file with your PC or Mac computer without the need for any special drivers! Plus we've included the infinium "contact-free" VCA Crossfader, our legendary XENYX mic and premium-grade phono preamps, and beat-syncable FX for years of flawless performance.
No Media Boundaries
Like the DJ mixers that started it all, the NOX Series offer RCA inputs for your turntables, tape decks and CD players. They also feature mic inputs with our exceptional XENYX mic preamps for announcements, an impromptu rap, or any other vocal nuance. But unlike the DJ mixers of yesteryear, NOX Series mixers include USB connectivity so you can access your MP3 library or digitize your own creative mix, directly via your computer. If it can be clicked, spun or spoken, the NOX Series can mix it!
Calling All DJs
Whether you're throwing multiple elements into the mix, or just keeping it simple, there's a USB-ready NOX Series mixer that's ideal for you. The NOX606 packs a whopping 6 channels, the NOX1010 has five, the NOX303 has three, and the NOX202 and NOX404 each have two channels. All NOX Series models feature super-smooth channel faders and the infinium "contact-free" VCA-controlled crossfader for the utmost in reliability and smooth audio performance. The user-adjustable crossfader curves let you quickly adapt to various mixing styles.
Beat-syncable FX
A useful and powerful addition to NOX Series mixers is the internal effects engine. This processor offers 12 high-quality digital effects that can be assigned to the microphone, channel 1 or 2, crossfader A or B, or the main mix. Each effect has several parameters that can be adjusted to suit your purpose. In general, the TAP button is used to beat-sync the effect to the tempo of the music by pressing it in rhythm. The INTENSITY fader usually controls the wet/dry mix of the effect (how much is blended with the unaffected signal). The FREQUENCY knob can have various assignments. In beat-sync mode (engaged by tapping the rhythm with the TAP button), it will determine the tempo multiple. It can also adjust the rate on its own, if beat-sync is not engaged or not available.
Here's a brief description of the FX available in every NOX Series mixer:
2XCOPY: Makes a copy of the signal, which is delayed by a defined time.

TAPE ECHO: A simulation of the echo effect that occurs between two tape reels, which has a warm, slightly decayed sound.

ECHO: A more modern delay effect, which is very useful for juggling beats and emphasizing musical phrases.

FLANGER: A flanger is a wave-like effect that modulates the signal.

PHASER: A sweeping phase shifter effect. It is similar to a flanger, except that it is enharmonic, producing a more "swooshing" sound.

LP and HP FILTER: A Low Pass filter cuts out any frequency above its parameter settings. A High Pass filter cuts out frequencies below its parameter settings.

AUTO PAN: Automatically moves the signal from one side of the stereo image to the other.

VOCODER: Creates a robot voice sound straight from the early days of electronic music.

REVERB: This is a classic effect that adds space and air to the sound.

REV REVERB: Reverse reverb.LMT+DIST: Band-limited distortion creates a tight, compressed and distorted sound to any signal.
Total Control
The NOX202, NOX303, NOX404 and NOX1010 models provide superb tone control, thanks to a 3-band EQ and full-kill filters, Gain control and precise level meter per channel. Meanwhile, the NOX606 features 4-band channel EQ and level meter for MAIN output, plus a post-fader mono output to drive subwoofers. All NOX Series mixers feature extensive headphone monitoring and cueing options.
NOX606
The full-featured NOX606 was designed for the DJ who wants everything right at his/her fingertips. With enough inputs to handle a mic, two turntables, two CD players and a USB device (MP3 player or computer), the NOX606 is ready for anything. In addition to the beat-syncable FX processor (which is fully assignable), two VCFs (Voltage Controlled Filters) and two LFOs (Low Frequency Oscillators) can be assigned to any channel or crossfader side for mind-blowing filter and modulation effects. And if still want more, all channels feature two switchable pre-/post-fader stereo AUX sends, so you add outboard FX for unbridled creativity. Sophisticated cueing and monitoring, 4-band EQs on all line channels, and an amazing array of output options make the NOX606 the heavyweight champion of DJ club mixers. There's even a "music only" output for a secondary listening zone or for recording your sets without the microphone!
Value
When you hook up a NOX Series DJ mixer with USB connectivity, you're adding the ultimate modern touches to your rig at a price that will leave you with money left over for lots more tunes. The superior build quality and rugged components used in these mixers mean they will serve you well for years to come. Drop in at your nearest BEHRINGER dealer and find out why so many DJs are making musical magic with BEHRINGER.
Main Features:
Premium 6-channel club DJ mixer for the most demanding turntablist, remixer and digital DJ

45-mm infinium "contact-free" optical crossfader with adjustable friction and fader curve for years of use

Beat-syncable FX section with 2 parameter controls assignable to Mic, 1, 2, 3, 4 or Master

2 mind-blowing VCFs (Voltage Controlled Filters) can be assigned to any channel or crossfader side

2 independent LFOs (Low Frequency Oscillators) for awesome filter modulation

Built-in USB interface for recording and playback of any digital music file. Works with your PC or Mac computer—no setup or drivers required

6 Line and USB inputs, 4 Phono/Line plus 2 Mic/Line inputs—all channels with Gain control, switchable EQ and level meter

2 XENYX mic preamps with "corrective" EQs and 4 premium phono preamps for superior detail and ultimate punch

Powerful "asymmetric" 4-band EQs on all line channels with +6 dB boost to preserve headroom and -26 dB cut for creative mixing

VCA-controlled faders for utmost reliability and noise-free performance

2 stereo Aux sends selectable pre-/post-fader on all channels

2 balanced mix XLR outputs with Level control, secondary "music only" outputs for recording plus post fader mono output

Sophisticated Monitor section includes 2 Headphone outputs, split cue, mix to cue balance and post EQ switch

Rack mount brackets included for ultimate flexibility

"Planet Earth" power supply for maximum flexibility (100 – 240 V~), noise-free audio, superior transient response plus low power consumption for energy saving

High-quality components and exceptionally rugged construction ensure long life

Conceived and designed by BEHRINGER Germany
zzz dj