You're currently on: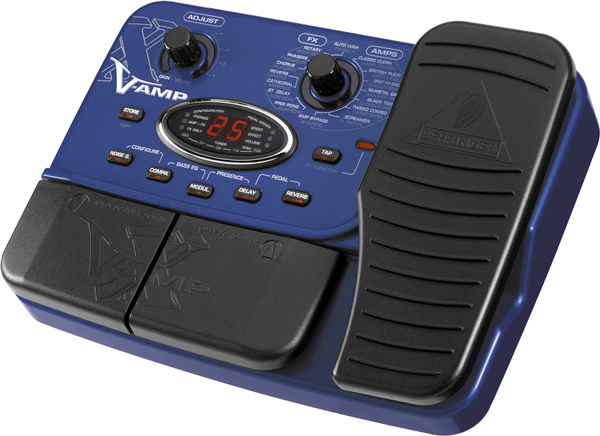 Here's one great looker—and that's just the beginning! The X V-AMP is a floor-based unit not only featuring the best V-AMP models of celebrated guitar amplifiers and speakers, but also providing the most desirable stomp box simulations combined with a multi-mode expression pedal.
16 amp models with or without cabinet simulation, compressor, noise gate, EQ, modulation effects , delay and reverb are at your disposal—use up to 11 effects simultaneously for a total of unbelievable 61 effects! The 24-bit high-resolution stereo multi-effects processor includes not only one but four models of first-class stomp box simulations of each of the following: chorus, flanger, phaser, tremolo, rotary speaker, pitch bend effects and many more, giving you a total of 32 stunning modulation effects.
A special acoustic simulation and an amp bypass function are also included. The expression pedal is freely assignable for real-time control of effects or wah/volume control. Naturally, a power supply is included. All in all, the X-VAMP offers a combination of features that is simply tough to beat!
Main Features:
16 original V-AMP amp/speaker simulations, including a special acoustic simulation and amp bypass function.
24-bit high-resolution stereo multi-effects processor including first-class stomp box simulations, delay, wah wah, chorus, flanger, reverb, noise gate and compressor effects and many more.
Freely assignable expression pedal for real-time control of effects or wah/volume control
Amp and cabinet simulation, compressor, noise gate, EQ, modulation effects, delay and reverb can be used simultaneously in any combination
Awesome modulation and pitch bend effects
Dedicated semi-parametric EQs for low-end and presence control
9 different output configurations for utmost flexibility
100 memory locations—easily editable and storable
2 separate ¼" TRS outputs usable as stereo line/phones and guitar amp input
Intuitive controls and comprehensive display for visual feedback during editing
Adjustable, super-precise auto-chromatic tuner
Power supply included
Extremely rugged, road-proof construction
Conceived and designed by BEHRINGER Germany