You're currently on: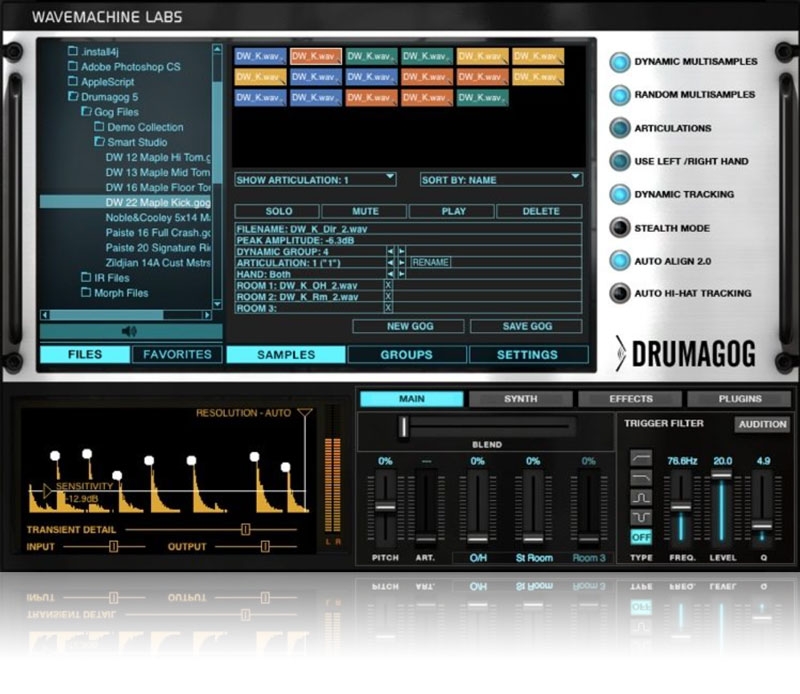 Drumagog 5.0 PLATINUM
The Perfect Solution to Wimpy Drum Sounds
WaveMachine Labs Drumagog 5 Pro takes drum replacement to a whole new level. Amazing new features, including a new, more accurate triggering engine; the sample-accurate Auto Align 2.0 alignment algorithm; and an extensive 4GB sound library with room samples make Drumagog 5 Pro more useful than ever before. For years, Sweetwater has recommended Drumagog to fix and enhance existing drum tracks. Just insert it onto a drum track and select your favorite sample. Drumagog 5 Pro does the rest.
WaveMachine Labs Drumagog 5 Pro at a Glance:
Advanced triggering engine for fast, precise drum replacement
Layer samples for more dynamic variety
Advanced triggering engine for fast, precise drum replacement
Drumagog 5's advanced triggering engine makes drum replacing a breeze. It accurately tracks the incoming audio and replaces even the most detailed drum nuances with ease. In addition to the basic controls to adjust input, output, and triggering parameters, Drumagog 5 Pro features several controls on its advanced page for custom tuning of the overall triggering process.
Layer samples for more dynamic variety
Drumagog 5 Pro also supports dynamic, random and positional multisamples for the ultimate in acoustic realism. Each instrument can contain several dynamic multisamples, representing distinct volume levels. Drumagog 5 Pro will automatically choose from one of these samples to match the incoming audio volume perfectly. With Drumagog 5's advanced multisample support, even complex drum rolls sound realistic.
WaveMachine Labs Drumagog 5 Pro Features:
NEW - Easier-to-use user interface
NEW - Triggering engine provides more accurate replacement than ever before
NEW - Auto Align 2.0 ensures sample-accurate alignment
NEW - Room Samples let you dial in ambience to taste
NEW - 4GB sample library
Automatically replaces drum tracks with a variety of samples
Compatible with WAV, AIF, SDII, and GIG samples and libraries
MIDI feature allows triggering of external drum machines and virtual instruments (on supported hosts)
Advanced Visual Triggering feature
Sophisticated sample management
Auto sample-rate conversion
New triggering engine for the ultimate in accurate triggering
Works with any VST, RTAS, or AU compatible application
Make your drum tracks come alive with Drumagog 5 Pro!
You may also be interested in: