You're currently on: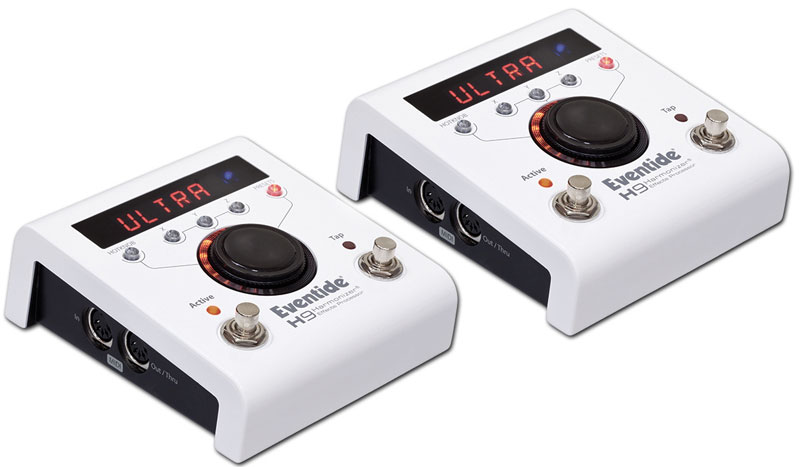 Using the H9 MAX together with the H9 Core allows you to use all your H9 MAX effects on the H9 Core at a lower price than buying 2 separate H9 MAX's.
STOMPBOX RE-THUNK
The H9 MAX includes all 45 algorithms and associated presets from Space, TimeFactor, PitchFactor, and Modfactor, plus UltraTap Delay, Resonator, and Compressor EQ, delivering Eventide's acclaimed sound and all of Eventide's stompbox effects in one pedal.

It features a simple, one-knob user interface and also connects wirelessly via Bluetooth to iPods, iPhones and iPads for creating/managing presets and live control.
While the H9 MAX is fully controllable via its front panel, a free iOS app, H9 Control, can be downloaded to your iPhone or iPad for live editing, creating and managing presets and changing system settings wirelessly via Bluetooth. H9 Control will also be available for your PC or Mac via USB.
The H9 MAX features stereo audio I/O, MIDI I/O, Expression Pedal, and Auxiliary Switch inputs. All of Eventide's stompbox algorithms and their associated presets are included.
The H9 MAX comes loaded with a set of Eventide's most popular algorithms taken from their award-winning stomboxes:
From ModFactor:
Chorus (Four Types)
•Liquid Chorus
•Shimmer Chorus
•Organic Chorus
•Classic Chorus

Phaser (Five Types)
•Negative Phaser
•Postive Phaser
•BiPhase Phaser
•Feedback Phaser
•PhaseX0 Phaser

Wah (Four Types)
•WahWah Q-Wah
•Voc-Wah Q-Wah
•Bass Wah
•Bass Vocal Wah

Flanger (Five Types)
•Positive Flanger
•Negative Flanger
•Jet Flanger
•Thru-o Flanger

ModFilter (Three Types)
•Lowpass ModFilter
•HiPass ModFilter
•BandPass ModFilter

Rotary (Two Types)
•Standard Rotary
•Giant Rotary

Tremolo (Two Types)
•Bias Tremolo
•Opto Tremolo

Vibrato (Three Types)
•Modern Vibrato
•Vintage Vibrato
•Retro Vibrato

Undulator (Two Types)
•Pitch Undulator
•Feedback Undulator

Ringmod (Two Types)
•Ring (DC) Ringmod
•String (AC) Ringmod

From PitchFactor:
Diatonic
PitchFlex™
Quadravox™
Octaver™
HarModulator™
Crystals™
MicroPitch
HarPeggiator™
H910 / H949
Synthonizer™
From TimeFactor:
Digital Delay
Vintage Delay
Tape Echo
Mod Delay
Ducked Delay
Band Delay
Filter Pong
MultiTap
Reverse
Looper
From Space:
Room
Plate
Spring
Hall
Reverse
Shimmer
ModEchoVerb
DualVerb
Blackhole™
MangledVerb™
TremoloVerb
DynaVerb
Plus a new H9 MAX exclusive:

UltraTap™
64 Delay Taps at Your Command
Resonator
EQ Compressor
You may also be interested in: