You're currently on: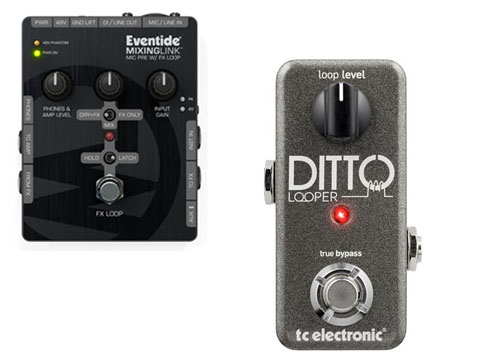 LITTLE FERRY, NEW JERSEY, November 12, 2013 — Today, Eventide announced a new studio-quality microphone pre amp plus effects loop in a compact stompbox form factor. The Mixing Link™ fits neatly on a pedal board or in a backpack, making the wide world of guitar stompbox effects available to vocalists.
"Our pedals were designed for guitar but most of the effects really work well for voice. The Mixing Link makes it rather easy for singers to connect to most guitar stompboxes and, with its high quality mic pre, it's at home both on stage and in the studio," said Tony Agnello of Eventide and Manifold Labs.
High Quality - Microphone preamplifier with FX Loop in a compact from factor
FX Loop - Effects send/return accommodates balanced and unbalanced signals and interfaces with consoles or guitar pedals easily
FX Footswitch - Latching or momentary footswitch control of effects loop for performance effects
Works with a wide range of microphones including condenser and ribbon microphones with up to 65dB of clean gain
Aux I/O - Connection supporting stereo input and mobile device send level
Guitar amp output and headphone monitor output with separate master volume control
International universal 9VDC power supply included, or 9V battery
48V phantom power for condenser microphones
Balanced XLR output which supports DI and Line levels (-10dB to +18dBu)
Instrument and balanced line level inputs (-10dB to +18dBu)
Versatile mix control supports 3 modes of operation –
100% microphone plus effects
microphone/effects balance (effects mix)
100% FX (no microphone)
TC Electronic Ditto Looper
Essentially Essential
Ditto Looper is the looper you try once and love for life. And you simply gotta try it. We've taken all that is good about loopers, trimmed away all the non-essential, mood-killing tech hoopla and ended up with a looper that is intuitive, tons of fun, sounds great and doesn't break the bank.
Designed by guitarists, for guitarists
Super intuitive
Great sound
Looping Sense
Ditto Looper was designed from the ground up with guitarists in mind. Hey, we play too, so it's what made sense to us. We made sure Ditto Looper takes up minimal space on your board, but still has the essential 'make your guitar-heart jump' features such as True Bypass and Analog-Dry-Through making sure your tone stays uncolored.
One Knob To Rule Them All
Ditto Looper simply loops. Well. It's 'one knob' button may seem like a minimalist approach, but all the essentials are there: record, undo/redo, stop and erase are all accessed via different foot-commands that always make sense, whether you are building loops, changing from one part to the next (we're looking at you, live performers) or adding layers to a song.
Appeal To Your Inner Audiophile
If you know our products, you are used to things sounding great. We made absolutely sure this also goes for Ditto Looper, so the loops produced are in 24 bit uncompressed high quality audio. Why settle for less if you love tone, right? Right!
Backstage Pass - All Access
The essence of Ditto Looper is a looper built by guitarists, for guitarists. High quality, super easy and fun to use and with features dedicated to the needs of guitarists, we simply can't wait to see what you guys will do with this thing - we think it's gonna rock!
How Do You Ditto?
Ditto Looper makes looping as easy as 1-2-3. No hassle or needlessly complicated stuff, Ditto Looper is boiled down to the essentials and makes control intuitive yet flexible, so guitarists can focus on what matters most: playing and performing. You press once to record, press once again to play the loop. Press once to add another layer of sounds (something you can keep repeating until you run out of ideas). You press and hold to Undo a layer and press and hold again to Redo. Press twice to stop, after which you can press and hold to clear the loop. Ah, if only life were this simple.