Dynamics Processor with Attitude!
Introduced in the early 1970s, the Omnipressor® was the first dynamics effects processor of any kind. Invented by Eventide's founder, Richard Factor, the Omnipresssor, made a host of effects possible. It featured variable control of all aspects of dynamic modification. It also introduced the notion of the 'side chain' and foretold techniques that today we take for granted like 'look ahead' processing.
Factor's original design, the "white-face" Omnipressor 'featured' controls that made the unit virtually impossible to use. In fact, here's the opening paragraph of the original user's manual:
"...if you don't fondle it's controls properly it will cause you hours of confusion and tempt you to dash it against the rocks or put it in a sack and drown it."
Engineer Jon Paul was brought on board to tame the beast and the "black-face" Omnipressor was born. It has been used on hundreds of hit records throughout the last four decades and many of the original units are still in service and cherished.
The Omnipressor plug-in is a faithful emulation of the "black-face" unit and is popular among some of the world's leading producers and engineers as a dynamics-modifier with variable expressive controls of all aspects of a signal's dynamics. The Function control allows you to set compression and expansion ratios over a wide, continuous range from extreme expansion to infinite compression and beyond - dynamic reversal which reverses a sound's envelope, making loud sounds quiet and quiet sounds loud.
One of our first customers was a young Brian May, lead guitarist of Queen. With the Omnipressor in his rig, his sound was never the same again.
Features
Dynamics processing for creating otherwordly sounds
Variable control of attack and release time
Variable control of maximum gain and maximum attenuation
Function control sets ratio over a continuous range from extreme expansion to infinite compression and beyond to dynamic reversal
Gating: Set a threshhold and signals whose amplitudes fall below the threshhold value are 'squooshed'
Expansion: Widen a signal's dynamic range. Loud gets louder, soft gets softer
Compression: Variable control of compression ratio
Infinite compression: Obliterates a signal's dynamics - everything comes out at the same level
Limiting: Versatile, fast limiter
Dynamic Reversal: First of its kind. Soft signals come out loud, loud signals come out soft. Simulates tape reversal
Intuitive interface makes it simple to operate with the use of a function dial
Dozens of presets to help you explore the unique and inspirational sounds of the tool used on countless hit records
Original Data Sheet - 1974
"Some of the unusual capabilities of the unit are illustrated in the graph below."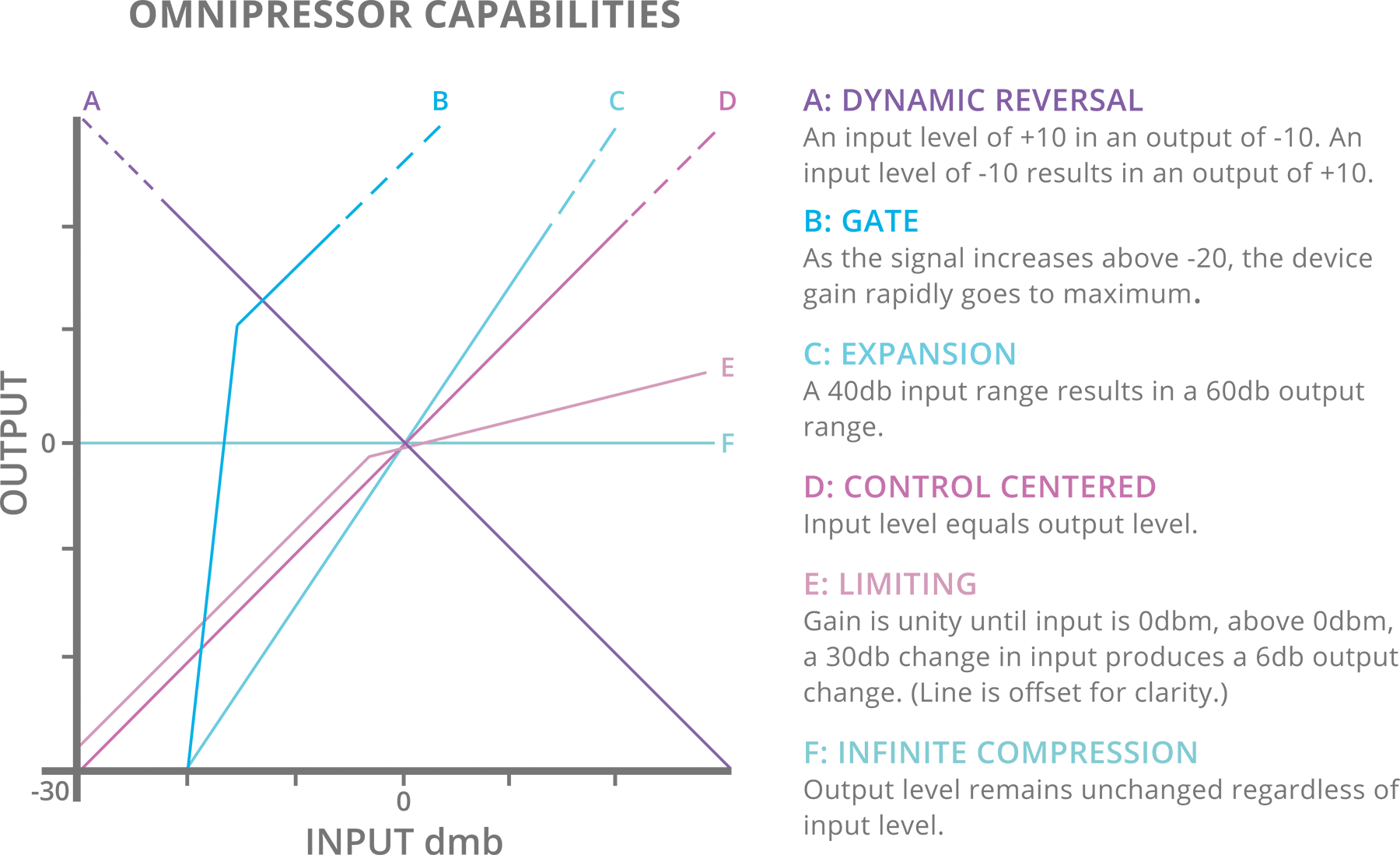 Artists Using Omnipressor
Andre Kelman

Beastie Boys, Phoenix, Gogol Bordello, Cat Power

Joe Chiccarelli

John Agnello

Sonic Youth, Dinosaur Jr.

Stewart Lerman

Patti Smith, St. Vincent, Boardwalk Empire

Tony Visconti

Alex Solano

Pulsating Waves, Plugin Connection

Chris Carter

Chris & Cosey, Throbbing Gristle

Enrico De Paoli

Erin Tonkon

David Bowie, Holy Holy, Esperanza Spalding

Jordi Martinez Guals

Ken Sluiter

Heart, Weezer, Ok Go, Morrissey

Robert Venable

Twenty One Pilots, Kelly Clarkson, Megadeth
Reviews
Omnipressor is a compressor and expander/gate dynamics plug-in that goes about the business of compression in a very aggressive and shouty way. If you are looking for a subtle transparent compression then look somewhere else, if you want a compressor with bags of pump, depth and character then look no further.

Pro Tools Expert

[Omnipressor] is the most twisted, aggressive, nasty, and yes, seductively versatile dynamics control device I've used...The Bass Cut switch is way cool for kick drum fans, as it attenuates bass frequencies going to the compression control circuit.

Harmony Central

I thought it would be interesting to compare the plug-ins to the hardware they emulate. To be honest, I was not expecting them to be that close in sound, but I was in for a surprise...I was kind of blown away at how alike they sounded after trying several different settings on each processor.

Tape Op
Customer Testimonials
| | | |
| --- | --- | --- |
| I can testify that the Eventide Omnipressor plug is a faithful duplication of the original hardware unit that we had at AIR Studios 214 Oxford St London. Not many engineers used it because it had too many knobs but I loved it because it could do weird and wonderful things. | | |
Platform Compatibility
| | |
| --- | --- |
| Windows 7+ | AAX 32/64-bit, VST2 32/64-bit |
| macOS 10.7+ | AAX 64-bit, AU 64-bit, VST2 64-bit |
We test our desktop plugins in Ableton Live, Cubase, FL Studio, Logic Pro, Pro Tools, and Studio One. However, our plugins should work with any compatible host - we recommend you download a 30-day demo here to check before buying.
New 32-bit macOS installers are no longer being made for this product.