You're currently on: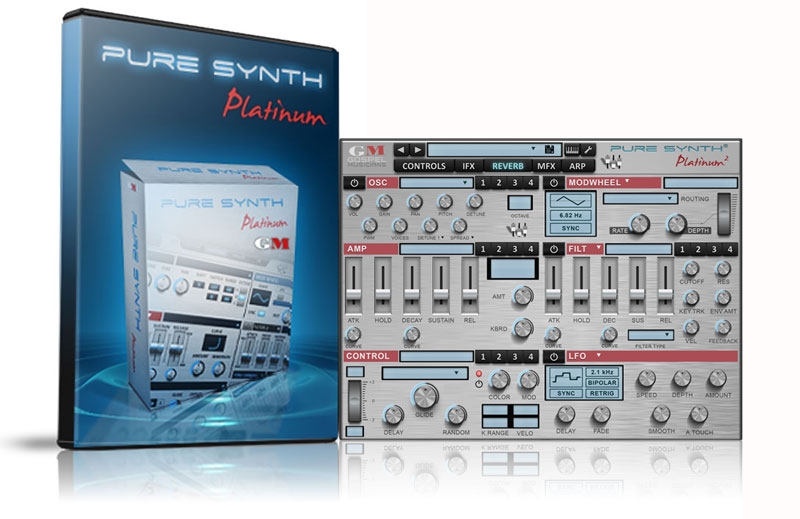 We spent the last year building our own complete synth and sampler infrastructure from the ground up. All of the things you asked for in the first version of Pure Synth Platinum are now available in this version. Think of Pure Synth as your software version of your hardware rompler.
Platinum Highlights:
New streaming and synthesis architecture built form the ground up
Brand NEW high quality samples with tons of new sounds
A completely overhauled easy to use modulation system.
New and flexible preset system with quick saving and recall
Brand new state of the art digital effects.
Significantly better CPU Optimizations
JP-800-like Detune for samples and synths
A complete urban synth architecture and framework featuring the best of the modern urban sound. It's a full synthesizer and a full blown rompler in one synth. Add on a complete modulation system and new effects and you'll have everything you need in one synth.

What's New In This Version?
Brand New
We spent the last year working on our own synth architecture, with advanced features and low CPU. It is tailored specifically for easy usage and powerful features.
Brand New Sounds
1,000 Sounds
21619 Samples
8.11GB (5.2GB Compressed)
100 Wavetables
New Preset System
Easy to use preset system with the ability to create categories and subcategories. An overwrite feature to quickly update a change
New Modulation System
Added the ability to right+click on any parameter and add an envelope, LFO, or mod modulator easily. This works for the effects unit as well.
New Digital
We licensed effects units from some of the best known DSP companies such as Overloud™.
JP-Like Detune
Sophisticated unison/detune mode with spread and blend that allows you to blend in JP-Detuning effects for really fat detuned saws.
Large HD View
Added a super large HD mode so that you can edit your presets on full screen with clarity and large HD knobs. This helps when editing preset banks. No small interface screens here!
Multiple Osc Select
Added the ability to hold Ctrl+Click and edit multiple oscillator sections at one time. This is great if you want to keep the same parameters across oscillators as in many analog synths.
Analog Snyth Technology
Added warm wavetable and analog technology. Our wavetables are much more warmer and analog sounding due to custom DSP tricks to keep a warm vintage sound to our oscillators.
Plethora of Effects and Rack
Added some of the most amazing effects on the market. We licensed the VKFX from Overloud™ and included them in Pure Synth. We've also added an amazing Rotary, Dimension D Chorus emulation, and a very detailed Stereo Spread algorithm.
We've also added the ability to move racks to change the position and sound in the effects chain. Changing the order of effects can drastically change your sound and it is just as easy as dragging a rack.
New Preset System
Featuring a brand new preset system that allows you to:
​Create new library and bank folders
Hardrive accessible for easy sharing with other users
Search bar for easy finding
Fast loading and selecting
Quick Overwrite/Save of existing preset
Multiple Oscillator Edit
Edit multiple oscillators at one time to save time on editing. Simply CTRL+Click and select oscillators.
Easy and Powerful Modulation System
Right+Click on any modulator source, including all effects racks, and choose between an Envelope, LFO, or Mod-wheel assignment. This allows you to create very expressive, articulate, and moving sounds that will play wonderful tricks with your ear. You can see a visual representation of the actual knob being modulated and how it reacts to the modulation source.
Specifications
Number of Presets
500
Sample Library Size
5.2GB Sample Size (8.11 GB Uncompressed)
Download Size
5.2GB
Software
Required Software
None (Standalone)
Standalone
Works without a DAW
Supported Technology
AU, VST, AAX, Stand-Alone
64-Bit Supported
64-Bit ONLY!
Not Compatible With
Reason for Windows
Licensing
Internet Required
Yes (for Download and Authorization)
Pace iLok Required
No
Offline Activation
No
Authorization Method
Serial Number/License Key
Number of Computers
2 Authorizations
Dongle Requirement
No Dongle or iLok Required!
Computer
Mac OSX
OSX 10.8 or Higher
Windows OS
Windows 7/8 of Higher (64-Bit Only)
Hardrive
SSD Required for Streaming
Processor
Intel i5 or Higher
RAM
8GB or Higher
Digital Audio Workstation
Apple Logic 9 or X
Yes (64-bit Only)
GarageBand
Yes (64-bit Only)
Mainstage
Yes (64-bit Only)
ProTools
Yes (64-bit Only)
FL Studio
Yes (64-bit Only)
Cubase
Yes (64-bit Only)
Ableton Live
Yes (64-bit Only)
Studio One
Yes (64-bit Only)
Digital Performer
Yes (64-bit Only)
Sonar
Yes (64-bit Only)
Propellerhead Reason
Yes (64-bit Only)
Reaper
Yes (64-bit Only)
Computer Skill Level
Not a Novice
Not a Novice in Computers or Music Technology
Digital Download
Internet Connection
High Speed Required
Speed
Requires 10MB/s or Higher
Download Time
48-Hour Download Limit
Compression Software
Requires Keka (Mac) | WinRar (Windows)
Policy
Refunds
Non Refundable
Re-Downloads
Unlimited
You may also be interested in: