You're currently on: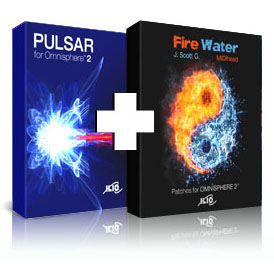 With well over 200 patches combined in PULSAR and Fire Water, you'll find inspiration whether you're scoring for film, television, video games, or your next pop/club sensation. As an added bonus, PULSAR was just updated with 16 brand new patches that add mysterious beauty, dramatic tension, and suspenseful undertones to the collection.
16 brand new patches were added to PULAR on 08/12/16!
PULSAR is a collection of 121 patches for Omnisphere 2™ containing BPM-locked basses, synths, leads, pads, and FX with sounds ranging from aggressive to ethereal.
PULSAR is the latest Omnisphere 2 powerhouse patch collection from MIDIhead. As the name suggests, all of the 100+ sounds in PULSAR breathe with energetic, driving pulsations using Omnisphere 2's extensive menu of Arpeggiators, LFOs, Envelopes, and Effects. These original patches transcend genre, providing rhythmic energy to electronic, ambient, pop, EDM and film music. Nearly all of the sounds are generated using Omnisphere 2's DSP waveforms. Why shell out for a custom pulsing virtual instrument? Launch Omnisphere 2 and put your tracks in motion with PULSAR.
PULSAR focuses on the use of the modulation wheel AND aftertouch for fast, expressive, sound-altering control. Many patches are also optimized for use with The Orb, giving you even more real-time control on stage and in the studio.
These 121 Patches Feature:
32 BPM - BASS
1 BPM - Drum
5 BPM - Bell
5 BPM - FX
3 BPM - LEAD
1 BPM - ORGAN
9 BPM - PAD
62 BPM - SYNTH
3 BPM - VOX
Registered customers are entitled to free updates and bonus patches when they become available
UPDATED on 05/22/2016 with 14 new patches!
ILIO introduces a diverse new patch library for Spectrasonics Omnisphere 2.1™ that is sure to bring out your inner synth dragon-master.
Every virtue has its vice, and every yin its yang. Music production should reflect this universal truth, according to J. Scott G. (formerly of Deepsky) and MIDIhead. Together they've produced a new patch library for Omnisphere 2 called "Fire Water." In it you'll find ripping synth basses, powerful and funky leads, lush pads, ethereal and epic poly synths, interesting fx and textures, vocoder sound bites, and BPM-locked movers.
As the name suggests, every patch ranges from overtly aggressive to warm and serene. Fire Water is a professional producer's toolbox of sounds that will help you construct any type of modern electronic music, such as Drum and Bass, Trap, Hip-Hop, Pop, EDM and even Film Score. Fire Water will take you from dark to light moods in a split second, and yield infinite options for blending them in new and unusual ways.
"There is a yin-yang balance and contrast with the sounds I use in composing electronic music. It's a painting that requires a diverse palette of sounds. For example, I may want to begin my piece with a serene intro and build to an intense climax, or I may layer a dirty bass line with a soft poly synth and lush pad. Fire Water gives you that palette. It allows you to achieve that ebb and flow in a feng shui kind of way," says MIDIhead.
J. Scott G. adds, "I love sounds that have a specific, but unconventional playability. For example, many of the distorted bass sounds I created are mono synths with massive amounts of portamento time. That allows me to bypass the pitch wheel and play bending notes with one hand while controlling the sonic texture via the modulation wheel with my other hand, all in real time."

Fire Water loads quickly and easily into Omnisphere 2.1 or higher. Each sound is optimized for use with your modulation wheel for real time control on stage or in the studio. Use The Orb for unexpected surprises!
Fire Water contains 121 meticulously crafted patches, including:
30 BPM Synths, Bass, Leads, FX, and Vocoder Phrases
8 Bell
1 Tuned, Sub Kick
2 Vocoder Phrases
1 Organ
9 Pads
2 SFX
23 Synth Bass
20 Lead Synths
5 Synth Plucks
20 Polyphonic Synths
Omnisphere 2 will need to be updated to at least version 2.1 prior to use. Registered users can update for free by logging into their Spectrasonics User Account.
SYSTEM REQUIREMENTS FOR ALL USERS

• 2.4 GHz or higher processor
• 4GB RAM minimum, 8GB or more recommended
• Dual Layer compatible DVD-ROM drive
• 64GB of free hard drive space


Mac Users:

• OSX 10.8 Mountain Lion or higher
• AU, VST 2.4 or higher, RTAS/AAX capable host software
• Audio Unit plugin requires host with support for "Cocoa" based plugins
• Native 64-bit and 32-bit on OSX


Windows Users:
• VST 2.4 or higher, RTAS/AAX capable host software
• Microsoft Windows 7 and higher compatible
• Native 64-bit and 32-bit on Windows
You may also be interested in: