You're currently on:

iZotope Mobius Filter + DDLY Delay Bundle

Mobius Filter
Perpetual Motion Machine
Add movement and emotion to your music with Mobius Filter's infinitely ascending or descending filter sweeps. Find the sweet spot for your track quickly and fluidly, to push to extreme heights or add subtle hints of motion. Create fresh filter effects for any genre—massive filter swells, psychedelic alternatives to flange effects, or fresh inspiration for adventurous soundscapes.
Infinite filter potential
Mobius Filter creates the sensation of constant movement in your audio by applying the concept of the Shepard Tone to filters instead of pitches. Depending on your preferences, your audio can rise or fall at varying speeds for complex—but easy to achieve—spatial movement. Combined with automation in your audio editing software, the possibilities with Mobius Filter are endless.
Top Features
XY Pad

Drag it around
Draw your own expressive sweeps with the X/Y pad, making fluid adjustments to both Center Frequency and Resonance using a single control.
Host Tempo Sync

Get in sync
Get a rapid, pulsing effect or slower motion by adjusting the Host Tempo Sync to anything from eighth notes to eight bars.
Stereo Slider

Immerse yourself
Create an immersive environment with the Stereo slider, which widens the stereo field in an amount of your choosing.
Motion Control

Put it on hold
Create a static filter effect by pausing the filter motion with the Pause function. Or, pause when it feels right and then automate to create custom sweeps.
Filter Type

Phake it out
Change between two filter variations that alter the frequency characteristics of the filter
Mobius Filter Technical Specs
Latest version: Mobius Filter 1.00 released March 29, 2016.
Mobius Filter runs as a plug-in within your audio editing software. Mobius Filter is not a standalone application.
Operating Systems:
Mac — OS X 10.8 Mountain Lion - macOS 10.13 High Sierra
PC — Win XP (32-bit Service Pack 3) - Win 10
Plug-in Formats:
AAX (64-bit), AU, RTAS (32-bit), VST, VST3
Supported Hosts:
Ableton Live 9 - 10, Cubase 9.5, Digital Performer 9, FL Studio 12, Logic Pro X, Nuendo 8, Pro Tools 10 - 12, Reaper 5, Reason 10, Studio One 3 - 4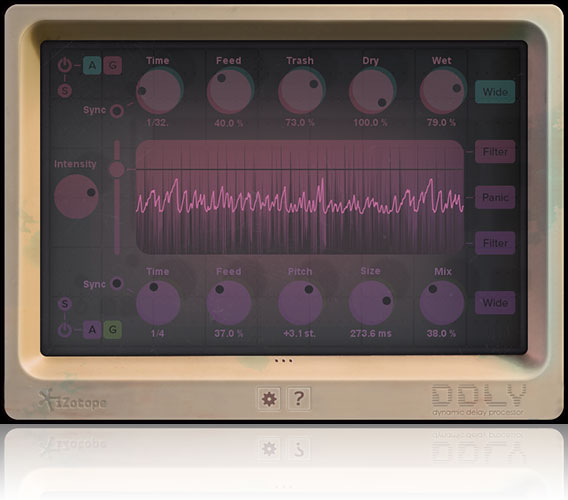 DDLY
Don't delay, delay today

DDLY Dynamic Delay responds to your track's musical dynamics to create versatile and intriguing delays. It's a one-of-a-kind effects plug-in that delays the signal differently depending on the character of the sound, without turning your track to aural mud. Adjust the threshold to split your signal based on transients, then send it down two separate analog or granular delay paths.
Two delays in one
DDLY is actually two separate delays! DDLY analyzes your audio based on an adjustable threshold to determine what to send to the top delay and what to send to the bottom delay. Adjust the Intensity to affect how strongly the signal is split between the two—great for a punchy delay on the harder, transient crack of your drums and a shuffling delay on the main beat elements.
Customize your delay
Manipulate the settings in each delay independently or in sync with the other. Choose analog mode to produce warm lo-fi delays with smearing and nostalgic degradation, or choose Grain for melodic, symphonic, and futuristic sounds. Crank the Feed and Trash knobs to throw in some extra destruction, or use the parallel dry/wet knobs to add just the right amount of sweetness.
Unique Flexibility
Dynamic Intensity
DDLY intelligently analyzes the dynamics of your incoming audio to determine what to delay. This means that DDLY will react differently depending on how hard you push Threshold and Intensity, just like a compressor!
Two Delay Algorithms
Each of DDLY's two delays can be toggled between one of two algorithms. Analog emulates the smearing quality of a classic lo-fi analog delay. Grain splits the audio into multiple grains of adjustable size and pitch for truly unique effects.
Unlimited possibilites
Each delay line includes fully independent controls for distortion, filtering, and widening. Dial in a simple ⅛ note workhorse delay with a single line, or go crazy and combine both on full intensity to really let the juices flow.
DDLY Dynamic Delay Technical Specs
Operating Systems:
Mac — OS X 10.8.5 Mountain Lion - OS X 10.13 High Sierra
PC — Win 7 - Win 10
Plug-in Formats:
AAX (64-bit), AU, RTAS (32-bit), VST, VST3
Supported Hosts:
Ableton Live 9 - 10, Cubase 9.5, Digital Performer 9, FL Studio 12, Logic Pro X, Nuendo 8, Pro Tools 10 - 12, Reaper 5, Reason 10, Studio One 3 - 4
You may also be interested in:
| | |
| --- | --- |
| Variant | 1 |
| Specials | 2019/09/09 |