You're currently on: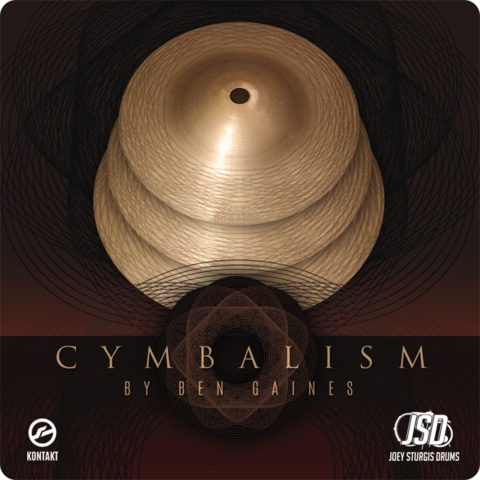 *Recorded, Edited, processed by Ben Gaines *
*Further processing by Joey Sturgis*
*You are NOT allowed to*
resell these samples as your own work or feature these samples as part of any other library or any other product not created by Ben gaines. Failure to do so is in Breach of the law and you will be prosecuted.
*You are allowed to*
Use these samples in any published Media including music, video, games, films, live performances and radio
*Cymbalism Contains*
14 mix ready cymbals from a drummers perspective aimed at giving a versatile and realistic drum sound. Rather than velocity based sampling that merely alters a single set of multi samples the articulations have been recorded in 24bit/44.1kHz featuring 4 xtra Soft, Soft, medium, 6 Hard and Xtra hard, 3 choke, 3 bell, 3 cymbal swell per cymbal. Hi hats include Pedal, Closed, Half Open, Open and Pedal Choke.
*Tips on use*
Cymbalism is your vision, your own virtual room, use kontakt to pan your cymbals to your required perspective, you can use as many or as little of the 14 provided cymbals to create your unique kit, cymbals are pre processed and require nothing more than a touch of eq, if your velocities have a high range you might want to try a touch of your favourite compression.
KONTAKT 4 Full MULTI REQUIRED
*Cymbal Sizes and Brands*
* Hi hat A : 12" Sabian AA mini Hi Hats
* Hi Hat B : 14" Sabian AAX Studio Hi Hats
* Crash Right : 19" Paiste Alpha Metal crash
* Crash left : 17" Sabian AAXplosion crash
* Crash Middle: 16" Meinl Generation X Synthetic Crash
* China Right: 18" Sabian HHX China
* China Left: 16" Meinl Generation X Filter China
* Mini China Right: 8" Meinl Generation X Filter China
* Stack Center: Meinl Generation X Synthetic Filter Stack
* Splash/Bell Left: 8" Custom Sabian 15" crash cut down
* Bell Left : 8" Stag Bell
* Bell Right: 12" zildjian z Bell
* RideA:21" Zildjian Z Custom Mega Bell Ride
* RideB: 22" Sabian HH dry Ride
All Content Copyright Of Ben Gaines 2012
You may also be interested in: