You're currently on: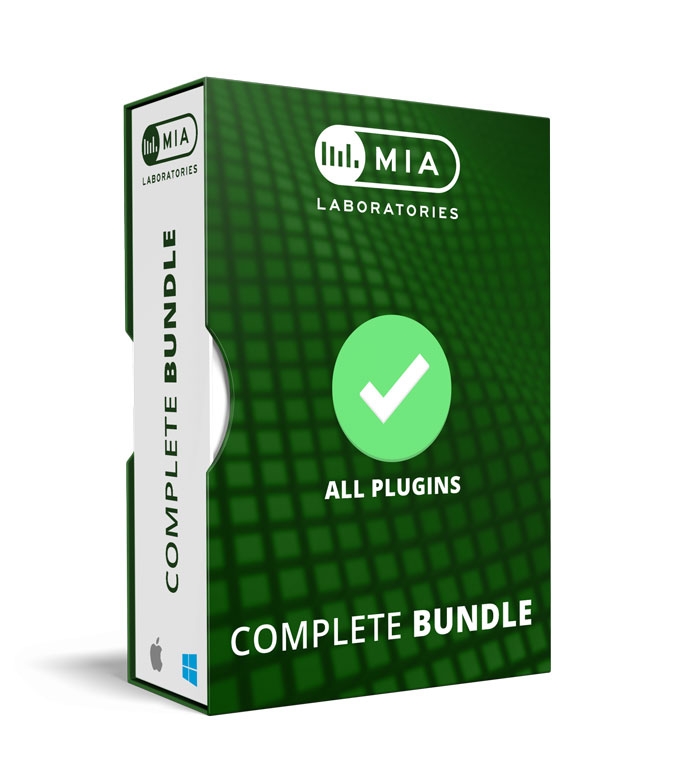 COMPLETE BUNDLE
Get the chance to buy ALL our plugins, at a fantastic price!
Pi & Phi MkII
Musiqual BLUE, RED, GREEN SE
MIA Delay Δt
MIA Compressor ONE
SUPER FAT, THIN, MUSCLE
Pi and Phi , beyond its innovative and enhanced capabilities of simultaneous expansion, compression and EQ, offers a wide range of other functions: It enriches the mix and each of its separate contents with an overall acoustic effect that can only be described as super-enhanced vivacity and brio, with a warm yet powerful 'sparkle'.
The outcome emphasizes musicality and amplitude in a psychoacoustic way, along with smoother analysis of harmonics.
It is a "Phase and Time EQ", a theory based on the logarithmic perception of space-time fused in a plugin!
Musiqual RED possesses a strong Tube flavour, boasting 31 pre-set frequency bands very familiar to Tube enthusiasts, across generations. The way that adds or subtracts colour is however more intense, and is accompanied by a profound change in timbre. Its sound is of the type that the passionate Tube enthusiast lives for.
Musiqual BLUE is committed to deliver a digital – yet so analogue – equalisation, with a very vivid flavour one can almost 'taste'. An exquisite EQ with 16-bands to choose from, forged from the experience gained over countless working hours on Class A analogue equipment.
Musiqual GREEN Musiqual GREEN is a semi parametric EQ, delivering a fairly transparent sound with the 'transistor' flavour that is so characteristic of analogue technology. Musiqual GREEN liberates the user by not restricting one into preset bands, therefore leaving them complete access to the full frequency range.
Mia Delay Δt, is a 'hardware'-style echo/delay unit designed for both production and live performance applications. It features intuitive, extensive control parameters with excellent sound quality and low CPU load.
Mia Compressor ONE is MIA Laboratories' premier compressor. Carefully designed to act like the much esteemed analog compressors of past decades, with the distinctive sound of MIA Laboratories. Easy and simple to use, yet flexible enough to help you achieve the desired results quickly, and to speed up your workflow.
SUPER FAT maximises low frequencies in a friendly way to the new generation of sound systems. Adds the desired extra Grease in your sound with the turn of just one knob. Recommended for club mixes and genres such as Techno, Dub, Reggae and RnB.
SUPER THIN, the most delicate member of the FAT – THIN – MUSCLE group, adds brilliance without harshness. Recommended for dull sounds, will make them louder on smaller systems such as laptops, phones etc. Lifts up that track and gives it some ethereal essence.
SUPER MUSCLE increases perceived loudness and presence without compression. Recommended for low loudness files such as mp3's. Want it loud and proud? This is one of your best weapons!