You're currently on: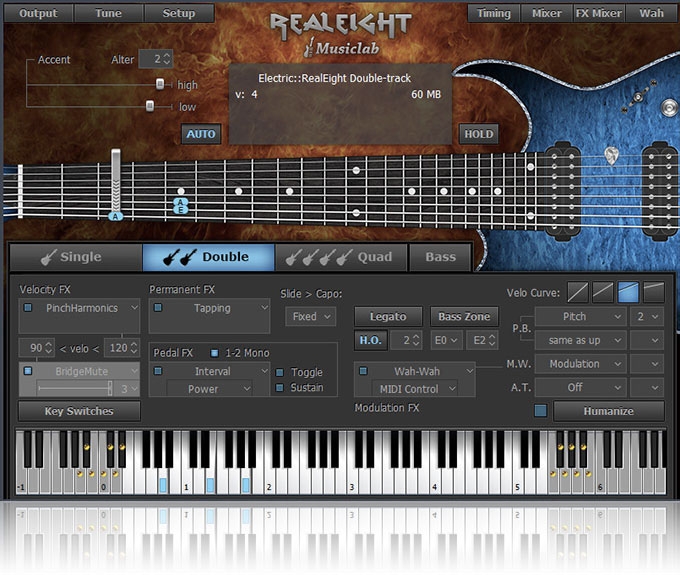 We are proud to present the RealEight virtual guitar instrument - the ideal guitar for creating lead, rhythm riff, and even bass tracks in your future rock and metal masterpieces!
RealEight is 8-string sample-based electric guitar virtual instrument.
RealEight provides incredible playability based on easy-to-use keyboard layout as well as the advanced key/pedal/velocity switch system allowing a keyboardist to perform guitar parts with a whole new level of realistic expression.
RealEight covers practically all sounds, articulations, and techniques a professional guitarist can produce on his 8-string electric guitar, including mute, bridge mute, harmonics, pinch harmonics, sliding, scraping, etc...
24-bit high quality dry samples recorded directly from pick-ups let you easily create any desired guitar sound using your favorite amplifier simulator.
RealEight innovations:
Incredibly deep sound covering huge 5-octave note range (8 strings, 24 frets)!
Ready-to-use Double Track and Quad Track patches with a single MIDI input
30+ authentic guitar articulations and effects
Advanced Humanize section allowing to add realism to the performance both live and step-recorded in a MIDI track
Bass mode lowering the pitch of all strings to Bass guitar tuning
The unique Floating Fret Position technology, which imitates change of fret position of a guitarist's hand on the neck. This gives you the possibility of playing on up to 200 guitar frets using just 60 keys of a standard keyboard!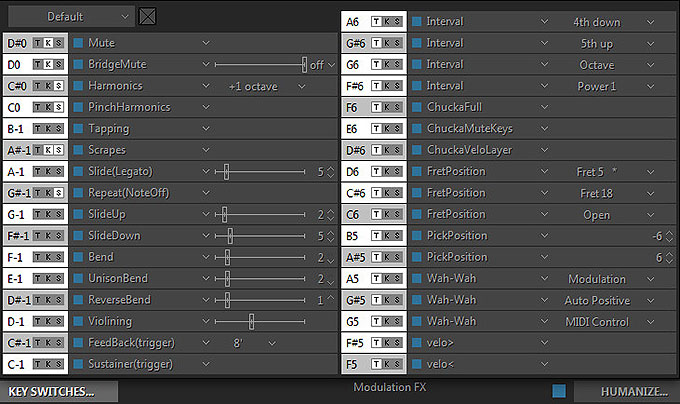 Features
Guitar Patches
Single
Double-tracking
Quad-tracking
Sounds
Full length (recorded with full attack and sustain)
Muted (fret hand mute)
Bridge Mute (palm mute)
Harmonics (Artificial)
Pinch Harmonics
Scrapes
Fret Position select
Pick position select (15 points)
Pick Noise (adjustable level)
Fret Noise (auto)
Release Noise (auto)
Drop B tuning
Bass mode
Sound Effects
Violining (volume swell)
Sustainer (sound swell)
FeedBacker(harmonic feedback)
Wah-Wah (MIDI CC control, Auto, Modulation)
Key/Pedal/Velocity Switches
up to 31 assignable FXs
33 keys for Key Switches
Toggle/temporary switch modes
Custom Key Switch presets (save/load)
Modulation Wheel Switch
12 assignable FXs (including Mode Toggle)
Articulations/Techniques
Up/Down strokes
Hammer-On/Pull-Off (up to octave range)
Hammer-On with automatic Pull-Off on key release (up to octave range)
Legato
Tapping
Slide Legato Up/Down (up to octave range)
Slide Up/Down (up to 2-octave range, speed adjustable)
Slide Up/Down Trigger to/from sustaining notes (speed/range adjustable)
Tremolo (up/down strokes, speed adjustable, tempo sync)
Trill (up to octave range, speed adjustable, tempo sync)
Bend auto (range, speed adjustable)
Reverse Bend auto (range, speed adjustable)
MonoBend (Unison Bend, lower string bend)
Chucka-Chucka (barre chords muted) Up/Down, various string combinations
Attack/Release time ajustable
Strum Speed adjustable
Humanize Parameters
Pick Position
Resonance
Random Mutes
Attack Time
Stroke Time
Strum Time
Tremolo/Trill timing
Velocity
Pitch
MIDI Guitar mode (normal guitar via MIDI interface input)
---
RealEight bonus software:
RealEight ships with IK Multimedia Amplitube Custom Shop software! AmpliTube Custom Shop is a full-featured version of AmpliTube, with 24 gear models included for recording and mixing in your favorite Mac/Win DAW or for playing on stage or practicing at home. Plus, the included Custom Shop allows you to try and buy over 200 new gear models available. You can now build your own collection of amp and effects models with a level of customization never seen before and at prices never so affordable.
---
Compatibility
Operates as a virtual instrument software plug-in in all major hosts like Logic, Cubase, Digital Performer, Sonar, Pro Tools, Studio One
Works as a Standalone module

System requirements
2GB+ RAM, 5GB+ free hard drive space
Windows XP SP3/Windows Vista SP2 32bit or 64bit, Windows 7 SP1 32bit or 64bit, Windows 8.1 32bit or 64bit
VST2 32bit or 64bit/VST3 32bit or 64bit/AAX 32bit or 64bit host
OS X 10.6/10.7/10.8/10.9/10.10
VST2 32bit/VST3 64bit/AU 32bit or 64bit/AAX 32bit or 64bit host
AAX support: Pro Tools 10.3.9 AAX32, Pro Tools 11/12 AAX64
You may also be interested in: