You're currently on: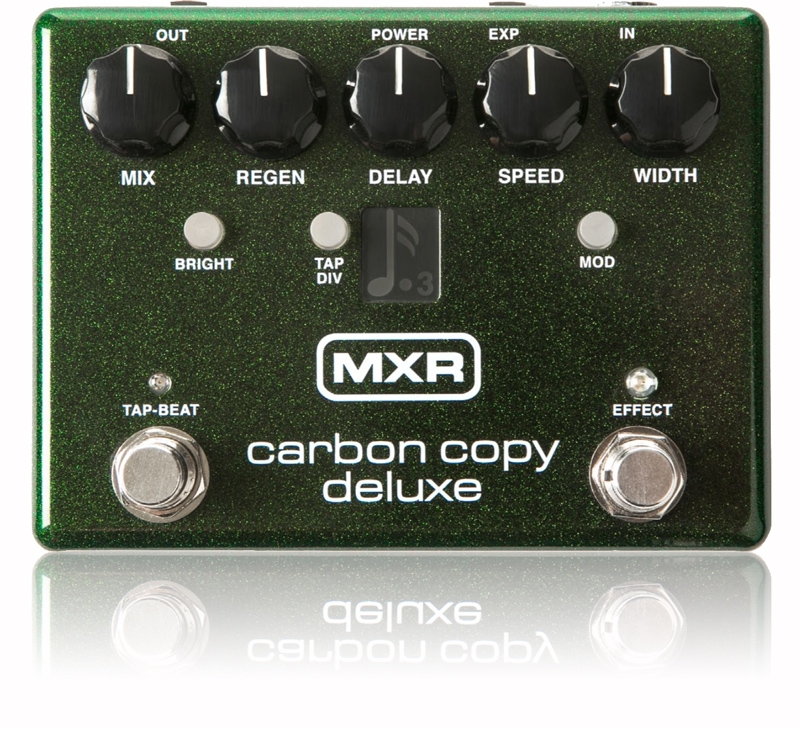 MXR® CARBONCOPY® DELUXE ANALOG DELAY

e Carbon Copy Deluxe Analog Delay adds a bevy of new features to the bestselling analog delay in the world. With twice as much delay time and tap tempo functionality with four di erent subdivisions, you now have more control over your Carbon Copy repeats than ever. e Bright switch toggles between the original Carbon Copy pedal's dark, mellow wash and the Bright version's vibrant articulation. Additional features include modulation for added character and texture, an expression jack for external control of various functions, programmable presets, and more.

• Same warm analog sound as the original Carbon Copy Analog Delay • Now has twice as much delay time on tap — up to 1.2 seconds
• Tap Tempo function synchronizes delay time to song tempo
• Four di erent Tap Tempo subdivisions with easy-to-read status display • Modulation switch adds character and texture to repeats
• Bright switch engages vibrant, articulate Carbon Copy Bright sound
• Expression jack allows for external control of various functions
• Programmable presets for easy recall of your favorite settings
• Internal Line Level/Instrument Level switch allows pedal to be used either in front
of the amp or in the FX loop • True bypass
You may also be interested in: