You're currently on: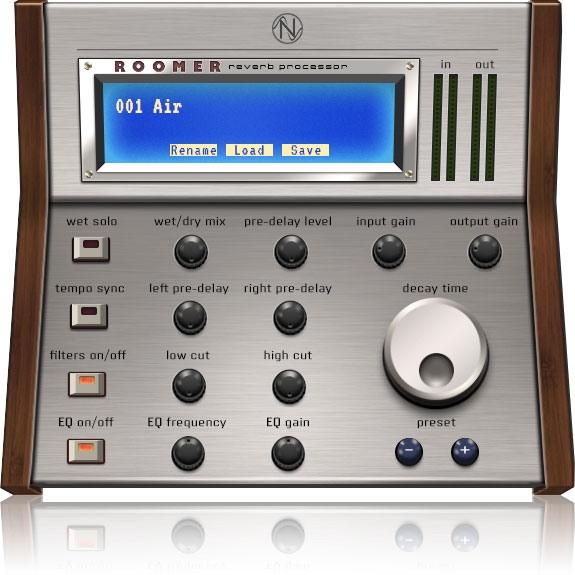 Roomer
Roomer specializes in the kinds of short, pillowy ambiences and room reverbs that make vocals and instruments pop out of the speaker without taking excess room in a mix or sounding drenched. Sounds become three dimensional and alive, as if coated by a thin layer of air.
At the same time, Roomer is able to emulate long, dense halls, cathedrals, and plates, and powerful processing under the hood allows it to create effects like NonLin reverbs, gated reverbs, reverse reverbs and laser delays.
Intuitive Controls
Great sound and versatility are combined with a straightforward interface that gives you immediate access to the tools you need to make Roomer fit perfectly in your mixes.
Control the stereo spread using separate pre-delay amounts
Create dense reverbs by mixing pre-delayed and non-delayed reverbs
Shape the reverb frequencies with low cut, high cut, and semi-parametric EQ
Sync delays to the tempo of your project
9 Reverb Types
1 Ambience
2 Small Rooms
3 Large Rooms
4 Small Halls
5 Large Halls
6 Plates
7 XXL
8 NonLin
9 Special
144 presets total
Copy Protection
Roomer is protected by iLok. However, it does not require a physical iLok dongle and can be authorized directly to your computer. If you do choose to use a physical iLok dongle, it must be a newer iLok 2 or 3.
Compatibility
Mac: 64-Bit VST, AU, AAX
OSX 10.10 and later (we expect it to be compatible with OSX 10.9 but it has not been tested)
PC: 64-Bit VST, AAX
Windows 8.1 (SP2), Windows 10 (we expect it to be compatible with Windows 7/64 but it has not been tested)
You may also be interested in: