You're currently on: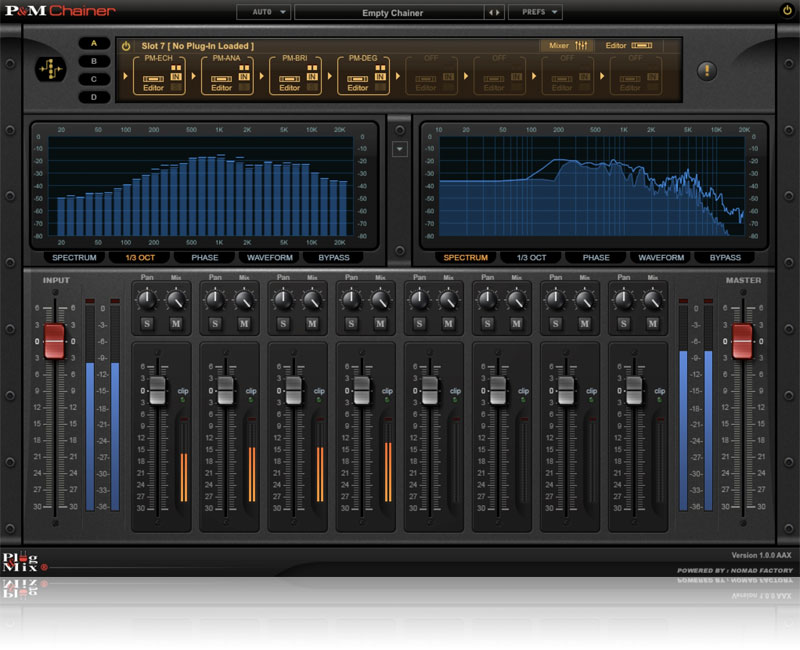 The Plug & Mix Chainer is a utility plugin that can load and chain any VST effects and VSTi instruments into any DAW...including Pro Tools!
Use the Chainer to save great effect presets or VSTi virtual instrument patches that can be recalled from any DAW at anytime.
For example, let's say you are a guitarist and want to save a typical effect patches. The Chainer enables you to load up to 32 effects in series or parallel. So you may want to load and save a compressor, an EQ, an Amp sim, a delay, a reverb, a chorus, etc, and save the whole thing within a patch that can be loaded in other sessions or even other DAWs. The same concept can be applied to vocal patches, drum patches, or any other typical effect chains that you want to recall in future sessions.
The same applies to virtual instruments that can be loaded and chained one after the other. Effect plugins can be loaded into any slots adding amazing effects to your sounds or instruments.
Drag and Drop functionalities enables users to conveniently change the order of the effects and/or virtual instruments they load within the Chainer. A mixer section enables users to solo, mute and control the level, Mix and Pan of each effects or instruments loaded in the chainer. The chainer also provides useful Spectrum and 1/3 Oct analysers, Phase and audio Waveform visualisation to control the audio signal processes within it.
You may also be interested in: