You're currently on: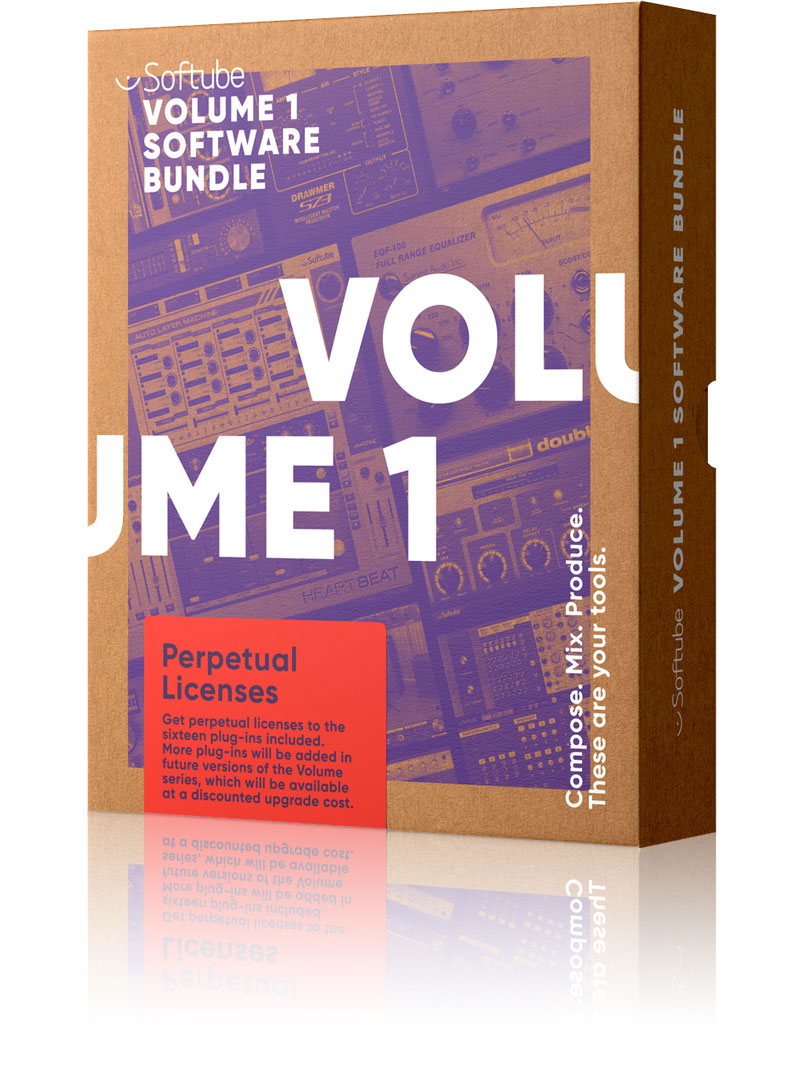 Compose. Mix. Produce.
Volume 1 starts with you and what you need to create music. It is a plug-in bundle that was compiled the right way: By identifying the eleven most common situations in music production and then adding the plug-ins you need to handle those uses cases—along with a 90 minute mix tutorial video.
The Tools You Need
Creating drum machine and synth tracks, recording electric guitar, mixing vocals and acoustic guitars—these are among the eleven use cases we identified when we created Volume 1. Use Volume 1 with your favorite DAW and start working on your next masterpiece.
World Class Sound
Softube's award-winning plug-ins are among the most respected on the market. They are used by top-level professional engineers to create records by leading artists from Beyoncé to Black Sabbath, from Taylor Swift to Kanye West, and from Adele to Coldplay.
Learn From the Best
To make the most of Volume 1, you also get a 90 minute mix tutorial video where Grammy nominated engineer Ryan West (Jay-Z, Eminem, Kanye West) walks you through the creation of a song, using the Volume 1 plug-ins. The tutorial is made by pureMix.net, one of the most experienced online video education services for music and sound. You can already now watch ten free #volume1_videos. You're welcome.
Extreme Value
Volume 1 contains sixteen plug-ins with a total value of over $2000 when purchased separately. Still not ready to commit? Get the twelve month subscription.
A Growing Concept
New plug-ins will continuously be added to Volume 1. These will be added for free to subscribers—so just keep subscribing and see your collection of tools grow. They will also be offered at a small upgrade fee to owners of permanent licenses.
What is Included in Volume 1?
Volume 1 is a plug-in bundle which includes the following sixteen plug-ins: Summit Audio Grand Channel, Summit Audio EQF-100 Full Range Equalizer, Summit Audio TLA-100A Compressor, TSAR-1 Reverb, TSAR-1R Reverb, FET Compressor, Modular, Trident A-Range, Vintage Amp Room, Drawmer S73 Intelligent Master Processor, Fix Flanger and Doubler, Heartbeat, Tube Delay, Bass Amp Room and Saturation Knob.
Volume 1 is a bundle of sixteen Softube plug-ins, with a combined value of over $2000
You can buy perpetual licenses, get a monthly subscription or buy a twelve month prepaid subscription (exclusive to authorized Softube dealers)
Volume 1 includes a 90 minute mix tutorial video made by pureMix.net, with Ryan West (Eminem, Jay-Z, Kanye West)
You may also be interested in: