You're currently on: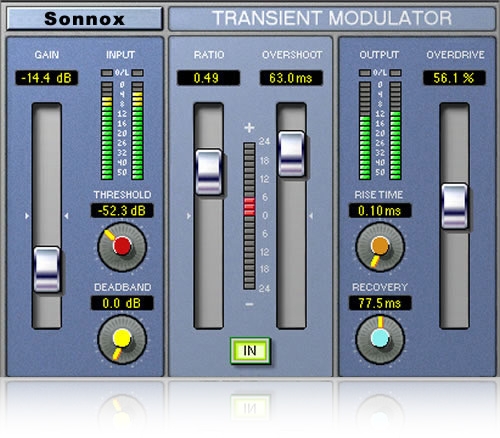 Receive special discounts when buying multiple Oxford plug-ins, simply add this Bundle Discount to your cart or enter the following coupon codes when checking out:
sonnox2 - Receive a 20% discount when ordering two Oxford plug-ins

sonnox3 - Receive a 25% discount when ordering three Oxford plug-ins

sonnox4 - Receive a 30% discount when ordering four Oxford plug-ins

sonnox5 - Receive a 35% discount when ordering five Oxford plug-ins

sonnox6 - Receive a 40% discount when ordering six or more Oxford plug-ins
The Transient Modulator allows dramatic manipulation of signal transients. It can completely exaggerate or dampen the attacks, with continuous variation between all settings. A 'soggy' drum kit can be brought to life, or a bass made to sound more punchy. Conversely, it can bring up the ambience surrounding a specific sound by softening the attack. The TransMod can give life to dull sounding recordings, without the unwanted changes in overall timbre associated with compression.
Features
Fully 64-bit compliant
Accentuates or softens attacks and transients
Brings instruments forwards or pushes them back in the mix
Radically changes the dynamics of instruments
Variable harmonic enhancement for extra punch
Can have the effect of increasing or decreasing room ambience
Gives life to dull sounding recordings without the artifacts of compression
Formats
HD-HDX: Pro Tools AAX DSP, TDM, Native
Native: AAX Native, RTAS, Audio Units and VST
Please visit
http://www.sonnox.com/pub/plugins/shop/education.htm
For qualifications on educational Purchases.
Fill out the pdf form from the link given above and send to purchasing@jrrshop.com and please reference your order number.