You're currently on: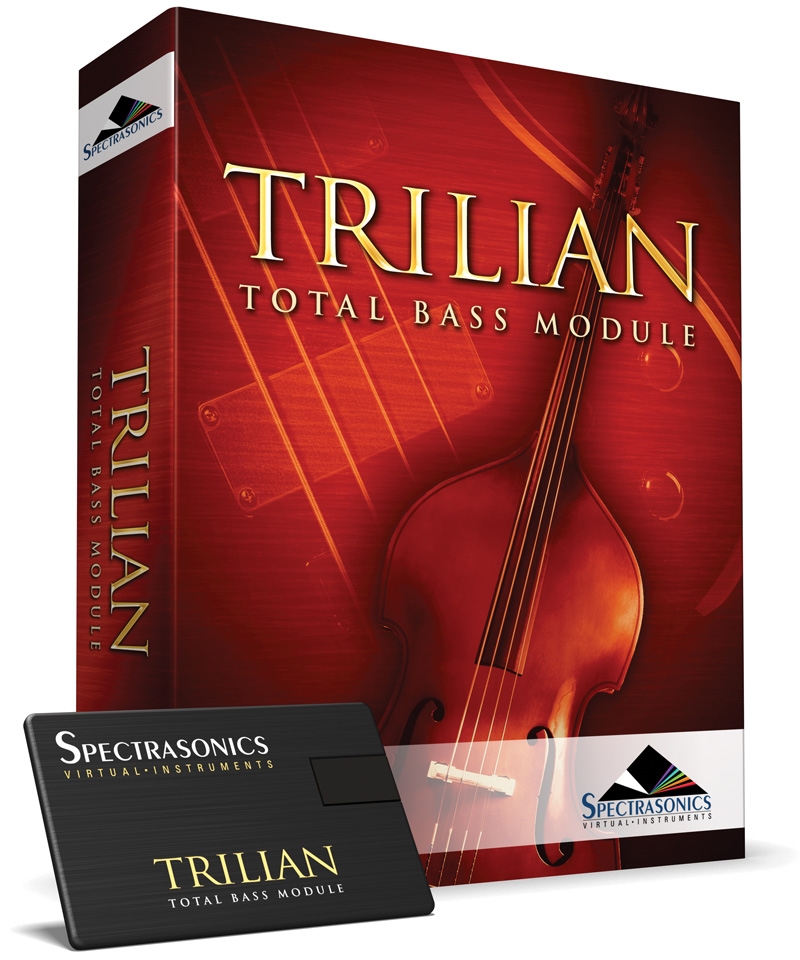 Trilian™ — Total Bass Module
By Spectrasonics
Trilian® is the total solution for Bass from Spectrasonics
Trilian has quickly become the world's leading plug-in authority on bass. Whether you need Acoustic, Electric, or Synth basses, Trilian dominates the industry with the most comprehensive collection of bass sounds ever.
Powered by next generation STEAM Engine technology, Trilian is the first instrument to feature core library integration with Spectrasonic's flagship Omnisphere® synth — allowing Trilian's sounds to be used within the Omnisphere environment for further sound design and keyboard/bass splits.
Trilian's massive 34GB core library features highly detailed new Acoustic, Electric and Synth basses. With a brand new user interface and numerous software innovations, Trilian is the first 64-bit native software based on Spectrasonics next generation STEAM Engine, and is the first virtual instrument to feature full library integration with the flagship Omnisphere synthesizer. Whether you're looking to anchor your mixes with a giant vault of amazing Bass patches, or you're searching for a versatile instrument to create your own unique Bass sounds... there's no other Bass instrument out there with the tone, variety and flexibility of Trilian — it's simply in a class by itself.
TRILIAN FEATURES
New Instruments include expressive, real-time performance features:
Intuitive, automatic selection of dynamic legato and release articulations allows for highly realistic hammer-ons, pull-offs and trills
Extensive "Round-Robin" articulations for natural sounding bass lines with repeated notes
Multisampled dynamic slides – realistically slide from one note to another
Multi-channel mixing between Microphone/Amplifier and Direct outputs of each bass
Articulations for Acoustic and Electric basses include: staccato, legato, sustain, vibrato, slide up, slide down, slide up & down, gliss up, harmonics, FX squeaks, X-notes, at multiple velocities with extensive Round-Robin
Pitched Release samples triggering, with up to 16x Round Robin samples for ultimate realism
Live Mode offers intuitive key switching approach for multiple articulations
Stack mode allows user configurable key/velocity/controller mapping for custom patch zones and splits
Custom Controls bring instant, useful and exciting synth bass patch editing attributes right to the users control
Arpeggiator with Groove Lock™ for instant bass line syncing to any Stylus RMX groove or MIDI file
SOUND LIBRARY:
Vast Core Library—over 34GB with a wide variety of bass sounds
Includes over sixty Electric Bass sounds – including 4, 5, 6 and 8-string Electric Basses played by 6 different bassists
Includes all types of playing techniques: Fingered, Picked, Fretless, Slapped, Tapped, Muted
Amazing new acoustic bass with extremely detailed articulations built-in to each patch – over 21,000 samples!
Inspiring brand new Electric Basses include: 5-string Music Man™ Studio Bass, Clean Fender Jazz Bass®, Epiphone™ Retro 60's Bass, Hardcore Rock 5-string, Lakland™ Rock P-Bass and Chapman Stick®
333 Synth soundsources include brand new sounds: Novation™ Bass Station, Yamaha® CS-80, Cwejman™ Modular, Moog Minimoog™, Little Phatty™, Voyager™, Taurus™ Pedals, Korg MS-20, Oberheim 2 voice, ARP 2600, Roland Juno 60/106, Waldorf Pulse™, DSI Mopho™ & Tetra™, Roland TB-303, SH-101, Metasonix KV-100 Assblaster, SE-1, Omega, ATC-1 and many more
Newly developed 'Juicy Filter' and 'Power Filter' algorithms are ideal for thick, resonant synth bass sounds
Enhanced, remastered versions of original Trilogy core library
Bonus section of remastered classic "Bass Legends" library; featuring, Abraham Laboriel, John Patitucci, and Marcus Miller
ADDITIONAL FEATURES:
Powerfully simple interface design makes key features accessible to every user
Custom Controls bring the most useful editing capabilities for each patch right to the front panel
State of the art Browser with Searching, Attributes/Tags, Images
Advanced MIDI Learn and Automation parameter handling
High Definition streaming sample playback STEAM Engine technology
Integration with Omnisphere: Trilian patches open inside Omnisphere for editing & live performance stacks (Omnisphere version 1.1 or higher required for Trilian library integration)
Edit page offers powerful sound manipulation features: dual filters, advanced envelopes and full modulation matrix
8-part multitimbrality allows multiple articulations in a single plug-in with instant, seamless key-switching
Expandable sound architecture allows user customizable patches and unique new Bass sounds
Comprehensive integrated Reference Guide with search
Free Tutorial Videos available online to registered users
EFFECTS FEATURES:
Integrated, full-featured FX Racks—just like Omnisphere, Keyscape, and Stylus RMX
Over 32 original FX Processors covering the full spectrum of signal processing including amp simulators and compressors, EQ, reverb and delays, unique processors and more
FX can be modulated, automated and MIDI Learned for powerful synthesis and real-time control options
SYSTEM REQUIREMENTS FOR ALL USERS
2.0 GHz or higher processor
4GB RAM minimum, 8GB or more recommended
USB2 Port or Broadband Internet connection
40GB of free hard drive space
Mac Users:
OSX 10.10 Yosemite or higher
Intel dual core processor or higher
AU, VST 2.4 or higher, RTAS or AAX capable host software
Audio Unit plugin requires host with support for "Cocoa" based plugins
Native 64-bit and 32-bit on OSX
6GB of RAM or more if using the Sample File Server
Windows Users:
Microsoft Windows 7 or higher
VST 2.4 or higher, RTAS or AAX capable host software
Native 64-bit and 32-bit on Windows