You're currently on: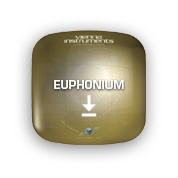 The Euphonium (sometimes called baritone or bass bugle) has approximately the same range as the violoncellos. Although some composers like Ralph Vaughan Williams or Gustav Holst wrote pieces for Euphonium, it appears only rarely in the orchestra; however, it is very common in brass and military music.
Sample Amount Standard Library Full Library
2,853 2,853 7,621
Download File Size 789.8 MB 1.7 GB
Installed File Size 1.5 GB 3.6 GB
euphonium
ARTICULATION GROUP
STANDARD LIBRARY
EXTENDED LIBRARY

01 SHORT + LONG NOTES

Staccato
Portato short
Sustained

Portato medium
Portato long, marcato and soft

02 DYNAMICS

pfp 2 and 4 sec.
Fortepiano and sforzato

Medium dynamics, 1.5, 2, 3, 5 sec.
Strong dynamics, 2, 3, 5 sec.
pfp, 3, 6, 8 sec.
Sforzatissimo

03 FLATTER

Flutter tonguing, normal and crescendo

10 PERF INTERVAL

Legato

Marcato

11 PERF INTERVAL FAST

Legato

Marcato

12 PERF TRILL

Trills, legato, minor to major 2nd

13 PERF REPETITION

Legato
Portato
Staccato

Dynamics for all repetitions

14 FAST REPETITION

Staccato, 9 repetitions, 150, 170, 180 BPM
Normal and dynamics

Staccato, 9 repetitions, 120 to 140, 160 BPM
Dynamics for all repetitions

15 UPBEAT REPETITION
1, 2, and 3 upbeats, 80–140, 160, 180, and 200 BPM
System Requirements
PC Windows 7 (latest Service Pack, 32/64-bit), Intel Core 2 Duo or AMD Athlon 64 X2
Mac OS X 10.8 (latest update), Intel Core 2 Duo
2 GB RAM (4 GB recommended)
VIENNA KEY(Vienna Symphonic Library USB protection device) or other USB
eLicenser
(e.g., from Steinberg or Arturia)
1.5 GB free hard drive space
for the Standard Library, 1.5 GB for the Full Library
Other configurations may work but are not actively supported.
*Extended Requires Standard
*Full= Standard+Extended
| | |
| --- | --- |
| Variant | 1 |
| Specials | 2019/07/31 |