You're currently on: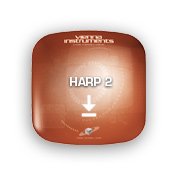 Product Info
Unlike Harp 1, Harp 2 is played by Julia Reth and features an even larger number of single notes in various playing styles, such as damped, fingernail playing, "Près-de-la-table", pedal glissandos and bisbigliandos – those whispering tender tremolos played on two strings of the same pitch that create a lovely ethereal effect. Harp 2 is the ideal complement to harp 1. reflecting the use of two harps in orchestral music since the mid 19th century.
The Standard Library and the Extended Library of Harp 2 combined contain the same samples and articulations as they appear on the Vienna Instruments Collection harps. Please find a detailed list of included playing techniques under the menu item Sample Content.
Sample Amount Standard Library Full Library
966 966 1,762
Download File Size 413.0 MB 684.0 MB
Installed File Size 1.1 GB 2.0 GB
Harp II
ARTICULATION GROUP
01 BASIC ARTICUALTIONS
STANDARD LIBRARY
Normal
Muted
Harmonics
Bisbigliando
EXTENDED LIBRARY
Damped
pres-de-la-table
Fingernails
Pedal glissando
Normal with Release variations
System Requirements
PC Windows 7 (latest Service Pack, 32/64-bit), Intel Core 2 Duo or AMD Athlon 64 X2
Mac OS X 10.8 (latest update), Intel Core 2 Duo
2 GB RAM (4 GB recommended)
vienna key (Vienna Symphonic Library USB protection device) or other USB
eLicenser
(e.g., from Steinberg or Arturia)
1.1 GB free hard drive space
for the Standard Library, 1.1 GB for the Full Library
Other configurations may work but are not actively supported.
*Extended Requires Full
*Full= Standard+Extended