You're currently on: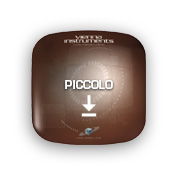 Every Vienna Instruments collection comes with both the Vienna Instruments player and Vienna Ensemble. Get Vienna Instruments PRO and Vienna Ensemble Pro 5 to add another layer of expression to Vienna Instruments and improve your workflow.
The piccolo, or octave flute, is a member of the transverse flute family. It is the highest-pitched wind instrument in the orchestra. Its range (an octave above that of the concert flute) reaches far higher than the human voice. In the Classical period (the second half of the 18th century) the orchestral piccolo was used to imitate sounds of nature, such as birdsongs or storms and for special effects. In the Romantic period (19th century) it became an established part of the woodwind section of the orchestra.
Piccolo

ARTICULATION GROUP

STANDARD LIBRARY
EXTENDED LIBRARY

01 SHORT + LONG NOTES

Staccato
Portato short
Sustained with normal and progressive vibrato

Portato medium with and without vibrato
Portato long with vibrato
Sustained with vibrato, var. 2

02 DYNAMICS

pfp with vibrato, 6 sec.
fpf with vibrato, 5 sec.
Fortepiano and sforzato with vibrato

Strong crescendo and diminuendo with vibrato 2, 3, and 5 sec.
Strong crescendo and diminuendo without vibrato, 1.5, 2, 3, and 4 sec.
Sforzato with vibrato, var. 2 and 3

03 FLATTER + TRILLS

Flutter tonguing
Trills, minor and major 2nd

Trills, minor and major 3rd, 4th

10 PERF INTERVAL

Legato

Lyric legato
Marcato

11 PERF INTERVAL FAST

Legato

Marcato

12 PERF TRILL

Trills, legato, minor 2nd to major 3rd

13 PERF REPETITION

Legato slow
Portato fast
Staccato

Legato medium and fast
Portato slow and medium

14 FAST REPETITION

Staccato, 9 repetitions, 150–180, 200, and 220 BPM

15 GRACE NOTES

Grace notes
Minor 2nd to octave
Up and down

16 SCALE RUNS

Octave runs
Legato, major and minor from C to B key
Chromatic and whole tone
Up and down

17 ARPEGGIOS

Arpeggios
Legato and staccato
Diminished, major and minor from C to B key
Up and down
2 speeds for all

18 MORDENTS

Mordents, var. 1–6

98 RESOURCES
Single layer long notes (p, mf, f)
Interval performances: Legato with sustain crossfading