You're currently on: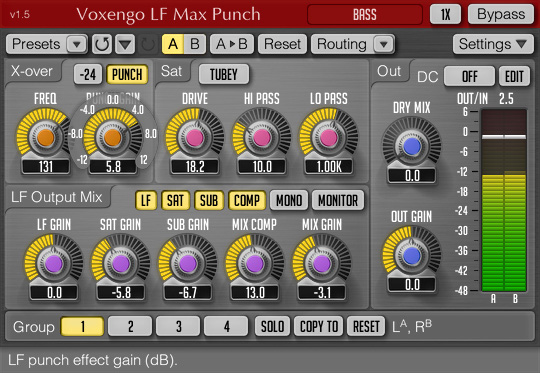 ...instantly a big bass ground-breaking sound
Voxengo LF Max Punch is a professional audio effect AU and VST plugin for music and sounds where low-frequency thump and punch are most welcome, and where distortion is applied specifically to bring the bass sound to life. LF Max Punch provides a low-frequency effect specially designed for serious contemporary music producers offering them a convenient tool for applying a smooth punch and oomph to audio tracks and sounds.

LF Max Punch plug-in dynamically emphasizes selected bass frequency band, applies a smooth saturation over it, and produces additional sub-harmonic content, with the ability to blend it with the original bass band sound. Optional compression can then be applied to the resulting low-frequency sound. LF Max Punch first splits the broad-band signal into low- and high-frequency bands and then applies the aforementioned effects to the lower band only.

This effect can be applied over a wide range of sound material: drum tracks, bass tracks, contemporary music mixes: rap, trance, club music; also rock music can benefit from LF Max Punch's low-frequency enhancements.
Applications
Bass dynamics booster
Sub-harmonic synthesizer
Bass saturator and harmonic enhancer
Stereo, mid-side, 5.1 low-freq processor
Features & Compatibility
Puncher module
Built-in compressor
Stereo and multi-channel processing
Mid/side processing
Preset manager
Contextual hint messages

Saturator module (2 modes)
Effect monitoring switch
Internal channel routing
Up to 8x oversampling
Undo/redo history
All sample rates support

Sub-harmonic synthesizer
Crossover steepness switch
Channel grouping
64-bit floating point processing
A/B comparisons
Zero processing latency
Compatibility
This audio plugin can be loaded into any audio host application that conforms to the AudioUnit or VST plugin specification.

RTAS compatibility is available by using the FXpansion VST-RTAS adapter.

This plug-in is compatible with Windows (32- and 64-bit Windows XP, Vista, 7 and later versions) and Mac OS X (10.5 and later versions, 32- and 64-bit, Intel processor-based) computers (2 GHz dual-core or faster processor with at least 1 GB of system RAM required). A separate binary distribution file is available for each target computer platform for each audio plug-in specification.
You may also be interested in: