You're currently on: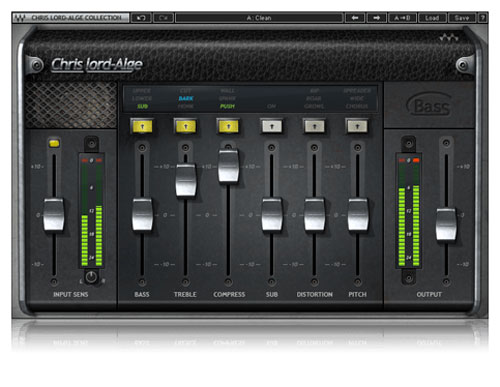 Chris Lord-Alge on CLA Bass: "From sub-shaking smooth sounds to Mr. Buzzsaw, CLA Bassis just what the doctor ordered. The plugin was designed to help you lay down a solid foundation for any song. It gives you six essential effects: bass, treble, compression, sub, distortion, and chorus/flange. Whether you want it to rip, roar, growl, bark, or cut, CLA Bass delivers."
Main Features:
Input Sensitivity is used to achieve optimal plugin input level.
Input Meter displays input signal peak level.
Balance adjusts the offset between left and right signals.(Stereo component only)
Sensitivity LED indicates the presence of proper levels.
Bass controls low frequency gain.
Bass Color toggles between low frequency filters.
Treble controls high frequency gain.
Treble Color toggles between high frequency filters.
Compress controls the dynamic range.
Compress Color toggles between compression characters.
Sub enhances very low frequencies.
Sub Color turns sub enhancement on/off.
Distortion controls the amount of distortion.
Distortion Color toggles between different distortion types.
Pitch controls the pitch modulation wet mix.
Pitch Color toggles between pitch modulation types.
Output controls the output level.
Output Meter displays output signal peak level.
Clip LEDs light up when levels exceed 0 dBFS.