You're currently on: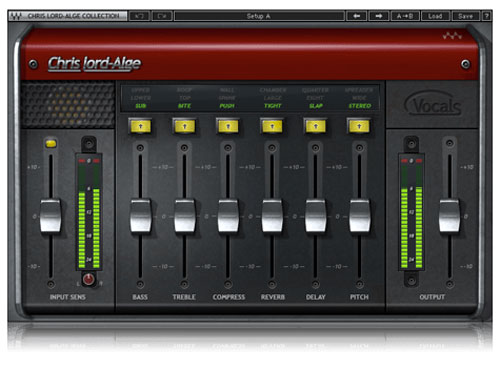 Chris Lord-Alge on CLA Vocals: "The most important part of any song is the vocals. The CLA Vocals plugin makes this part of mixing an absolute joy. I have taken the very best settings which I use in my everyday mixes and crafted them into this chain. It works great on all styles of singers and, best of all, they will want that sound every time! You also get three flavors of the top six effects you need: the right amount of bass, treble, compression, reverb, delay, and chorusing/doubling."
Features
Complete all-in-one processing chains
Mono-to-stereo and stereo components
Optimized control ranges
24bit/96kHz resolution
Supports RTAS, Audio Suite, VST, AU
PC and Mac compatible
Controls
Input Sensitivity is used to achieve optimal plugin input level.
Input Meter displays input signal peak level.
Balance adjusts the offset between left and right signals.(Stereo component only)
Sensitivity LED indicates the presence of proper levels.
Bass controls low frequency gain.
Bass Color toggles between low frequency filters.
Treble controls high frequency gain.
Treble Color toggles between high frequency filters.
Compress controls the dynamic range.
Compress Color toggles between compression characters.
Reverb controls the reverb wet mix.
Reverb Color toggles between reverb environments.
Delay controls the delay wet mix.
Delay Color toggles between delay times and characters.(Syncs to session BPM)
Pitch controls the pitch modulation wet mix.
Pitch Color toggles between pitch modulation types.
Output controls the output level.
Output Meter displays output signal peak level.
Clip LEDs light up when levels exceed 0 dBFS.
You may also be interested in: