You're currently on: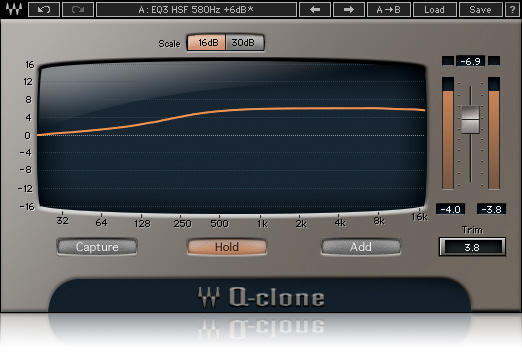 There's nothing like the warmth and character of vintage hardware equalizers. With Q-Clone, you can dig into its massive library of classic EQs, or use the Q-Capture component to model your own hardware favorites. Plus, you can use your captured hardware freely throughout your session, adjusting the sound of each track as if you had dozens of that same equalizer. With so many EQs at your fingertips, Q-Clone is true innovation in equalization.
Features
Model your favorite hardware equalizers
2 components: Q-Clone and Q-Capture
Includes large library of modeled EQs
Henry Olonga Colour Mix Total Bundle
Sampled at 96 khz with Prismsound Orpheus conversion and high quality short gold tipped cables. Almost all the Q-clone products Henry Olonga set up a few years ago. Best bang for buck by a long shot and now at its lowest price ever. If you have no interest in Nebula then this will get you going pronto. Q-clone is still a very high quality mixing tool. Does not include Henry Olonga's more recent offerings like Vintage Titan EQ, Transparent EQ filters, Tape Tones, Prized Mastering EQ, Exquisite EQ, and Five-50A.
You may also be interested in: