You're currently on: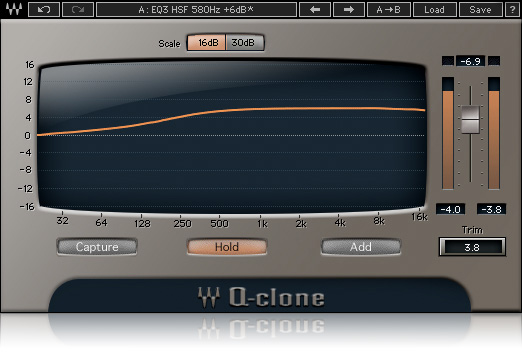 There's nothing like the warmth and character of vintage hardware equalizers. With Q-Clone, you can dig into its massive library of classic EQs, or use the Q-Capture component to model your own hardware favorites. Plus, you can use your captured hardware freely throughout your session, adjusting the sound of each track as if you had dozens of that same equalizer. With so many EQs at your fingertips, Q-Clone is true innovation in equalization.
Features
Model your favorite hardware equalizers
2 components: Q-Clone and Q-Capture
Includes large library of modeled EQs
Henry Olonga Elite Series Five-50A
Sampled with 'Prismsound Orpheus' precision you will not be disappointed. Provided in 64 Bit 192 khz, 32 BIT – 176.4khz, 96 khz , 88.1 khz, 48khz and 44.1 khz. 2240 Wav files. 320 wav files per sample rate. Library size is 200 MB. Please note that these require a Convolution Reverb to enjoy and some may not support 64 bit wavs.
Not tied in to any proprietary software, DSP Hardware or intrusive copy-protection this is a truly OPEN release.
This release is geared to the high definition mix environment. The Veil that wraps your PCM files will be lifted – this is not for those wanting a gritty rendition of the hardware so you may find that this set suits acoustic music a little better.
About the hardware
This is a superb sampling of a classic EQ's sound that features on many a record such as those from Fleetwood Mac, Stevie wonder and many more.
This is for you if you desire better separation, a '3D' effect that makes for a dynamic performance extracting subtle depth, reducing flatness and increasing detail.
These IRs will give you very high resolution mixes.
All filter settings captured with the exception that there are no overlapping bands or B.P Filter. Designed to work fully Wet with any major convolution reverb, simply load and mix away. Adding a little bit of the dry signal too taste works well as well but it is up to you. The standard length of the impulse responses is 200 milliseconds but feel free to shorten it to conserve CPU. I would not suggest getting lower then 20 ms though. If you would like to add some AyPeye distortion on your tracks and master bus then have a look at my Nebula 'The Console Strip' Elite Series.
You may also be interested in: