You're currently on: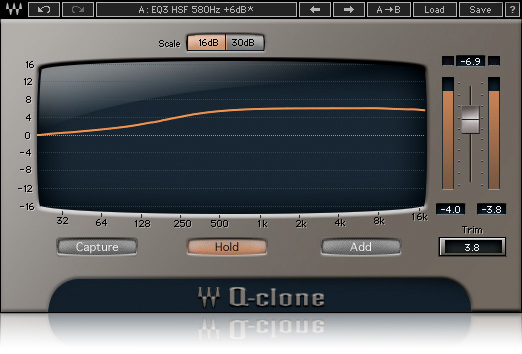 There's nothing like the warmth and character of vintage hardware equalizers. With Q-Clone, you can dig into its massive library of classic EQs, or use the Q-Capture component to model your own hardware favorites. Plus, you can use your captured hardware freely throughout your session, adjusting the sound of each track as if you had dozens of that same equalizer. With so many EQs at your fingertips, Q-Clone is true innovation in equalization.
Features
Model your favorite hardware equalizers
2 components: Q-Clone and Q-Capture
Includes large library of modeled EQs
Henry Olonga Prized Mastering EQ
Sampled at 96 khz with Prismsound Orpheus conversion and high quality short gold tipped cables. 209 MB. 1085 files in this package alone. You could also happily mix an album with it. Yes – seriously!! Want a clearer, harder mix? This is it.
'Prized Vinyl mastering EQ – expansion pack for Waves Q-clone'. The mastered mix
This EQ really did lead the way in mastering for a long time and the EQ is said to be the best in its application with many selling for many thousands of dollars. It was one of the very first mastering EQs.
This package is modelled on an EQ that is revered in most mastering studios for its reference transparency and buttery high end sheen even at extremes. Sontec – one of the first ATI products. The wide bands make for a very musical boost that doesn't overly colour the sound although it does make it sound better somewhat .The cuts are almost invisible ( Henry Olonga has not sampled them in depth however.) . So because of this the package should be useful for a wide genre of music. The High end is particularly treasured with a nice warm solid low end as well. This package took me many hours of patient sampling so I hope you will appreciate the time and effort put into making this a tool for your super fast mastering. As this tool is super transparent you may even find it useful while tracking and mixing. A little goes a long way.
Henry Olonga has sampled at 0.5 db steps for most things except the notches. His advice is to use a very good digital EQ if you must notch but if you must then he has provided some simple cuts that have increments of 1 db.
This set of presets is sampled to the highest specifications such that the difference between the sampled hardware and the sample you use is in the magnitude of negligible. This is truly analog sound in the box with no compromises. This set is sampled using an Orpheus by Prismsound, considered by some to be among the best convertors in the world. Henry Olonga has used short DIY gold tipped cables to connect the hardware to the box so there is virtually no loss in quality.
You may also be interested in: