You're currently on: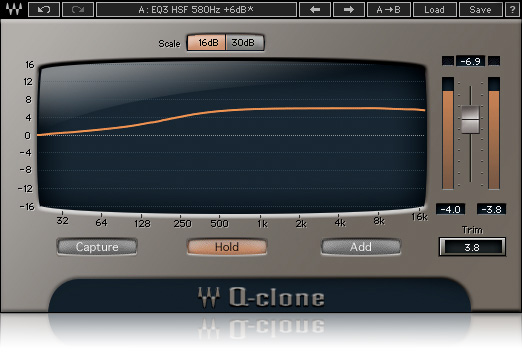 There's nothing like the warmth and character of vintage hardware equalizers. With Q-Clone, you can dig into its massive library of classic EQs, or use the Q-Capture component to model your own hardware favorites. Plus, you can use your captured hardware freely throughout your session, adjusting the sound of each track as if you had dozens of that same equalizer. With so many EQs at your fingertips, Q-Clone is true innovation in equalization.
Features
Model your favorite hardware equalizers
2 components: Q-Clone and Q-Capture
Includes large library of modeled EQs
Henry Olonga Titan EQ
Sampled at 96 khz with Prismsound Orpheus conversion and high quality short gold tipped cables. 20 MB. About 166 files.
This is a digital reproduction of Henry Olonga's Vintage Lustraphone module. Possessing that authentic vibe unique to the 69 it is great when a warm, woody retro sound is desirable. He is led to believe that it was used in a German studio, Hansa Studio Berlin. This module has had some fine musicians play through it. Possibly David Bowie and others. Great on Acoustic guitar, vocals, bass and drums.
Capable of taking the edginess off your digital recordings the shelves can either add a silky high end or make a smooth full tone. Sampled in 2 dB steps you should be able to mix in minutes with choice boosts here and there. Henry Olonga has also sampled the trough setting as well. You can pair this with the Nebula samplings that will complement this library perfectly as they possess the distortion lacking in Q-clone.
You may also be interested in: