You're currently on: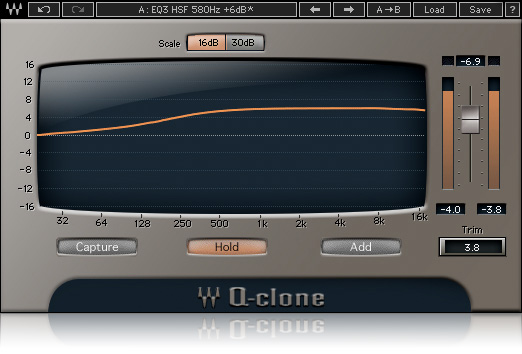 There's nothing like the warmth and character of vintage hardware equalizers. With Q-Clone, you can dig into its massive library of classic EQs, or use the Q-Capture component to model your own hardware favorites. Plus, you can use your captured hardware freely throughout your session, adjusting the sound of each track as if you had dozens of that same equalizer. With so many EQs at your fingertips, Q-Clone is true innovation in equalization.
Features
Model your favorite hardware equalizers
2 components: Q-Clone and Q-Capture
Includes large library of modeled EQs
Henry Olonga Vintage NV
Full commercial package size is 15 MBs of presets. 185 captures at the best quality Henry Olonga believes he has captured to date with Q-clone. Sampled at 96 khz with Prismsound Orpheus Convertors and Mogami and Van Damme cables.
Hand built with 3 bands of EQ with a fixed high freq and and two switchable bands with cut and boost. Henry Olonga sampled all the possible possible positions available through the unit. This particular module was initially designed to go on a Wessex A88 desk, throughout the seventies it lived on a range of consoles including an 8014. Birthed in May of 1970, 1073 preamps are ubiquitous around the world in many a professional studio. It is likely to be the one piece of revered gear that most studios begin building an inventory with.
Simply place the Output on your tracks or Master Bus and use Q-clone on the tracks.
You may also be interested in: