You're currently on: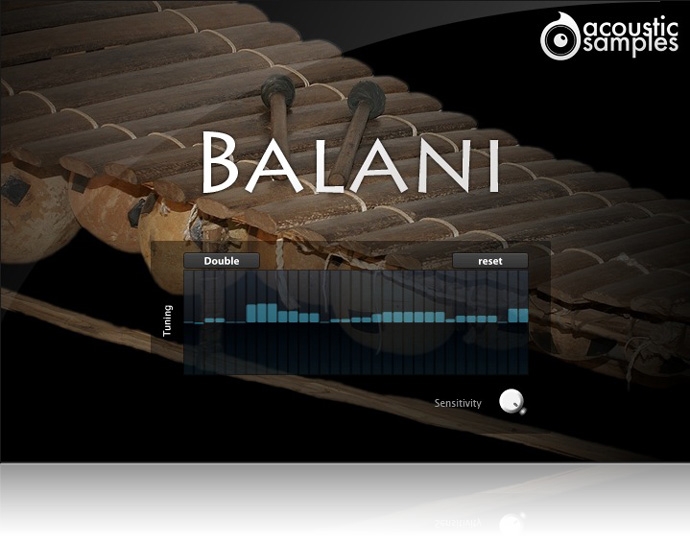 Balani is a 2 1/2 octave balafon (or balaphon) with small calabash resonators form Guinea. We decided that this no so rare instrument was worth a sample library especially because it has those "noise generators" in good condition. Most of the time, people remove those because they don't like that noisy effect, but if you listen carefully to some traditional Balafon, you will hear them and we wanted it to be in our library.
The other interesting point about Balafons is the scale that usually is very different from the european ones. It originally plays a B major scale (20 notes) so we extended it (to 33 notes) for this library and also gave the posibility to fine tune it.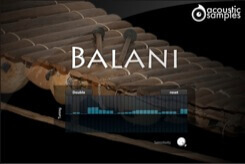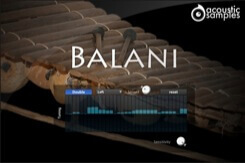 Default interface
You have access to a tuning table and you can change the tone of each note separately and up to one semitone up or down.
The midi select helps you find which key you are pressing in order to tune the right note.
Double settings
The stereo button duplicated the library and inverts the stereo image and gives the feel of two Balfons playing at the same time. Each duplicate of course triggers different samples and can have its own tuning. You can also control how much stereo separation between the two versions. As always, the Sensitivity knob allow you to adjust the library to your preference and keyboard.
Sample player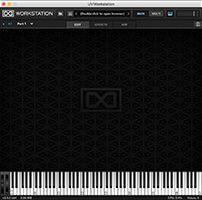 Balani comes with its own sample player, the
UVI Workstation 2
(requires v2.5.2 or later).
We provide it for free with every library that you buy, you don't need to buy an expensive sampler to use our products. It works on Mac (10.6 or later) and PC (windows XP SP2 or later), in standalone or as a plugin (VST / AU / AAX / RTAS / MAS) and in 32 and 64 bits. You can find more info about it here. If you want to use our products in osx 10.5, please contact us, you will need UVI Workstation v2.1.8 and earlier versions of the UFS files.

As it is based on the same engine (UVI engine XT), you can also use our products in
MOTU MachFive 3
(requires v3.2.1 or later).

Technical description
230Mb, 967 samples.
12 Velocity layers for the sustain.
4 takes per note to avoid the machine gun effect (round robins).
about 13 Velocities for the release.
Both original and corrected tunings are available for a traditional or contemporary sound.
Advanced UVI scripting giving you access to a simple yet powerfull interface and advanced features.
iLok or computer based


You can register your library to your computer or to an iLok key. All of our libraries are protected with the iLok system, and you can use our libraries with or without an iLok usb key. Both V1 and V2 iLok usb keys are working with our products. To authorize your library, you will need to download the iLok authorization manager from here: https://www.ilok.com/ilm.html and simply authorize your iLok key or your computer to use the library.

Registration

Once your order is complete, you will be provided with a serial number.

You will then be able to register it to your iLok account from our website on this page (you need to be logged in to access this page). The whole process is described in the FAQ (instructions + screencast).
You may also be interested in: