You're currently on: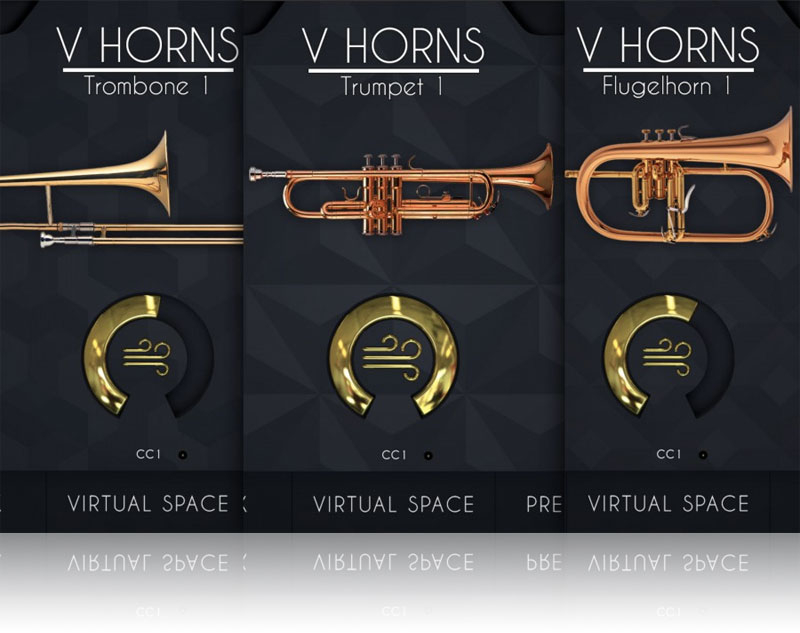 VHorns Brass Section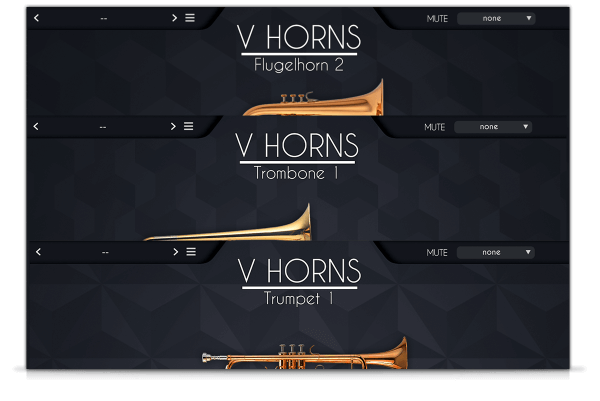 SAMPLING MEETS MODELING, AGAIN
We have been planning a horns project for awhile, (our first recordings were back in 2012) but many things prevented us from doing it until now - namely the fact that we wanted to avoid the need for too many keyswitches, in favor of being able to just control the air flow.
Thanks to our recent work on a hybrid technology blending samples and modeling, we were able to overcome both of these problems and take advantage of having the best of both worlds: impeccable authentic sounding horns with a simple, powerful way of playing them.
This new technology is called HAT (Harmonic Alignment Technology); it allows us to accurately reproduce the timbre evolution from very soft to very loud playing.
We found a way to combine both technologies by using samples as the sound source, while the rest utilises modeling techniques. This allows V Horns to weigh just around 90Mb per instrument (retina graphics and presets included), to truly sound like a real live Horn instrument being recorded with all of its imperfections, as well as having fully continuous response with incredible playability.
And we are confident in saying that to our ears, and hopefully yours too, VHorns is the most realistic and easy-to-use VST available today. Here are a few performances from real musicians and what we recreated using VHorns (and used for our demos).
The VHorns Brass Section interface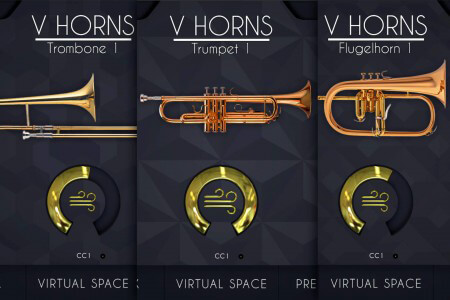 6-Instrument Bundle
The VHorns Brass Section contains 6 instruments: 2 trumpets, 2 trombones and 2 flugelhorns.
Each of them has a distinct tone and was recorded by a different player.

The HAT - Air Flow Control
Thanks to our proprietary HAT (Harmonic Alignment Technology), VHorns is not just another heavily multisampled instrument - you can play articulations yourself like a player would, with just a MIDI controller (or by drawing in automation)! There are no complicated keyswitches involved to play staccatos or anything else, it's just a matter of playing it that way.
All you need to do is play a note and adjust the air flow, that's it! You can even automate vibrato if you want.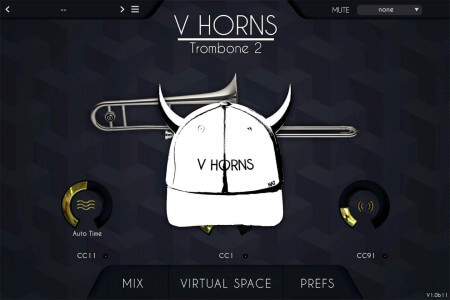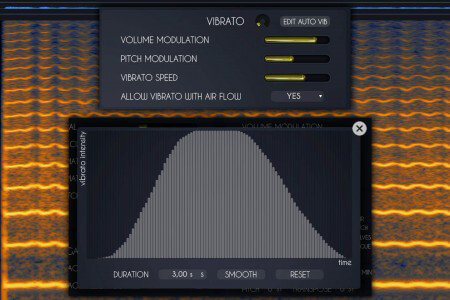 Authentic Vibrato
We carefully measured the different parameters that change when a player uses vibrato and combined everything into a highly realistic and adjustable vibrato for VHorns.
There are multiple ways to control the vibrato: automatic, automatic depending on time, and completely manually.

Legato Transitions
A large part of what horn players play are legatos, so we spent a considerale amount of time and effort to carefully extract every little aspect, pitch changes, noises, etc. and make ours indistinguishable from a real performance.
They go from fast note changes to slow bends, with and without extra attack. We covered all that and let you choose how to control them.
The legatos behavior can be adjusted and even randomized for more life-like performances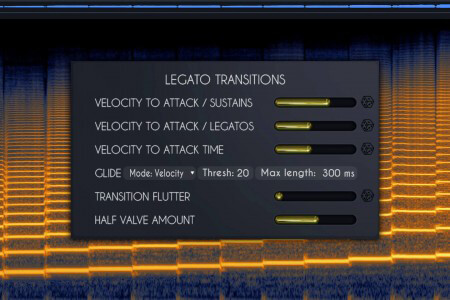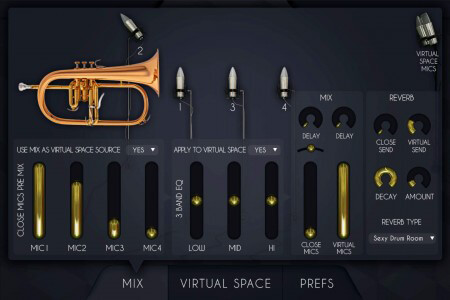 Multi Microphone Recording
Recording a horn can be done in various ways and at different positions. We used 4 different microphone positions so that you can get the exact sound you want, as if you chose the microphone placement yourself.
This can yield even better results when using the "virtual space" which is detailed below.
You can apply reverb and EQ to completely mix it to your liking.

Virtual Space
The virtual space perfectly reproduces what a real recording of an ensemble would be using convolution. When you record a big band, you usually place a pair of microphones in front of the musicians and they naturally take position in the stereo field depending on where they are in the room.
The Virtual Space does exactly the same thing: you can place the musician wherever you like.
When using this with multiple tracks, you immediately have the feeling of being in front of a real horns section.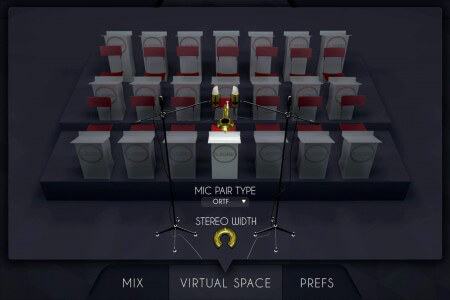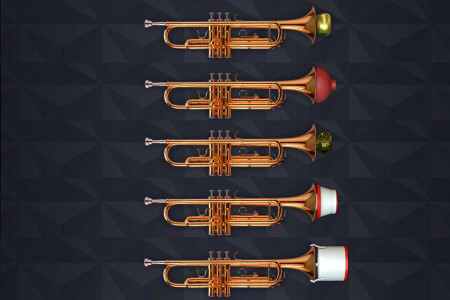 Mutes
Mutes are part of the sound that defines horns. We recreated these using a variety of mutes and a specific experimentation process.
If you want to use a Harmon, a plunger, a straight mute, a cup or a bucket, VHorns has you covered!
Just select which one you want from the main interface and start playing.

Advanced Editing
There are many ways to play a brass insrument, and we had to make a choice on the default settings, however many of the options can be customized to your taste.
Even better, most settings can be randomized for natural and unpredictable results.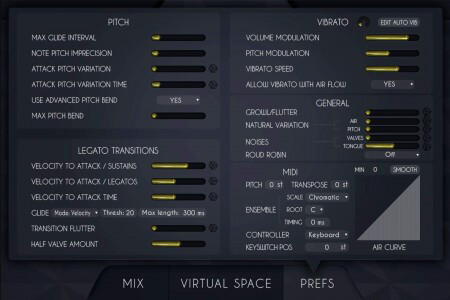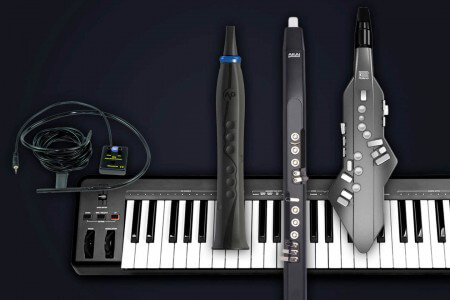 Keyboard, Breath Controller or Wind Controller
VHorns can be played using a keyboard by selecting the notes on the keyboard and controlling the air flow with a MIDI controller like the modulation wheel or a breath controller.
You can also use a wind controller like an EWI, an Aerophone a Sylphyo or any other brand, in which case you need to use the appropriate controller menu in the MIDI section.

Ensemble
If you load multiple instruments at the same time, it will play unisons exactly at the same time.
We added some smart features that first can change the timbre of the instruments, transpose everything by a fixed interval and also act on the MIDI performance.
For example, you can have all 6 instruments with a different transposition value play the same C minor scale, so no matter what you play on the keyboard, it will sound in key.
Sample player
VHorns Brass Section comes with its own sample player, the UVI Workstation 3 (requires v3.0.0 or later).
We provide it for free with every library that you buy, you don't need to buy an expensive sampler to use our products. It works on Mac (10.9 or later) and PC (windows 8 or later), in standalone or as a plugin (VST / AU / AAX ) and in 64 bits only.

Technical description
UVI Workstation v3.0.18 is required for the library to function properly, the VHorns will not work on windows XP, or OSX 10.6, it will not work either on a receptor.
412Mb compressed in lossless flac format (180 for both Trumpets, 107 for both Flugelhorns and 122 for both trombones).
Compatibility


You may also be interested in: