You're currently on: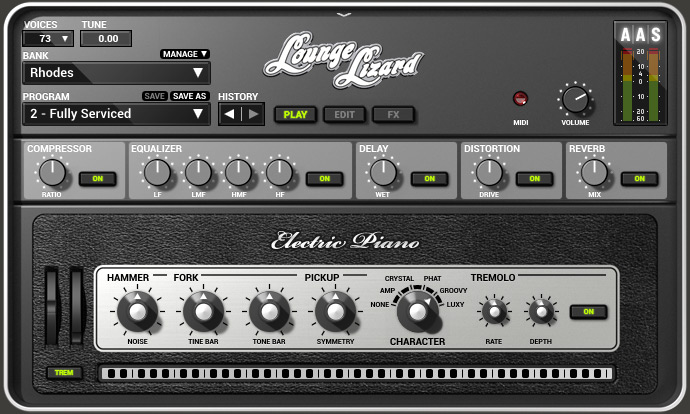 In the studio
When time matters, simply pick from more than 100 custom electric piano presets. But when sound exploration is on the program, players will dig the real-time controls over hammer hardness, tine color and decay, damper noise, and pickup placement for an unsurpassed level of customization.
Live on stage
Gigging musicians will appreciate Lounge Lizard's small memory footprint, instant preset recalls, and stability. Furthermore, the huge library of Rhodes and Wurlitzer sounds as well as the complete selection of effects makes it easy to build a set list and get the perfect tone for each songs.
Alive beneath your fingers
There is something quite immersive when a connection develops between the player and the instrument. Whether it's the perfectly smooth velocity progression or the interactive reaction to your performance, Lounge Lizard makes that connection happen.
Beyond the electric piano
Lounge Lizard achieves convincing electric piano tones with less than twenty synth parameters. That's a quite a feat by itself, but pushed further, these parameters reveal a realm of other tones. Organs, bells, chimes, leads are all featured in the preset library's Experimental folder.
Custom tones
Even though famous players shared the same brand and models, they were all acheiving their own signature sound. Nevertheless, that usually meant spending many hours under the hood with screw drivers, wrenches, or even a solder iron. What's fun with Lounge Lizard is that whether you're looking to emulate a particular sound or simply find your own, all those tweaks are just a few knob turns away!
You may also be interested in: