You're currently on: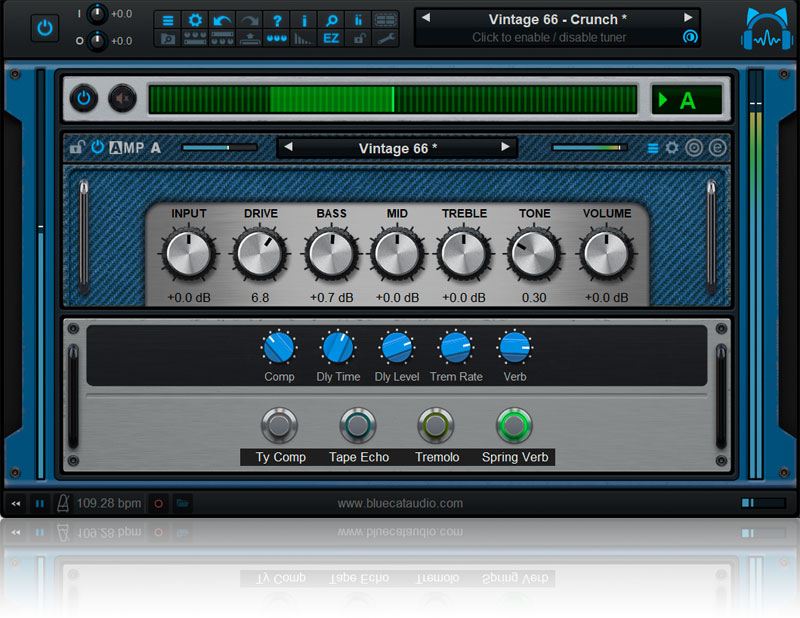 Blue Cat Audio Axiom V2
What's New
Axiom V2 represents a major leap forward in our guitar software, bridging the gap between beginners seeking user-friendly features and advanced users craving expanded capabilities.
Redesigned User Interface
Direct to Disk Recording & Playback
Improved DSP Engine for More Realistic Tones
Tailored for Acoustic Guitars and Piezo Pickups
Enhanced MIDI control
Meet Blue Cat's Axiom
Your versatile and open multi effects and amp simulation software for guitar and bass. Derived from the acclaimed Destructor plug-in for amp simulations, Axiom offers an infinite number of exceptional tones to enhance your musical expression with your axe.
Blue Cat's Axiom is a powerful and open multi effects processor and amp simulation software for guitar and bass. Based on the acclaimed Destructor plug-in for amp simulations, Axiom offers an infinite number of exceptional tones for your axe.
It includes two amp simulations channels (with pre and post effects) that can be mixed together or used alternatively like a real amp. You can choose your amp models from hundreds of presets or launch the amp editor to build your own, with complete control over the tone. Additional input and master sections let you adjust the tone at the input and the output of Axiom, with 4 additional effect slots each and an integrated high precision tuner. A brickwall limiter also protects the output from overshoot.
Axiom includes 40 built-in effects that can be loaded in any of the 32 plug-in slots, including a built-in version of Late Replies for creative delays and reverbs, and a built-in version of Destructor to add your own distortion pedals, cabinets or additional amp simulations.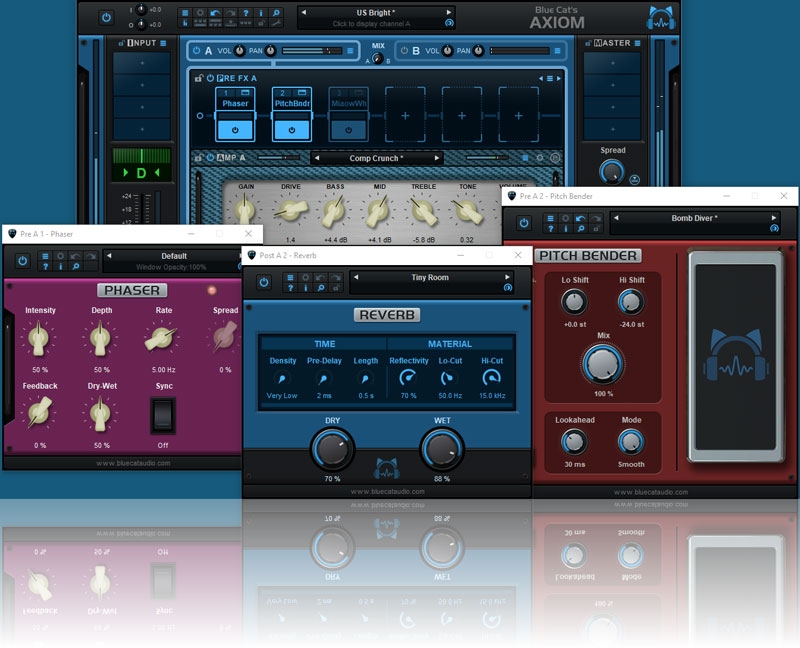 Blue Cat's Axiom is not limited to its built-in effects: these slots can also host third party Audio Unit, VST or VST3 plug-ins: you can use your favorite plug-ins anywhere in the signal chain and expand Axiom's capabilities.
And because playing alone is not so much fun, we have added a tools section with 3 additional slots to load virtual instruments: add a metronome, a drum machine, sequencer or your keyboardist's favorite synthesizer there to get it mixed with your guitar.
If you are looking for amp simulation software without the effects, see the Destructor plug-in. For a plug-in host & multi-effects processor without amp simulation, check out Blue Cat's PatchWork.
Credits: this plug-in includes several factory presets created by Hans Van Even.



Typical applications: Unlimited Guitar & bass amp simulation with effects, VST, VST3 and Audio Unit hosting.
Features
Main Features
Powerful and unlimited multi-effects processor and amp modeling software for guitar and bass.
Realistic and fully customizable amp simulation based on Blue Cat's Destructor.
Flexible routing: 2 parallel amp simulation channels with effects + input and master sections.
40 high quality built-in effects: wah, delays, reverb, pitch bender, EQ, filters, distortion units, compressor, gate, chorus, flanger...
Includes Blue Cat's Destructor and Late Replies as built-in effects.
Built-in high precision tuner.
Open and extensible: load any third party VST, VST3 or Audio Unit (AU) plug-in.
Delivered with thousands of presets for all sections and built-in effects.
Load third party virtual instruments to play along.
Global stereo spread control.
Lock sections to prevent changes when loading presets.
No latency.
Blue Cat Audio Standards:
Available as: Mac-AAX, Mac-AU, Mac-App, Mac-VST, Mac-VST3, Win-AAX, Win-App, Win-VST, Win-VST3, Win x64-AAX, Win x64-App, Win x64-VST, Win x64-VST3.
Native DSP code for optimal performance.
Full MIDI control and automation support with silent, zipper-free parameters update, advanced response control and MIDI Learn.
No CPU load on idle: when the plug-in is fed with silence, the processing smoothly shuts down, to optimize the CPU usage of your Digital Audio Workstation.
Customizable user interface with transparency management and zoom.
Smooth Bypass: activate/deactivate the plug-in with absolutely no noise.
Undo/Redo.
Full featured integrated presets manager.
Copy/paste the state of the plug-in between instances using the system clipboard.
Any sample rate supported.

System Requirements
Windows
An SSE2-enabled processor (Pentium 4 or newer).
Microsoft Windows Vista, Windows 7, 8 or 10.
For the plug-in, any DirectX / VST / AAX compatible host software (32 or 64 bit).
For the standalone application, an ASIO, MME or WASAPI compatible audio interface (ASIO recommended).
Mac OS X
An Intel processor.
Mac OS Sierra (10.12), Mac OS X El Capitan (10.11), Mac OS X Yosemite (10.10), Mavericks (10.9), Mountain Lion (10.8), Lion (10.7) .
For the plug-in, any VST / Audio Unit (32/64-bit) / AAX compatible application.
For the standalone application, a Core Audio compatible audio interface.
You may also be interested in: