You're currently on: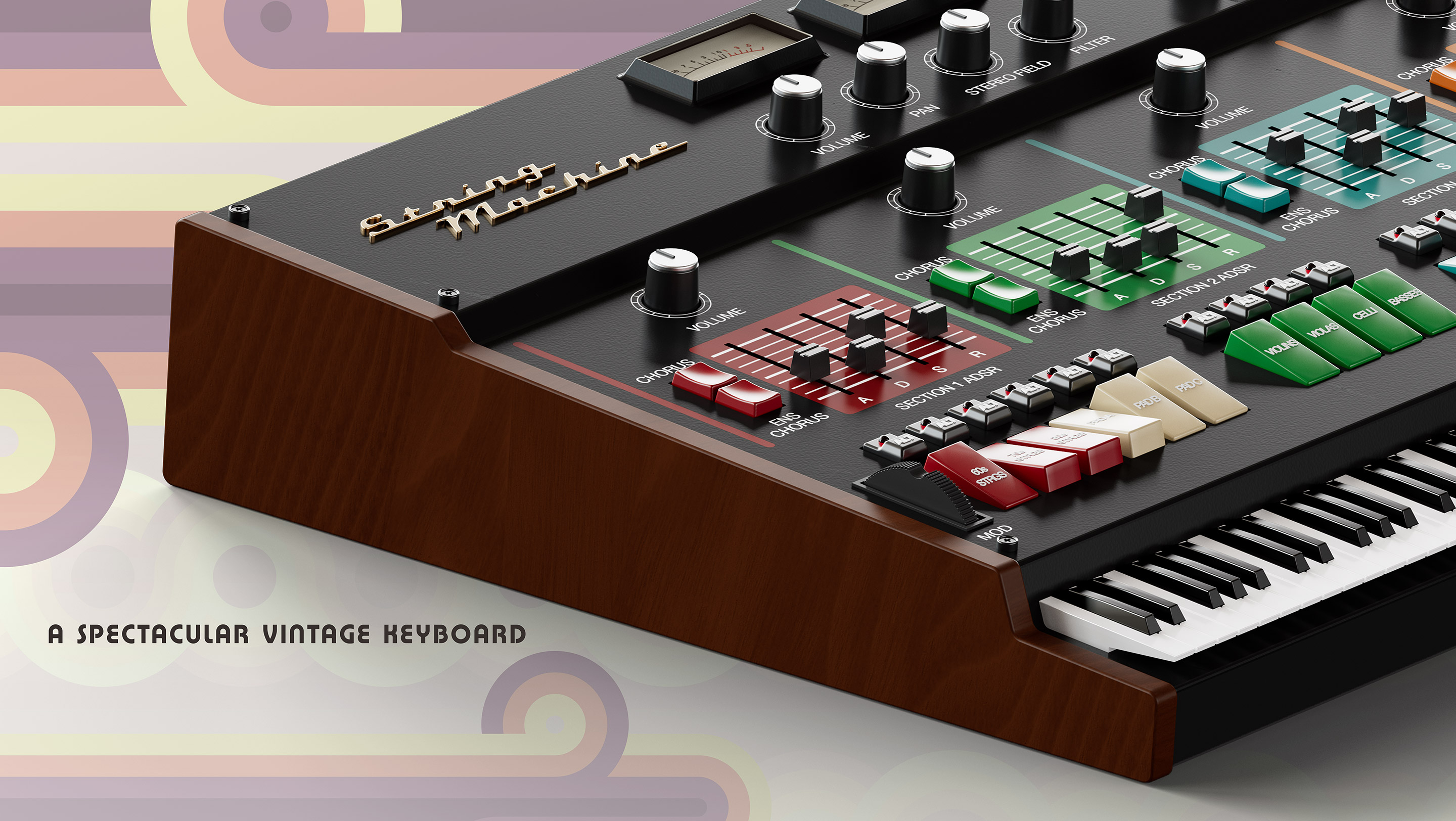 STRING MACHINE
Paying homage to the great vintage string synthesizers of the 60s, 70s, and 80s, EastWest's String Machine virtual instrument brings the past into the future. Produced by sound titans Doug Rogers and Nick Phoenix, String Machine includes samples from some of the greats – the Arp Solina, Oberheim OBX, Roland RS-505, and the Roland Jupiter 6 – and allows you to instantly combine them with modern strings, brass, woodwinds, and vocals to create unique vintage vibes perfect for your next pop, rock, or hip-hop masterpiece.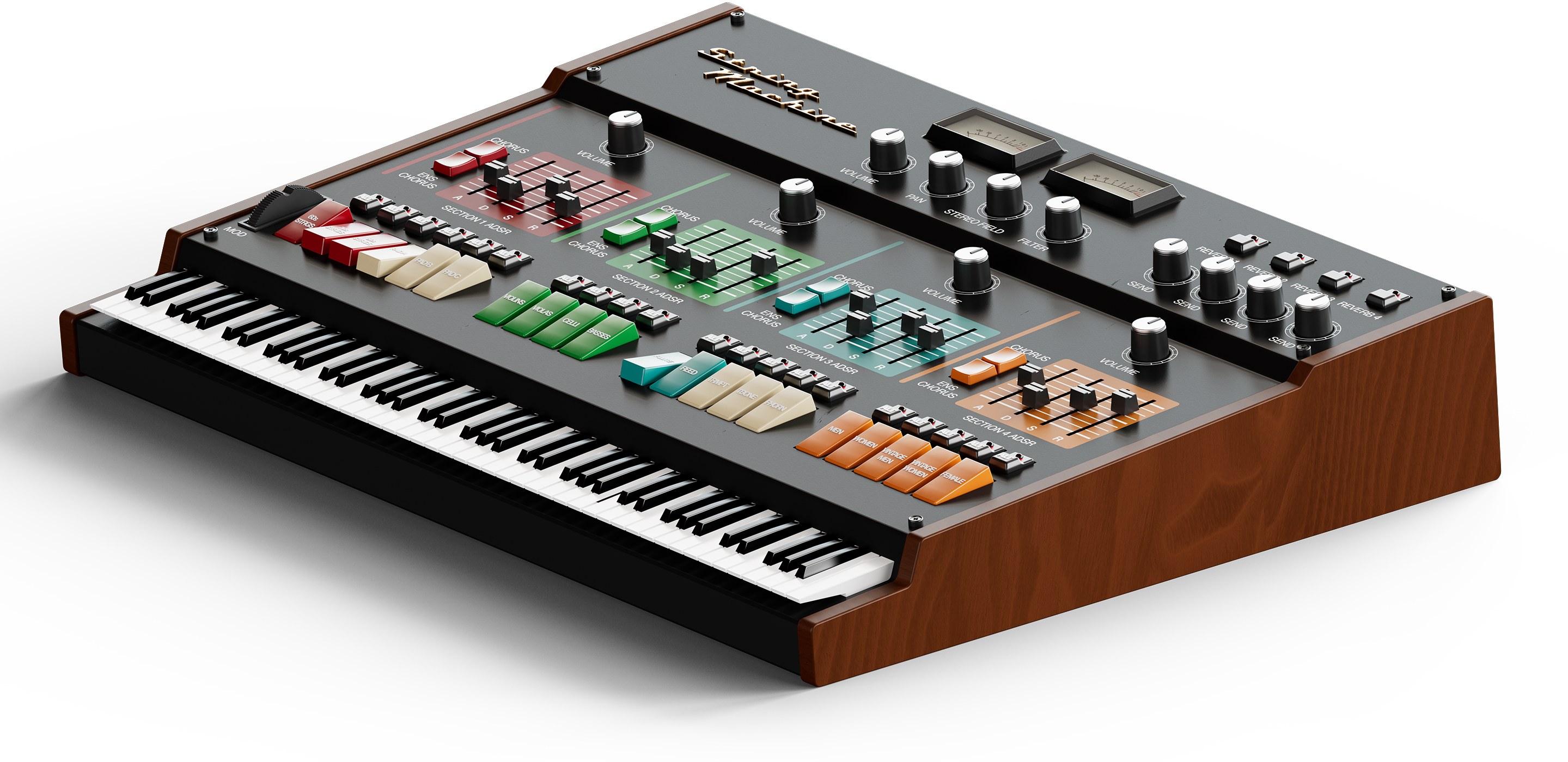 BACK TO THE RETRO FUTURE
String Machine's user interface takes inspiration from the design of vintage string machine synthesizers. From the chunky instrument switches adorned along the front panel, to the glide of envelope sliders, and the click of push buttons, String Machine's form and function is informed by the original hardware units.
String Machines were well known for their ensemble chorus effects, and the one included in String Machine features 3 modes, each with distinct characteristics. With effect emulations modeled from the Arp Solina, and Roland VP-330 hardware units, along with a 'Modern' mode, our Ensemble Chorus effect delivers everything from vintage warmth and thickness, to modern transparency and dimension.
String Machine's use is flexible, owing to its hybrid design of electronic and acoustic instruments. It fits right at home in a variety of genres, electronic or otherwise, but especially suitable for genres heavy on retro nostalgia, like chillwave or pop. Any piece of music that needs a large ensemble string pad would benefit by using String Machine.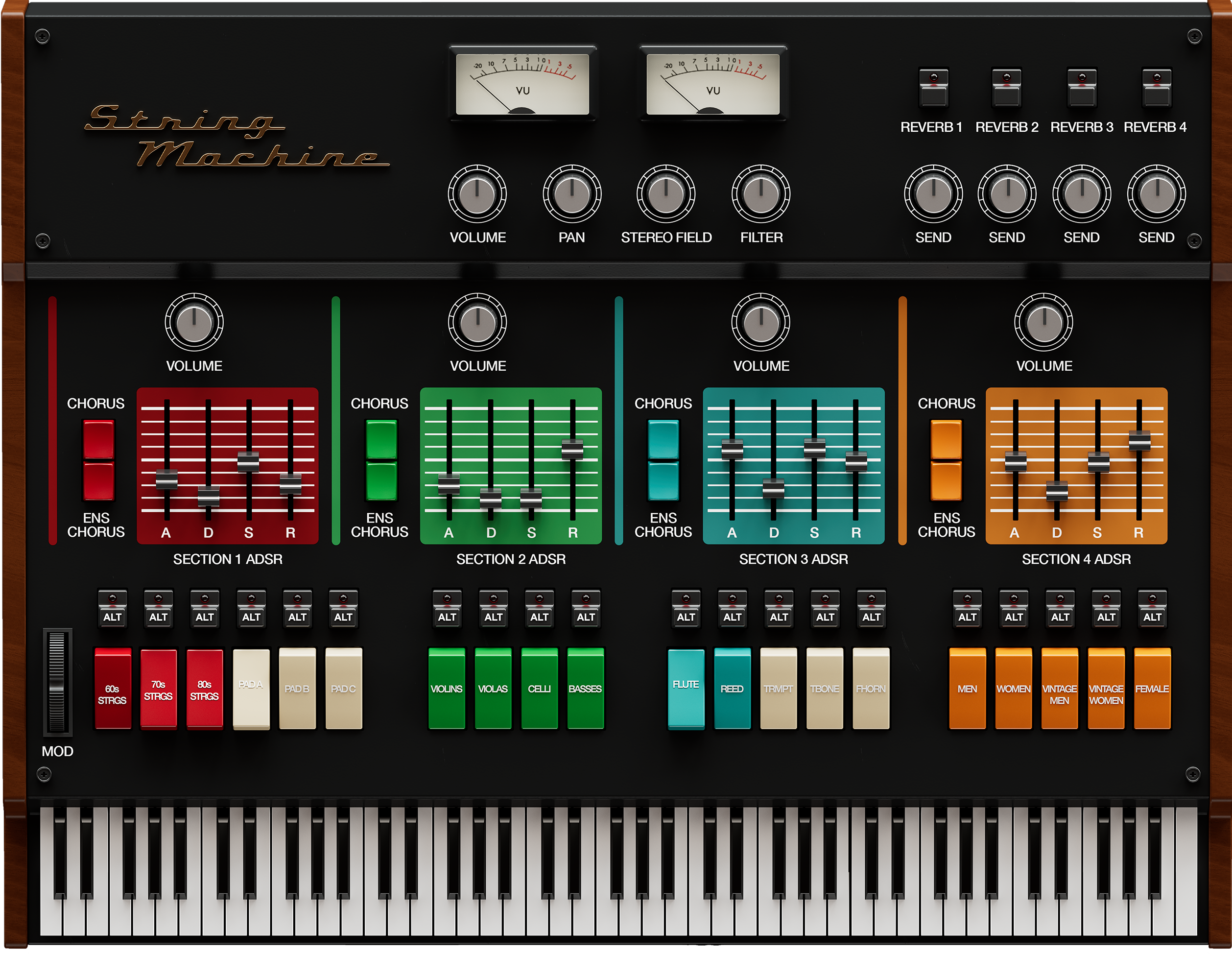 INSTRUMENT GROUPS
String Machine features 4 color-coded instrument sections, including string machines and pads (red), string sections (green), solo woodwinds and brass (teal), and choirs and solo vocals (orange). Each instrument section features a number of instruments and alternatives, giving you countless ways to combine them into a diverse range of timbres, and the ease of mixing the individual instrument sections together to create rich, multi-layered pads.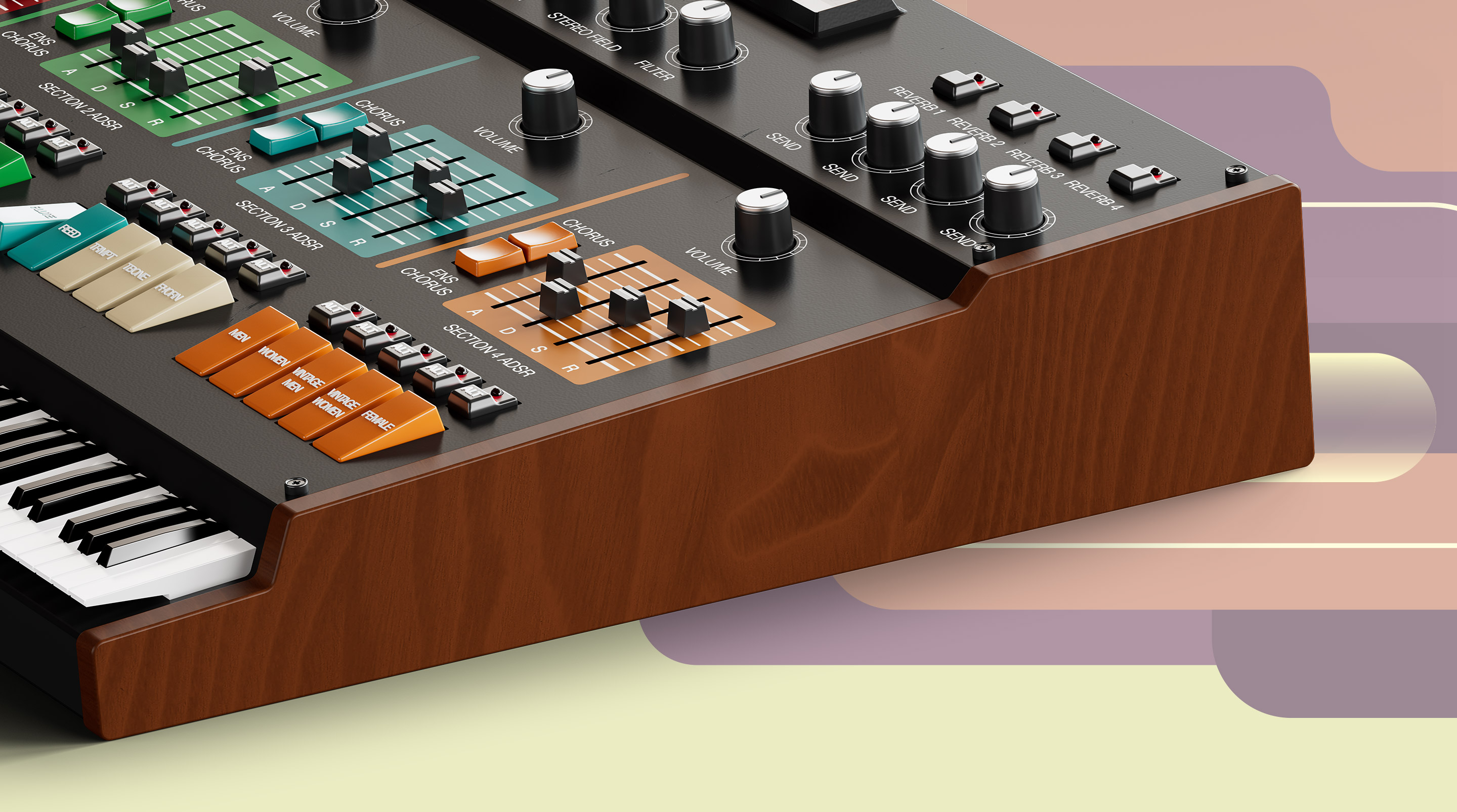 PRESETS
String Machine comes with 17 presets programmed by Nick Phoenix. These presets demonstrate the type of sounds possible with String Machine, but we encourage you to use String Machine as it was intended -- creating your own presets!

With high-quality sampling of vintage hardware units and authentic ensemble chorus emulations, String Machine is the perfect companion to recreate the classic sounds of vintage string machine synthesizers, and much more. Whether you need a synthy string pad heavy with retro nostalgia, or a rich backdrop for a pop track, String Machine gives you the instruments and controls that empower you to deliver.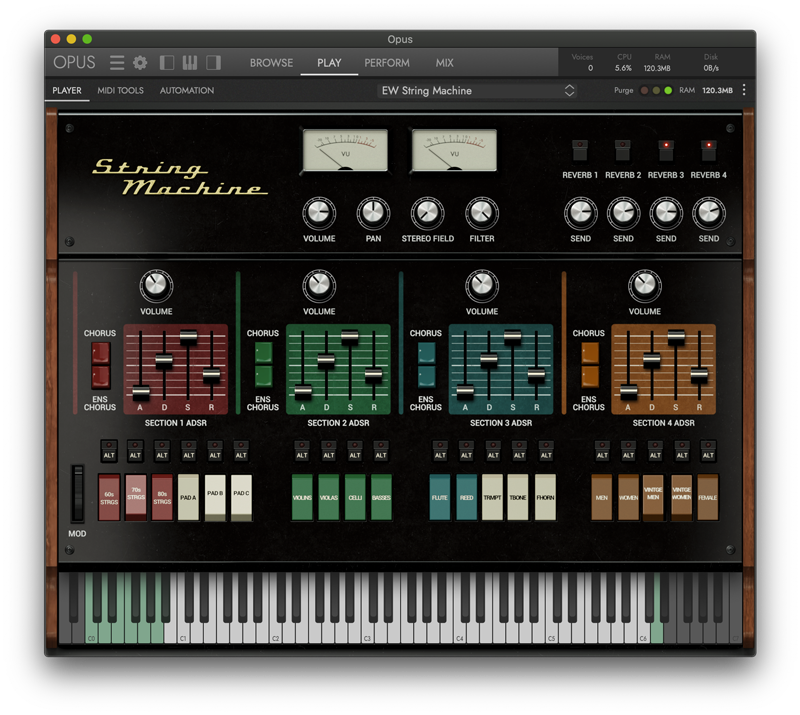 SYSTEM REQUIREMENTS
Below are the minimum and recommended hardware and software specifications for using Opus on Windows and MacOS systems.
MINIMUM SYSTEM

CPU: Quad-core (four cores), running at 2.7 GHz (or above)
RAM: 16 GB
OS: macOS 10.13 (or later); Windows 10 with ASIO sound drivers
Drive: HDD (7200 rpm, non-energy saving)

RECOMMENDED SYSTEM

CPU: Octa-core (eight cores), running at 2.7 GHz (or above)
RAM: 32 GB or more
OS: macOS 10.13 (or later); Windows 10 with ASIO sound drivers
Drive: SSD (SATA or PCIe)
The chart below outlines the MacOS and Windows 64-bit operating systems and sequencers that are officially supported and fully tested with the latest version of Opus. Please note that while most Sequencers / DAWs are VST 2, VST 3, AU and AAX plug-in format compatible, only those listed in the chart below are officially supported.
Product
Version
MacOS (10.13+)
Windows 10
EW Play 6 Stand-Alone
6.0+
-
-
EW Opus Stand-Alone
1.0+
YES
YES
Ableton Live
10.0+
YES
YES
Apple Logic Pro
10.0+
YES
-
Apple Garageband
10.3+
YES
-
Avid Pro Tools
2018.1+
YES
YES
Bitwig Studio
3.0+
YES
YES
Cockos Reaper
6.0+
YES
YES
Image-Line FL Studio
20+
YES
YES
Motu Digital Performer
9.0+
YES
YES
Steinberg Cubase

(1)

9.0+
YES
YES
Steinberg Nuendo

(1)

8.0+
YES
YES
Presonus Studio One
4.0+
YES
YES
VSL Vienna Ensemble Pro
6.0+
YES
YES
Notation Software

(2)

Version
Avid Sibelius
2018.1+
YES
YES
MakeMusic Finale
25.0+
YES
YES
Steinberg Dorico
3.0+
YES
YES
(1) VST3 usage is recommended
(2) Sibelius / Finale / Dorico notation programs work with Opus, but do not support the full feature set of some Opus/Play Libraries, such as those that use WordBuilder. Please contact support for details.
You may also be interested in: