You're currently on:

Eventide Omnipressor
DYNAMICS PROCESSOR WITH ATTITUDE
Introduced in the early 1970s, the Omnipressor® was the first dynamics effects processor of any kind. Originally invented by Eventide's founder, Richard Factor (and later redesigned for production by John Paul), the Omnipresssor made a host of effects possible. It featured variable control of all aspects of dynamic modification. It also introduced the notion of the 'side chain' and foretold techniques that today we take for granted like 'look ahead' processing.
The Omnipressor plug-in is a faithful emulation of the "black-meter" unit and is popular among some of the world's leading producers and engineers as a dynamics-modifier with variable expressive controls of all aspects of a signal's dynamics. The Function control allows you to set compression and expansion ratios over a wide, continuous range from extreme expansion to infinite compression and beyond - dynamic reversal which reverses a sound's envelope, making loud sounds quiet and quiet sounds loud.
One of our first customers was a young Brian May, lead guitarist of Queen. With the Omnipressor in his rig, his sound was never the same again.
Features
Dynamics processing for creating otherwordly sounds
Variable control of attack and release time
Variable control of maximum gain and maximum attenuation
Function control sets ratio over a continuous range from extreme expansion to infinite compression and beyond to dynamic reversal
Gating: Set a threshhold and signals whose amplitudes fall below the threshhold value are 'squooshed'
Expansion: Widen a signal's dynamic range. Loud gets louder, soft gets softer
Compression: Variable control of compression ratio
Infinite compression: Obliterates a signal's dynamics - everything comes out at the same level
Limiting: Versatile, fast limiter
Dynamic Reversal: First of its kind. Soft signals come out loud, loud signals come out soft. Simulates tape reversal
Intuitive interface makes it simple to operate with the use of a function dial
Dozens of presets to help you explore the unique and inspirational sounds of the tool used on countless hit records
Original Data Sheet - 1974
Some of the unusual capabilities of the unit are illustrated in the graph below.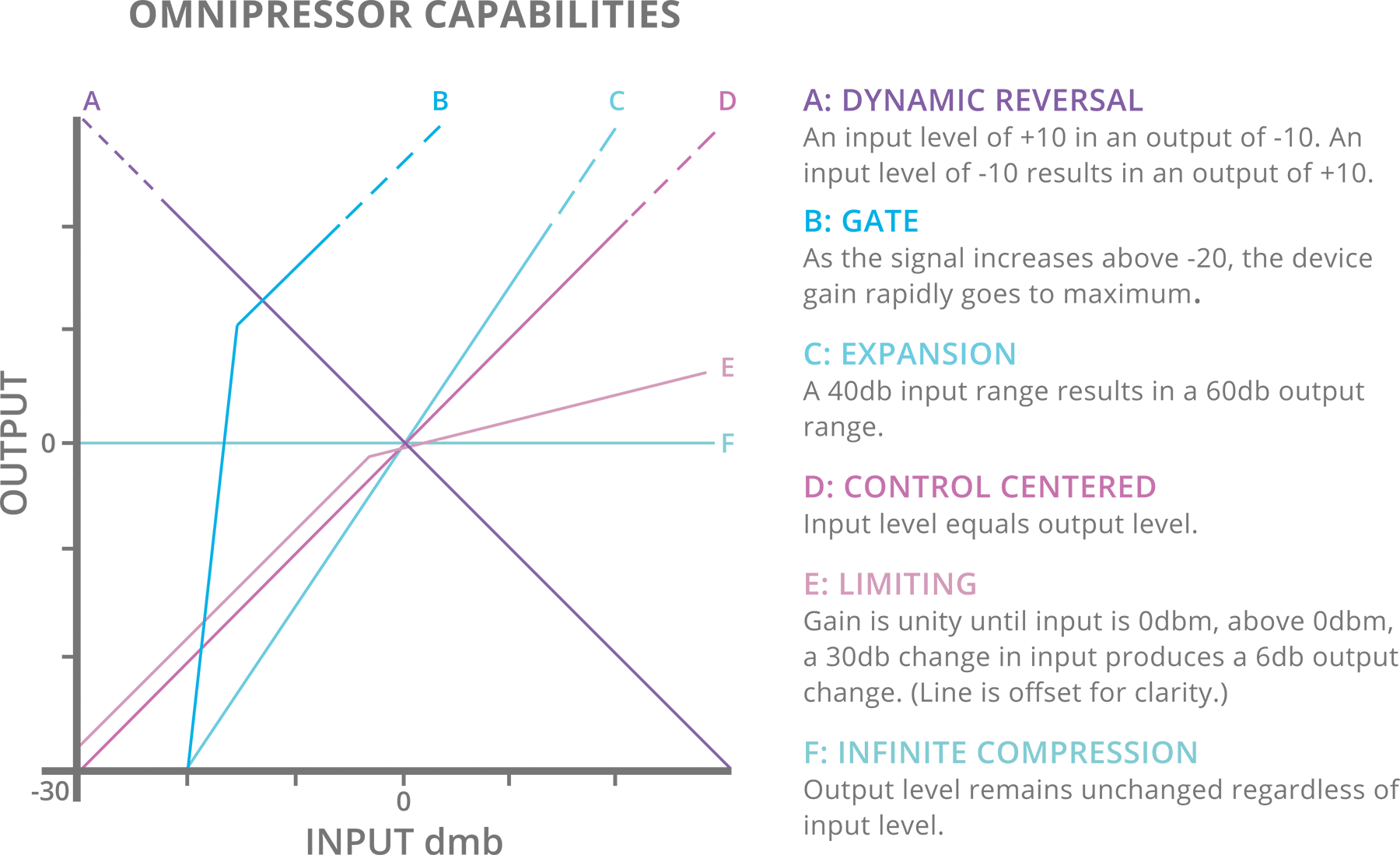 Platform Compatibility
| | |
| --- | --- |
| Windows 8+ | AAX 32/64-bit, VST2 32/64-bit, VST3 32/64-bit |
| macOS 10.9+ | AAX 64-bit, AU 64-bit, VST2 64-bit, VST3 64-bit |
An iLok account is required, but no physical dongle is necessary. Create a free account here.
We test our desktop plugins in Ableton Live, Cubase, FL Studio, Logic Pro, Pro Tools, and Studio One. However, our plugins should work with any compatible host - we recommend you download a 30-day demo here to check before buying.
New 32-bit macOS installers are no longer being made for this product.
Quotes
"Omnipressor is one of the most unique and creative "character" compressors I own. It makes drums pump, snares crack and kicks in your face."
-Brian Montgomery (Engineer – Paul McCartney, The Mars Volta)
"The Omnipressor is one of the most unique compressors every built. For years I've been trying to get other normal compressors to emulate the backwards compression effects that only this unit can create. This is a long overdue plug for many drum and vocal special effects."
-Joe Chiccarelli (Engineer/Producer – U2, White Stripes, Elton John)
"A very unusual design, it can perform compression and expansion simultaneously, enabling it to produce dramatic dynamic effects that most other compressors can't replicate. It is also capable of seriously heavy-handed processing, making it attractive for use in parallel compression scenarios."
-Paul White, Sound on Sound
You may also be interested in: