You're currently on: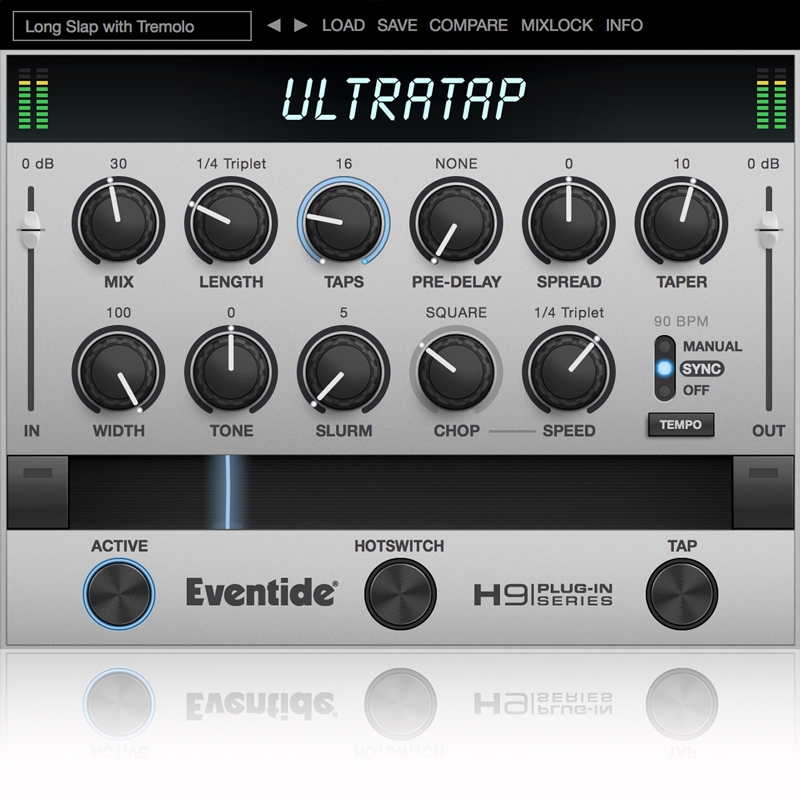 UltraTap is a unique multi-tap effect that's capable of rhythmic delays, glitchy reverbs, huge pad-like volume swells and extraordinary modulation. It's the perfect tool for creating drum fills, vocal choruses, swelling guitar chords and other evolving effects. Producers, engineers, sound designers and musicians will have loads of fun discovering its multiple uses.
UltraTap is designed for real-time manipulation. The Ribbon Controller allows you to program two settings for any combination of the controls and seamlessly morph to any sound between them. The programmable HotSwitch allows you to instantly jump to an alternate sound at the push of a button. This combination of controls is intended to bring you as close as possible to the experience of tweaking real hardware.
This unique effect has been ported directly from the award-winning H9 Harmonizer multi-effect pedal. A fan favorite for years, UltraTap is not a one-trick pony. All of the presets have been converted to the plug-in as well as newly created factory and artist presets. Now you can use all the delays, reverbs, chorus and modulation effects that guitarists and synth players have grown to love. Best of all, the programmable Ribbon Controller has been optimized for live use with your favorite DAW.

UltraReverb
THE CULMINATION OF MORE THAN 35 YEARS OF REVERB R&D
9 High End Hardware-Based Reverb Algorithms Bundled in a Single Native Plug-in. UltraReverb comes packed with over 300 killer presets and features reverbs from the H8000, compression, EQ and delay integrated for the most flexible reverb plug-in available.
Features
Halls, Chambers, Rooms, Plates, and Ambience derived from Eventide's flagship hardware processor, the H8000 UltraHarmonizer®
Create acoustically natural or other-worldly environments
Packed with over 300 killer presets for mixing, mastering, post production, and sound design
Includes Artist Presets designed by top engineers and recording professionals
Session compatible with Eventide Reverb HD/TDM from the Anthology II bundle
Stereo Delays (pre or post reverb) with Tempo sync to lock delays in time with your session
Compressor (pre or post reverb) with key input
Pre-EQ, Post-EQ, Reverb EQ and Delay EQ – Four independent, three band parametric equalizers
Reverb Tail Randomization based on the legendary H949 Harmonizer® Random setting
Modulation Rate and Depth controls
LoFi control for subtle grit or all out mangling

Eventide UltraChannel
64-BIT CHANNEL STRIP WITH MICRO PITCH AND STEREO DELAY
"UltraChannel is more than just your average channel strip. It also features Eventide's signature delay and modulation effects, and is almost like an entire effects collection in a single plug-in."
UltraChannel™ is Eventide's 64-bit native channel strip plug-in for AU, VST, and AAX64 for Mac and PC, featuring Micro Pitch functionality from the flagship H8000, stereo delays with variable feedback paths, plus two stages of compression, gating, and five bands of parametric EQ.
UltraChannel features a pair of dynamics processors: the O-Pressor™, capable of extreme compression (this is the compressor section of the Omnipressor®) and a conventional compressor with de-essing and side-chain capability.
UltraChannel™ also offers Soft-Saturation, and Transformer emulation which recreates transformer core saturation. This feature adds harmonics to low frequency material while remaining relatively transparent to the rest of signal. While relatively subtle, in aggregate, Transformer can bring life to otherwise dull mixes and help glue disparate sound sources together.
FlexiPath™ routing allows drag and drop for reordering the signal path of the top level components (O-Pressor, compressor/de-esser, EQ, Gate).
UltraChannel includes a variety of factory presets tailored to signal sources such as guitar, bass, kick drum, snare, piano, strings, synths and vocals. A number of the presets were created by Eventide artists.
| | | | | | |
| --- | --- | --- | --- | --- | --- |
| Product Purchased | OS-X 10.5 | OS-X 10.6 | OS-X 10.7 | Win 7 | Win XP |
| AAX | n/a | Yes | Yes | Yes | n/a |
| AU | Yes | Yes | Yes | n/a | n/a |
| VST | X | X | X | Yes | Yes |
Software Compatibility
Software
Platform
Plug-in Format
Pro Tools 10 +
Win 7 , Mac OSX
AAX Native
Cubase 5,6,7
Windows
VST
Logic (32 bit,64 bit)
Mac OS X
AU
Ableton Live 8

Mac OS X

Win 7

AU

VST

Peak
Mac OS X
AU
Nuendo
Win 7
VST
Wavelab
Win 7
VST
SONAR
Win 7
VST
Sound Forge
Win 7
VST
Acid
Win 7
VST
Vegas
Win 7
VST
Studio One (32 bit)

Win 7

Mac OS X

VST

AU

Digital Performer
Mac OS X
AU
REAPER
WIN
VST
GARAGEBAND
Mac OS X
AU
You may also be interested in: