You're currently on: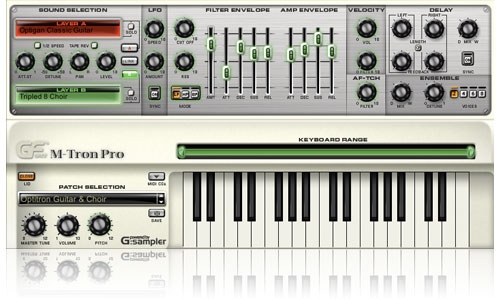 The GForce M-Tron Pro virtual instrument is an incredible emulation of the classic Mellotron—the unique tape-playback keyboard used by such luminaries as The Beatles, Yes, David Bowie, Led Zeppelin, The Moody Blues and Radiohead.* The 3.5GB sound library features over 200 tape banks (sample sets) including 19 of the original GForce M-Tron tape banks, which have been remastered at London's legendary Abbey Road Studios. M-Tron Pro also delivers 45 brand-new tape banks and over 700 patches, many created by world-class recording artists and programmers. Select from the patches or open the lid to access G:sampler's easy editing controls for layers, splits, reverse, half-speed and more. Use it in stand-alone mode (Mac/PC) or as a plug-in for most popular host applications.
A Virtual Classic… and Beyond
Dating back to the pre-digital 1960s, the Mellotron was one of the first sample-based keyboards. Artists such as The Moody Blues, Yes, The Beatles, Elton John, David Bowie, Led Zeppelin, Genesis and Pink Floyd used them to emulate strings and other orchestral instruments, while the BBC used them extensively for sound effects. When pressed, each key engaged playback of a discrete strip of tape with an eight-second recording of that note played on an instrument such as a violin. The tape rewound after key release. The lack of looping gave the instrument a unique playing characteristic in addition to its already distinct sound. The more commercial models featured the ability to switch between three different sound sets within the installed tape bank—and adventurous owners could physically swap tape banks with care and patience.
GForce first paid homage to this venerable keyboard with the M-Tron virtual instrument. Now M-Tron Pro goes far beyond—and is as much a labor of love as the Mellotron itself. GForce has remastered 19 of the original M-Tron tape banks at London's legendary Abbey Road Studios, resulting in a warmth of tone surpassing the original. M-Tron Pro has over 200 tape banks—40 of which are looped—including 45 completely new ones not found in the original GForce M-Tron. This massive library comes with 700+ presets, many of which were created by world-class recording artists and programmers.
More Under the Hood
Lift the lid of the M-Tron Pro and you'll discover a whole new set of easy yet powerful editing controls that take the Mellotron experience way beyond what the original inventors ever imagined. Set up your own splits and layers, apply vintage ensemble and delay effects, and sculpt your sound with low-pass, band-pass and high-pass resonant filters. And that's just the beginning. You'll find tape reverse, tape half-speed and a slew of synth-type parameters—making the M-Tron Pro an incredible source for unique signature sounds far beyond the tape banks themselves. Programmable MIDI CC control implementation with MIDI Learn lets you control it all from MIDI controllers such as the M-Audio Axiom® and Oxygen models. There's even dynamic keyboard control including filter aftertouch.
Standalone or Host Operation
You can use the M-Tron Pro by itself or as a plug-in for most popular host applications including Live, Cubase, Logic, GarageBand, SONAR, Digital Performer, ACID and Pro Tools|HD®, Pro Tools LE® and Pro Tools M-Powered™ software. Compatible formats include VST 2.0 (Mac/PC including VSTi), RTAS® (Mac/PC), and Audio Units (Mac). In other words, it's easy to integrate M-Tron Pro with the rest of your studio and use it just about any way you want.
Features
700+ patches including many created by world-class recording artists and programmers
up to 35 notes, each individually sampled
dual layer and split keyboard operation
programmable MIDI CC response via MIDI Learn
dynamic keyboard control, including filter aftertouch
supports standalone, RTAS and VST on Windows XP/SP2, Vista 32, Vista 64
supports standalone, RTAS, AU and VST on OSX 10.4.x, OSX 10.5.x
200+ total tape banks (sample sets), including:
45 brand-new tape banks not found in the original M-Tron
19 tape banks from M-Tron virtual instrument, remastered at London's legendary Abbey Road Studios
over 40 looped tape banks
over 3.5GB of samples total
29 parameters per layer including synth parameters:
vintage-style ensemble and delay effects
low-pass, band-pass and high-pass resonant filter section
tape reverse
tape half speed
You may also be interested in: