You're currently on: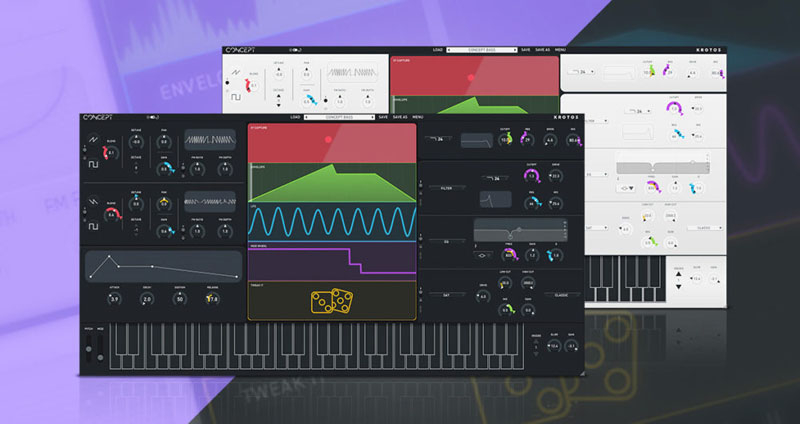 Concept
Concept is an intuitive and creative soft-synth, that makes the process of creating your own patches fast and inspiring. Concept's flexible synth engine will enable you to create everything from traditional synth sounds to more complex evolving textures and custom sound design elements.
A fresh approach to modulation allows any parameter to be mapped to one of four highly editable multi-mode modulators in the centre of Concept's UI. Choose from a variety of flexible modulation options such as an Envelope/Pitch Follower, an X/Y Capture pad and the unique 'Tweak It' customisation system.
Concept also comes with an extensive selection of high-quality effects with a total of three simultaneous insert slots. A highlight of the effects suite is a mix ready convolution reverb that allows user IR files to be utilised to create unusual creative effects.
Choose your preferred user interface option by toggling between both Light and Dark Modes while you work.
Concept does not use iLok.
What's New ?

New Granular Oscillator

Sound design like never before with the new granular oscillator in Concept 2. Instead of using a fixed waveform, these oscillators use any audio file as a source, slicing them into tiny segments and opening up whole new worlds for sound designers. Massive pads, basses, drops & hits, dense atmospheres, even room tones and ambiences can be enlivened with ease in Concept 2. The granular oscillator is incredibly easy to use. Concept 2 ships with 300+ included audio files, or the user can simply drag and drop their own sounds into the engine, and use the new menu system to easily navigate through them. Users can now switch between or combine classic and granular oscillators, making it easier than ever to experiment and create complex new sounds.

Advanced Shape Modulator

Responding to user feedback, a new Advanced Shape modulator has been added to Concept 2. This goes way beyond traditional LFOs and Envelopes, allowing the user to design their own shapes with custom breakpoints and curves, to be used as an LFO or envelope to control any parameter in the plugin. Concept 2's modulation system is semi- modular and you can combine the multiple instances of Advanced Shape with any other collection of modulators for one of the simplest, most powerful modulation workflows in the synth world.

Improved Workflow

A 'user folder' has been added to both menus in the granular oscillator and convolution reverb, users can browse and grab their favourite sounds from their own library quickly from within the plug-in at any time. The best optimisation techniques have been applied to Concept 2, making it leaner and more efficient than ever before. Reduced CPU offers more instances!

Presets. Lots of presets.

Concept 2 now includes over 700 presets, with a vast range for use in music, as well as cinematic / game audio projects. There are now dedicated preset categories for 'Cinematic', 'FX' and 'Ambiences' as well as classics like basses, pads, leads and keys.

Added and improved Impulse Responses

Krotos has massively expanded the range of Impulse Responses (IRs) for use in sound design - now over 160 IRs come with Concept 2. The user can also add their own easily by dragging and dropping them into the waveform view in the Convolution Reverb.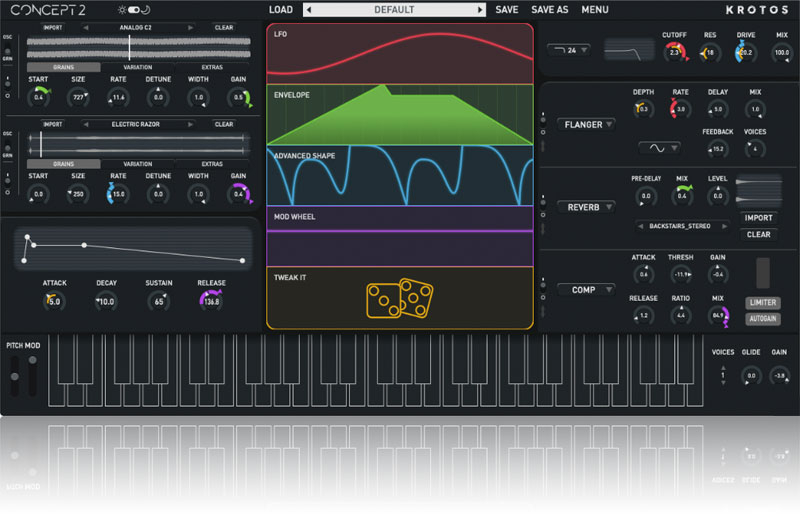 Concept: An Intuitive & Creative Soft-Synth
Modulation System:
Explore a new approach to modulation using drag-and-drop. Instantly identify your mappings with clear colour coding and animated visual feedback.
Tweak It:
Get inspired quickly using our controllable and assignable customisation system. Create variations of your patch with a single click, with results ranging from musical to complex.
X/Y Capture:
Draw your modulation movements within an X/Y field. Capture patterns for any combination of parameters and sync the results to your projects tempo. Create unique sounds and melodies in an instant.
FX Rack:
Combine a range of ten high-quality effects, and drag-and-drop any parameter into the modulation system. An innovative convolution reverb is included allowing the use of custom impulse responses.
Audio Input:
Stimulate new ideas by performing and modulating with any input or instrument. Use elements from your mix to create dynamic rhythmical patches, or use the pitch follower to create exciting interactions with existing melodies.
Presets:
To get you started, Concept comes loaded with 200+ diverse presets, designed by the likes of Mercury award-winning music producer Roni Size (Reprazent, Universal), Richard Devine (Google, Warp Records), Kayla Painter (Brownswood Recordings), Dom Ruckspin (Ninja Tune) and Heiroglyphic Being (Mathematics Record
"Concept is designed to make sound-shaping easy" – Sound On Sound

Overview
XY Capture
XY Capture is a unique modulation effect combining an XY pad with a way to 'capture' movements performed with this XY pad, and use this movement to control any parameter in the plugin. XY Capture allows you to go beyond LFOs, Envelopes or Arpeggiators and intuitively shape the response of any number of parameters, and record very complex, personal and performable movements. Once a movement is captured, you can edit it, sync it to tempo, adjust the speed or direction and much more. You can also use up to four XY captures in your presets. Check out some of our factory presets to see how this can be used in your own projects.
Audio Input
Audio Input is Concept's quick and easy pitch and amplitude follower. This allows you to feed multiple audio signals into the plugin (depending on your DAW), and use these as modulation sources. You can choose between amplitude or pitch analysis, and assign this to any parameter to modulate it.
Instantly shake up your bass patches or pads by feeding in a kick, hat or melody into it, to gel your tracks in a whole host of new ways!
Tweak It
Tweak it is Concept's unique customisation system. It allows you to quickly create variations of factory presets, or your own designs, without losing the initial character of the preset. By adding a parameter to the Tweak it system, you allow the parameter to be updated within a certain range every time a Tweak is triggered. You can add any number of parameters, so you could tweak one, or hundreds of parameters inside the plugin on a single Tweak. You can tweak almost everything in the plugin, including oscillators, filters, FX, Modulators etc all using the drag and drop.
Presets
Presets by:
Roni Size (Reprazent, Universal)
Richard Devine (Google, Warp Records)
Kayla Painter (Brownswood Recordings)
Dom Ruckspin (Submotion Orchestra, Ninja Tune, EMI)
Heiroglyphic Being (Mathematics Records)
Alex Retsis (Native Instruments, Pro Sound Effects, Glitchmachines)
Jim Stout (Roland, Carma Studio, Beatport Sounds)
Matteo Milani (Unidentified Sound Object)
Krotos
Light & Dark User Interface Modes
Dark Mode has been added to Concept in the 1.1.0 Update. Alongside 55 additional new presets, Concept has been given a colour-refresh with an all-new optional dark mode.
Choose your preferred user interface option by toggling between both Light and Dark Modes while you work.
"It's powerful stuff, opening up a world of rhythmic & tonal control"
– MusicRadar
"I love the simple straight-forwardness of Concept, but also how you can surprise yourself by accidentally routing the wrong thing or creating blind variables and just randomising everything. So many eye-brow-raising moments!"
Dom Ruckspin (Submotion Orchestra, Ninja Tune, EMI)
"I love the interface and the modulation options they present in the plugin. I really fell in love with the X/Y automation mode. This spoke immediately to me."
Richard Devine (Google, Warp Records)
"Concept is a great tool for creation – an intuitive layout with great features like the visualisation panel. Having the parameters assigned to the colour of the LFO allows you to easily see what you've done to create sounds – which is super useful. Recording automation on the XY capture and reversing it was something that sparked lots of ideas for me!"
Kayla Painter (Brownswood Recordings)
"Concept is an endless generator of sonic ideas. The modulation system is a win-wind deal: you're sculpting great sounds in a breeze.
Learn the basics of synthesis, while patching: this instrument is fun for every synth-lover, both beginners and advanced users."
Matteo Milani (Unidentified Sound Object)
You may also be interested in: