You're currently on: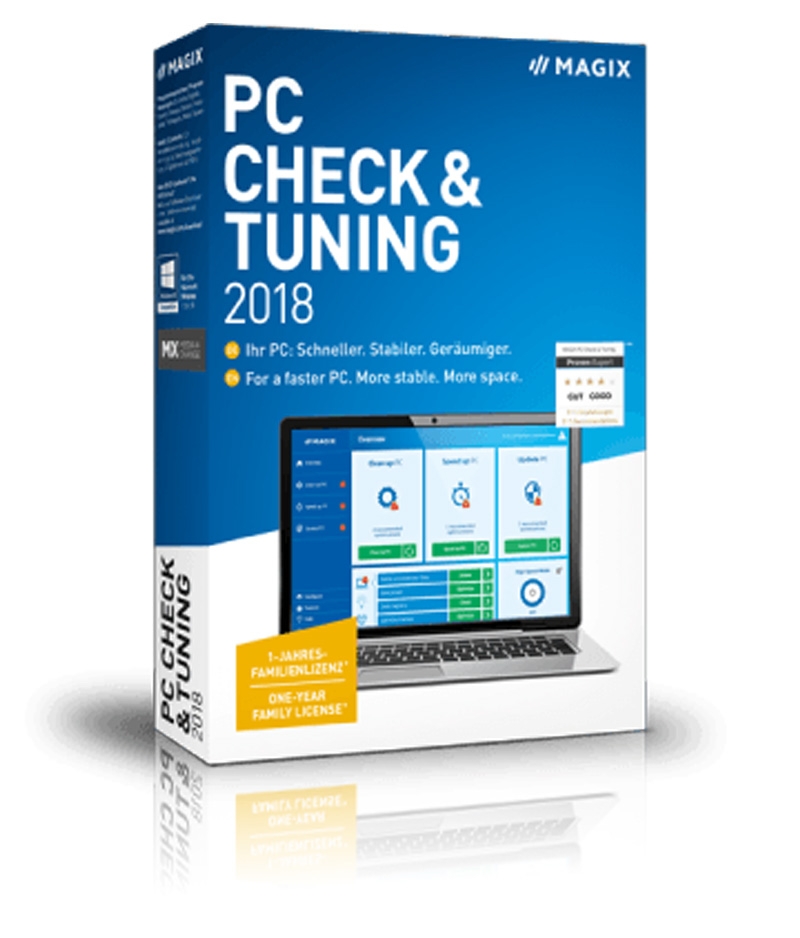 What's New For 2018
IMPROVED PC PERFORMANCE. MORE SPACE FOR YOUR CREATIVITY.
NEW FEATURES
PC Check & Tuning has been developed with our customers in mind. Access an optimized, more up-to-date system with PC Check & Tuning 2018. A range of features including a redesigned autopilot and system reports are seamlessly integrated into the new, modern user interface.
In plain view: New program layout
Completely redesigned and modernized. Tons of control elements have been simplified, making the program interface even more intuitive, with more direct feedback. It's a more streamlined user experience than ever before.
More details: System reports
You can get optional system reports once each optimization process has been completed. These reports tell you how much disk space and RAM has been freed up as well as your improved Windows start time.
See which files have been adjusted and how much faster your PC is running at a glance. You have full control and can undo any changes.
Faster: Quick actions
The most important optimizations are displayed directly after program start in the main program interface.
This provides you with information about your computer's current stand and lets you use the most important functions – with just a single click.
More intelligent: Autopilot
Keep everything in view: Optimize everything to your needs. Unnecessary services are removed and Windows startup checked.
High speed mode is automatically activated when certain applications start. The software guarantees optimal performance – for working smoothly with 4K video files and a lot more.
More up-to-date: Automatic updates
All your programs are kept up-to-date thanks to regular updates for more than 50,000 drivers. PC Check & Tuning 2018 automatically monitors and updates all your programs.
More direct: Access from the start menu
You can start all the most important optimization processes via the Windows start menu.
All this makes your PC run much faster, enabling a smoother workflow – and no separate program startup is required.
FOR A FASTER COMPUTER. MORE STABLE. WITH MORE SPACE.
PC Check & Tuning 2018 improves your PC's performance and provides you with more space for your creativity. Your PC is ready for everything you do – from daily use to 4K video editing or even virtual reality.
QUICKER OPTIMIZATION:
SPEED UP YOUR COMPUTER WITH PC CHECK & TUNING 2018!
Discover a perfect accord of system optimization and update. Fully automatic or customized. With direct, real-time optimization. Tried and true on over 10 million PC around the world. What's more: You can use the software on up to six computers.
Faster.
Only what your PC needs is left running. Unnecessary services or startup programs are stopped and networks and Internet are accelerated. For a noticeably smoother PC workflow.
Your software and drivers are kept automatically up-to-date. This means your PC runs more reliably and closes security gaps.
With increased disk space.
The program identifies large files that are no longer needed and lets you delete them right away. In times where new SSDs are expensive and high resolution is commonplace, the program is more up to date than ever before.
IMPROVED PC PERFORMANCE. MORE SPACE FOR YOUR CREATIVITY.
High Speed Mode
Access improved performance with a single click. Switch to High Speed mode to deactivate unnecessary services and get more power for CPU intensive 4K video editing and virtual reality applications.
Automatic software updates
PC Check & Tuning 2018 automatically searches for and installs updates for all the programs on your PC or laptop to keep everything running smoothly.
Shows you all programs in the startup and suggests which programs are unnecessary. Get your PC starting faster than ever.
Recommended by our customers
The program's functionality, simple operation and proven improvements to performance have made it a favorite with PC users worldwide, with more than 10,000,000 copies downloaded. So it's no surprise that 91% of users have recommended the program to others.
Clean up your start menu
Start important program functions directly via the Windows start menu. Check and optimize your computer even faster without the need for a separate program startup.
Speed up your hard drive
Over time files are scattered around your hard drive, which slows down your system. PC Check & Tuning 2018 targets this problem and defragments your drive to bring everything up to speed.
Get power where you need it most
End processes running in the background to free up available power for what's most important on your computer.
Registry Cleaning
The Registry Cleaner cleans and speeds up your system by deleting entries from already deleted programs in the Windows registry.
Create more space
Safely empty the Recycle Bin and track down files that are no longer required – for more space on your hard drive and SSD.
Remove unused programs
The Uninstallation Wizard creates space and recommends which old and unnecessary programs can be removed.
SYSTEM REQUIREMENTS All MAGIX
programs are developed with user-friendliness in mind so that all the basic features run smoothly and can be fully controlled, even on low-performance computers. The technical data for your computer can be found in the control panel of your operating system.



OPERATING SYSTEMS
Windows 10, Windows 8, Windows 7
MINIMUM SYSTEM REQUIREMENTS
Processor: 1 GHz
RAM: 1 GB
Graphics card: Onboard, min. resolution 1280 x 768
Hard drive memory: 100 MB for program installation
Internet connection: Required for registering and validating the program, as well as for some program features. Software requires one-time registration.
"Family License" refers to an extended license, which permits installation on up to 6 different PCs. PC Check & Tuning 2018 is sold as a 1-Year license version. Renewal licenses are available at special rates.



You may also be interested in: