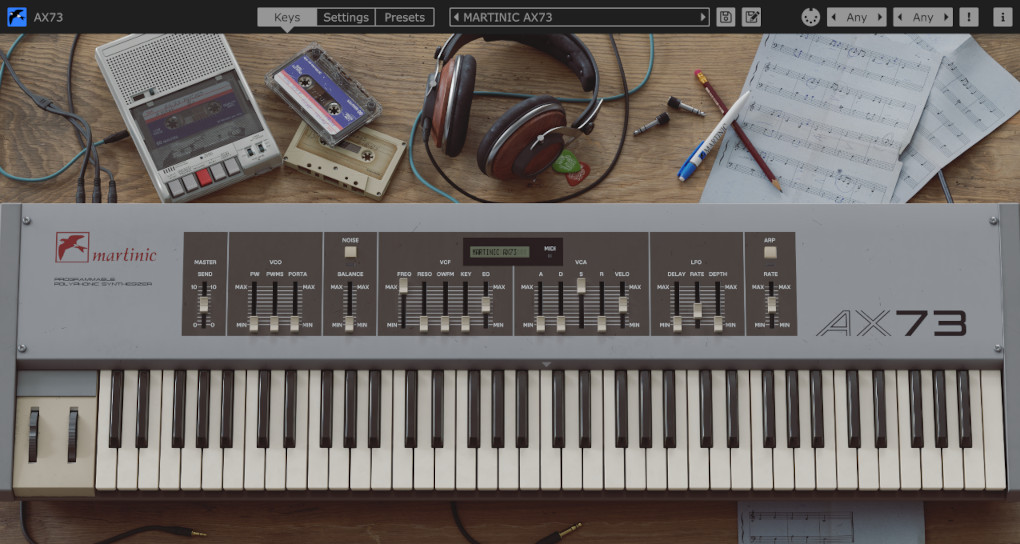 In 1986, the synth skies were studded with digital technology. That's why the original AX73, with its proudly all-analog signal path ended up flying under the radar. Martinic has taken what was great about the original AX73 and elevated it into a powerful, flexible software instrument that fits right into the modern producer's lineup of go-to synths.
With four analog oscillators across two synth layers, unique modulation features, extended performance options, and an eight-module effects section, this plugin AX73 (VST/AU) unleashes the full power of the original hardware and more – no menu diving required, and all perfectly modeled through our Advanced Circuitry Emulation technology. And, it includes a generous lineup of 600+ inspiring presets to get you started right away.
Martinic's Additions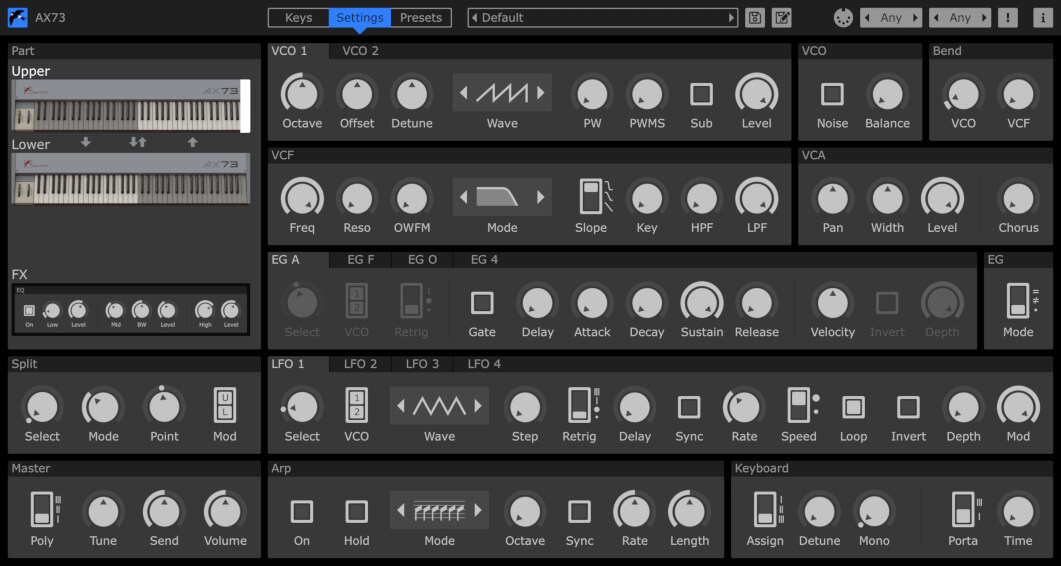 An interface for the 21st century
Settings View offers a clean, easy-to-use set of parameters for quick editing.
The Keys View, which emulates the look of the original hardware, has also been upgraded with many more functions – no menu-diving required!
The robust Preset Manager allows you to quickly save and sort your favorite presets into "collections" that you can easily export and share with friends!
New Effects Section
Process the synth's output with eight built-in effects units:
Compressor, Phaser, Flanger, Chorus, Delay, Reverb, Distortion, and EQ
​These effects can be routed in any order you like – simply rearrange them by dragging and dropping them in the FX Chain.
Something Borrowed
The best elements from other synths in the AX range have been distilled into a feature-rich reinterpretation of the AX73. Notable examples include: extra chorus settings and the arpeggiator from the AX60, a second VCO and sub-oscillator from the AX80, and an extended VCO octave range down to 32', as seen in both the AX60 and 80.
Mod Power!
The AX73 plugin also offers far greater modulation capabilities than the original. It features four envelopes per layer (three of which are assignable), and four assignable LFOs per layer. Taking both layers into account, this gives a formidable eight envelopes and eight LFOs.
Split or Stack Layers to build your sound
Uniquely, the AX73 has two layers that can be split across the keyboard - allowing you to play two patches simultaneously - or stacked, providing an extra dimension of sound design. And, each layer has its own independent arpeggiator with 11 built-in modes - including some unusual modes such as Shuffle and Improv - that you can use to quickly create melodies.
Sound Designers
Our AX73 comes with 600+ genre spanning presets created by a lineup of highly respected sound designers who have left their imprint on some of the most loved synthesizers of all time. Let's learn about a few of them.
Nori Ubukata
Nori Ubukata is a highly accomplished musician whose sound design work has been heard countless times. Contributing presets to the Yamaha DX7 when it was first launched, Ubukata has truly left his mark on musical history. His AX73 preset collection ranges from otherworldly SFX and rhythmic patches to lush, warm organ and keys sounds.
Summa
A professional sound designer for over two decades, Summa has helped to define the personality of some of the greatest soft synths of this millenium - now he adds another to the list. With presets for Massive, Absynth, DX7 V and many more under his belt, Summa's work has appeared on countless songs, soundtracks and more over the past 20 years. His AX73 bank ranges from the gorgeous, ethereal pluck of Bellerina 7th, to the raw, in-your-face throaty bass of Smacking Reso Ld.
Synth Guru Wiffen
Synth Guru Wiffen is, as his name suggests, a sound design expert who has been working with synthesizers for over three decades. He worked with Vangelis as a programmer on perhaps one of the most loved pieces of synthesizer based music of all time; the Blade Runner soundtrack.
Preset Collections
The 600+ presets that are included with Martinic's AX73 plugin are called the Factory Collection. If you're wondering about the original AX73 hardware presets, Martinic bundles its new plugin with the AX73 Legacy Collection available for download at launch for FREE. Also available for free at launch is a special collection from Doctor Mix!

AX73 Legacy Collection
Get the presets that were the default factory sounds of the original AX73!

Doctor Mix Collection
Download a collection of presets designed by the synth guru himself!
Protection
Protected by FastSpring generated license key file. No dongle or online activation.


Windows 7+, macOS 10.9+