You're currently on: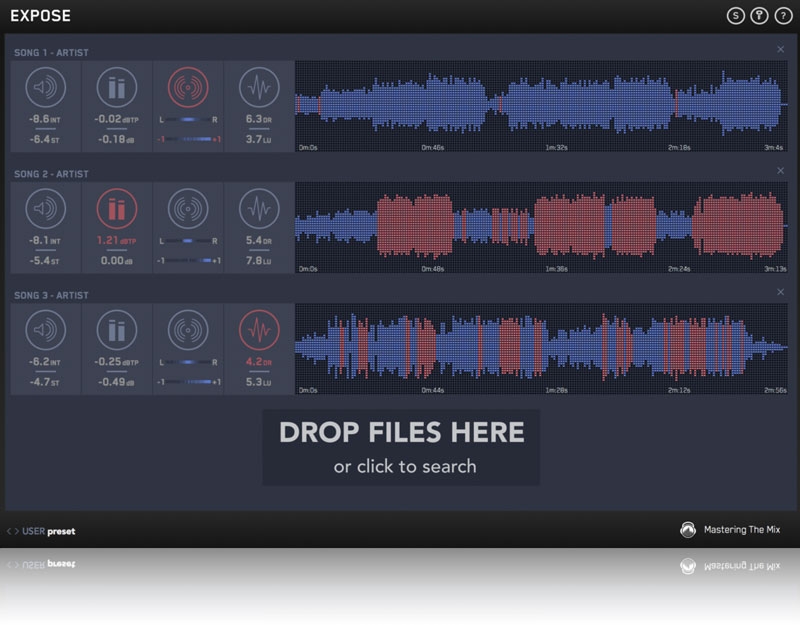 EXPOSE
A stand alone quality control application for anyone interested in releasing high quality music.
What Is EXPOSE?
Is your track release ready? Are you sure...? Too often music is released with technical issues that degrade the quality. With EXPOSE, it only takes a few seconds to make sure you deliver the best listening experience every time.
Load A Track
Open the application and drag your audio onto the dashboard.
Presets
In the bottom left corner you'll see the presets. Click on the preset and select the one that best suits your playback scenario.
Readings
The four sections give you detailed information about the loudness, peaks, stereo/phase information, and dynamic range of your audio.
Identify Issues
If EXPOSE detects that issues would arise, the section icon and problematic readout will turn red. The waveform will also show you the exact location of the issues.
Isolate Issues
Click on one of the numerical readouts to isolate those specific issues on the waveform.
Preview Audio
You can click on the waveform to preview that part of the audio. Once you've identified what and where the technical issues are you can efficiently solve them in your DAW. Press space bar to start and stop continuous playback.
Customer Reviews
this is a great tool!
Adam Miller on Nov 02, 2017
If you're looking to truly dissect a 'professional' master and see what's going on under the hood, so to speak, this is a great tool! EXPOSE let's any engineer, anywhere see (and hear) exactly what's happening behind some of their favourite material!
Thumbs up for "Expose".
Eddie Nuenning on Nov 02, 2017
A great helper for double checking your mixes before final delivery - a great teaching and learning tool! Thumbs up for "Expose"
This should be industry standard
Jake Antelis on Nov 02, 2017
Expose is highly recommended tool for any audio engineer to do a final QC check on your work. This should be industry standard (and i'm sure it will be soon).
What a great idea!
Bill Dalton on Nov 02, 2017
What a great idea! An app that immediately identifies potential problem issues at a glance. I can see this becoming an integral part of my workflow.
super valuable info in seconds
Luis Cerritelli on Nov 02, 2017
Expose is a great tool. It gives super valuable info in seconds, straight to the point and in a couple of clicks. I really recommend it!
Specifications
Standalone application.
MAC OSX Requirements
OS X 10.8 or higher.
WINDOWS Requirements
Windows 7, 8 or 10.
You may also be interested in:
| | |
| --- | --- |
| Variant | 1 |
| Specials | 2018/11/01 |