You're currently on: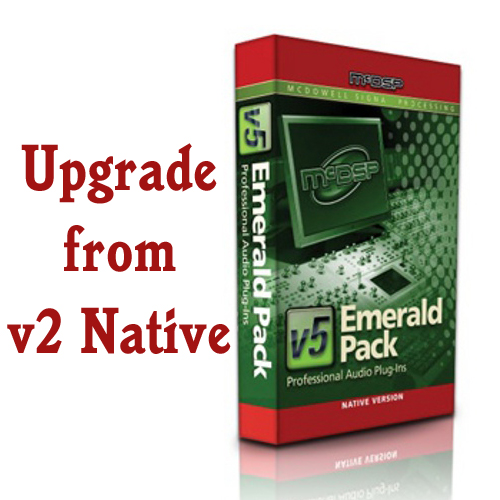 The Emerald Pack is a complete music production bundle for the user who needs powerful plug-ins to make their audio sound as good or better than the latest software and hardware audio processors on the market today.
Emerald Pack includes:
Analog Channel : The Analog Experience
Analog Channel emulates the sounds of high-end analog tape machines, tape, and channel amplifiers.
Channel G : The Ultimate Console
Channel G delivers the big board sound with unprecedented flexibility and seamless integration the Digidesign D-Control and D-Command control surfaces.
Channel G Compact : The Ultimate Console
Channel G Compact delivers the same sonic experience as Channel G with a smaller dsp footprint.
Chrome Tone : Guitar Amp Modeling and Effects
Chrome Tone brings the world of custom guitar amps, boutique outboard gear, and pedal effects inside your audio workstation.
CompressorBank : The Complete Compressor
CompressorBank is a high-end compressor plug-in designed to emulate the sounds of vintage and modern compressors, while delivering complete control of dynamic compression.
DE555 : Advanced De-essing
The DE555 is a new generation of de-essing technology, providing transparent, precise de-essing with unique flexibility.
FilterBank : Every EQ Ever Made
FilterBank is a high-end equalizer plug-in designed to emulate the sounds of vintage and modern equalizers and filters.
FutzBox : Lo-Fi Distortion Effects
FutzBox is a distortion and noise generator plug-in for creating low-fidelity versions of audio signals.
MC2000 : The Complete Multi-Band Compressor
The MC2000 is a high-end multi-band compressor plug-in designed to emulate the sounds of vintage and modern compressors.
ML4000 : The Essential Mastering Solution
The ML4000 is a high-resolution limiter designed for music, mastering, post, and live sound, in single and multi-band configurations.
NF575 : Flexible Noise Filtering
The NF575 Noise Filter is a high resolution filter set designed to remove a wide variety of noise types from audio.
Revolver : Flexible Convolution Reverb
Revolver provides total impulse response control, dedicated and routable EQ, two sync-able delay lines, a reverb decay crossover network, and specialized stereo imaging for unprecedented flexibility.
Synthesizer One : Total Sound Synthesis
Synthesizer One combines wave table and analog oscillators, a modular design, flexible filtering, and a dedicated effects section to produce inspiring leads, fat basses, and evolving synthetic textures.
6030 : Ultimate Compressor
Formats

HD V7: AAX DSP/Native, AU, VST

Native V7: AAX Native, AU, VST
You may also be interested in: