You're currently on: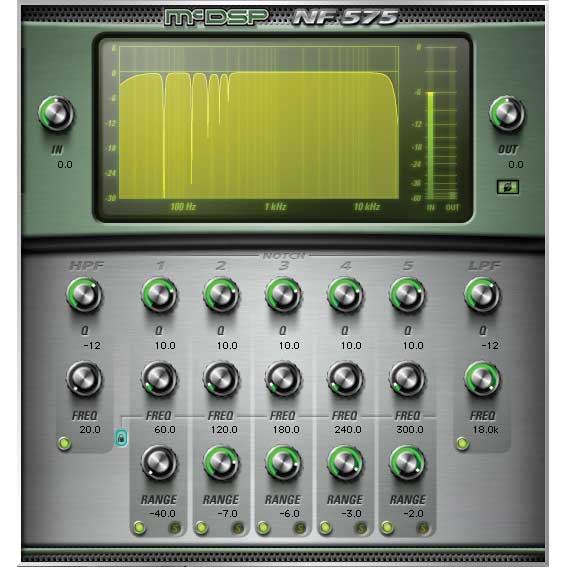 v5: Now Supporting Audio Units!
The NF575 Noise Filter is a high resolution filter set designed to remove a wide variety of noise types from audio. The NF575 is available individually and in the Emerald Pack bundle. Individual sales are electronic only.
Accurate high pass and low pass filters reduce low frequency rumble and high frequency hiss. Selectable slopes of 6, 12, 18, 24, 30 and 36 dB/Oct and frequency control range covering the entire audible spectrum make the NF575 filters extremely flexible. Advanced notch filters allow the user to select the amount of signal cut, cut frequency, and width (Q). All five NF575 notch filters can be linked harmonically to address common cyclical noise problems such as 60 Hz hum.
Main Features:
High Pass Filtering (HPF) with slopes up to 36 dB/Oct

Low Pass Filtering (LPF) with slopes up to 36 dB/Oct

Five bands of notch filtering with linkable frequency control

Analog Saturation Modeling

Double precision processing

Ultra Low Latency

Mono and stereo versions
The NF575 is one plug-in:
NF575 – Filtering and five bands of notch filtering with linkable frequency control
System Requirements
McDSP Native and LE plug-ins are compatible with Pro Tools™ HD, HD Accel TDM systems, as well as Pro Tools™ LE and Pro Tools™ M-Powered host based systems. McDSP plug-ins support Mac OS 10.4.x (Tiger), 10.5.x (Leopard), 10.6.x (Snow Leopard), Windows XP, and Vista and require Pro Tools 7.x, 8.x, or greater. McDSP plug-ins require an iLok USB Smart Key.
McDSP plug-in Mac versions are Universal Binary, compatible with both Intel and PowerPC based computers. McDSP plug-in Windows XP versions require an Intel Pentium 4 or greater processor.
Configurations
McDSP plug-ins are available in RTAS and AudioSuite configurations. See individual products for specific available configuration sets.
Applications
Pro Tools™ 7.x, 8.x, or higher is required for LE and M-Powered systems. Additionally, a third party software application that supports the Digidesign TDM, RTAS, or AudioSuite plug-in standard may be supported. McDSP plug-ins are compatible with the entire Pro Tools™ 7 and 8 product line.
Hardware
McDSP plug-ins support any Digidesign or approved third party hardware supported in Pro Tools™ 7.x or Pro Tools™ 8.x. This includes HD, HD Accel, 003, Mbox 2 Pro, Mbox, and M-Audio hardware. All McDSP HD plug-ins, except Synthesizer One, also support the Digidesign VENUE D-SHOW systems.
McDSP plug-in Mac versions are Universal Binary, compatible with both Intel and PowerPC based computers. McDSP plug-in Windows XP and Windows Vista versions require an Intel Pentium 4 or greater processor