You're currently on: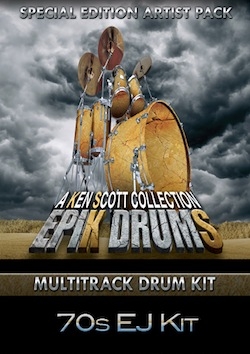 From EpiK DrumS - A Ken Scott Collection the 70s EJ Kit is a single head vintage concert tom kit recorded in the style of classic Elton John records, many of which Ken Scott recorded and produced. A kit similar in sound to the one Nigel Olsson played with Elton in the 70s was recorded with the same microphones and recording techniques Ken used on the original albums. A beautiful retro sound with a punchy large sized kit with unique tone due to the single head tom sound. This is a must-have for anyone looking for classic authentic vintage drum sounds.
Sample Format
sounds may be used in all samplers supporting the following formats
BFD
Manufacturer
Sonic Reality
ABOUT KEN SCOTT


Ken Scott is a legendary British recording engineer and producer who recorded The Beatles, David Bowie, Elton John, Supertramp, Pink Floyd, Jeff Beck, Mahavishnu Orchestra, Billy Cobham, Duran Duran, Dixie Dregs, Missing Persons, Devo, Lou Reed, America, George Harrison and many other iconic artists in music history. He had his start in the 60s working as a Tape Op at Abbey Road Studios and from there went on to engineer and produce some of the most acclaimed albums of the 20th Century. Ken has recorded timeless songs such as "I Am The Walrus", "Rocket Man", "Ziggy Stardust", "Dreamer", "Walk On The Wild Side" and many others. One of the unique aspects of Ken's career in music is the diversity of iconic styles he has been a part of from the 60's to today… from the birth of Modern Rock 'n' Roll (Beatles) to Glam Rock (Bowie) to Fusion (Mahavishnu Orchestra) to New Wave (Missing Persons, Devo) and more. 

Ken Scott has collaborated with Sonic Reality to capture samples in a modern software instrument with some of the most sought after distinct character sounds he has recorded over the years. These are sounds that might otherwise be lost in history, but with the same great ears, technique and style Ken has preserved a sonic part of his legacy to bring inspiration to new musicians all over the world.
Sounds
Size: 6.2GB
Grooves: 0
Kit Pieces:
* Kick
* Snare
* Hat
* Tom 1-7
* Ride
* Crash 1-2
Specs
This product requires an installed and registered copy of BFD2. Please note that your Sonic Reality Seventies EJ serial number only authorizes your Sonic Reality library. It will NOT serve as registration for the actual BFD2 software.
*This BFD expansion will not work with PPC Mac or Windows XP.
*Limited performance in BFD Eco.
*This product is download only.
*Will work in BFD3. Please see documentation included with BFD3 on how to import BFD2 presets.
You may also be interested in: